One-Year Full-Time MBA
Home ›
MBA ›
One-Year Full-Time MBA
Program Description
One-Year Full-Time MBA
A One-Year MBA That Will Set You Apart
How will you stand out from other job applicants?
George Fox University's 11-month, full-time MBA program will give you the advantage you need to succeed in the business world. We develop promising leaders by offering an ethics-based, holistic curriculum with a global perspective. A commitment to one year of accelerated study will help you to improve your marketability, gain self-confidence and improve your presentation skills.
A lifetime of benefits is just one year away.
Program details
42 semester hours (11 months)
Classes begin in August
Classes are Monday-Thursday with a Friday seminar during which students visit corporations in the greater Portland area
Classes end in June
Applications accepted until the cohort is full. Contact admissions counselor Carlos Ordonez for more information.
Limited to 25 students per cohort
Financial aid is available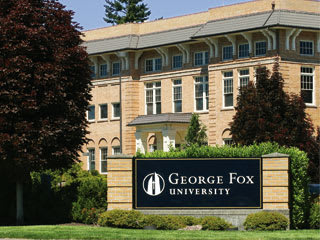 Location
Our program is located on our Newberg campus. Classes are offered Monday through Thursday with a Friday seminar course that involves travel. In the Friday seminar course, students will visit corporations in the greater Portland area, and all transportation and meals for this specific course are covered by your tuition.
Benefits
11-month intensive program
Saving you time and money, this program is specifically designed for the recent graduate. With the same credit hours as our part-time MBA, classes are held from August to June with a short break over the winter holidays. Study full time in order to enter the workforce with an MBA degree as soon as possible.
Value-informed leadersForbes: America's Best Colleges
There is more to business than the bottom line. Our primary task is preparing managers and leaders with deeply ethical worldviews who will perform at increasingly responsible levels in their organizations. While we cover the core topics of a master of business administration program, including quantitative methods, finance, and accounting, we major in values-informed development, practice and leadership.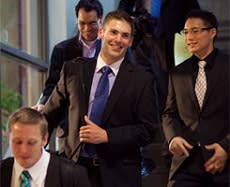 Real-world experience
The value of an education lies in knowing how to apply it to real-world situations. On Fridays, we visit nonprofit and for-profit corporations in the greater Portland area for professional industry presentations, organizational tours and hands-on projects that focus on learning application. A variety of projects are implemented throughout the program to immediately impact local business process.

Internationally Blended Cohort
The one-year MBA is comprised of students from all over the world and from all across the United States. This international cohort provides students with a unique opportunity to collaborate with classmates from many cultures. Some of the cities that our current students and alumni hail from include Homs (Libya); New Taipei; Beijing, Yueuang City and Dalian City (China); Ulaanbaatar (Mongolia); Nairobi (Kenya); and Langley (British Columbia).
International Residency Option
Professionals today need to understand how globalization is affecting their organizations. We teach our students to take a global perspective into their workplace. Students in MBA programs at George Fox can get a firsthand look at transnational corporations at work by participating in a weeklong international study trip.
Emphasis on the human dimension of business
Effective leaders understand people and communicate effectively. We provide training to allow students to develop their "people skills" alongside their analytical skills. Strong emphasis is put on presenting material effectively in a fast-paced work environment.
Teamwork
Progress through the entire sequence of courses with the same classmates. Our cohort model encourages interdependence and social support that often continues after the program is completed. An additional benefit is a strong professional network of contacts.
Respect for the individual student
As a Christian university, the George Fox Graduate College of Business seeks to develop the whole person – academically, socially and spiritually. We limit our class sizes to ensure our experienced faculty gives personal attention to each student.
An experienced alumni base
George Fox MBA alumni have worked for many of the top organizations in the Northwest and nation, including:
Nike
Intel
Hewlett-Packard
Mentor Graphics
Wells Fargo
If you want to work at a specific company or in a particular industry, contact MBA admissions counselor Carlos Ordonez to find out if there are George Fox MBA graduates working there.
Curriculum Plan
| | |
| --- | --- |
| Course Name | Credits |
| BUSG 503 Accounting and Financial Reporting | 3 |
| BUSG 507 Economics | 3 |
| BUSG 524 Marketing | 3 |
| BUSG 525 Global Environment: International Residency Option | 3 |
| BUSG 527 Managerial Finance | 3 |
| BUSG 530 Creativity, Innovation, and Entrepreneurship | 3 |
| BUSG 534 Ethical and Legal Responsibilities | 3 |
| BUSG 544 Organizational Systems and Change | 3 |
| BUSG 546 Market Research | 3 |
| BUSG 551 Operations Management | 3 |
| BUSG 553 Business Seminar I | 3 |
| BUSG 554 Business Seminar II | 3 |
| BUSG 556 Transformational Leadership | 3 |
| BUSG 560 Strategic Thinking | 3 |
Admission Requirements
Bachelor's degree from a regionally accredited college or university completed within the last five years with a minimum 3.0 GPA
Completion of each of the following prerequisite courses with a grade of B- or higher: Accounting, Economics, Statistics, and Marketing or Management
No transfer of previous coursework will be accepted due to the nature of this program.
No GMAT required. We have found that this test is not always the best predictor of student success.
Application Deadline
The One-Year MBA program begins once each year in late August. We are now accepting applications until the cohort is full. Contact your admissions counselor for more information.
How To Apply
Apply Online
Create an account with a username and password and complete the one-year MBA application online. Submitting the online application will require a $40 nonrefundable application fee.
Note: Log in early to send your three reference forms and view the essay prompt. Applications can be saved to be completed at a later date.
Official (Unopened) Transcripts
Order official transcripts from every regionally accredited college or university where you completed even a single course. Transcripts should be sent to:

Office of Admissions
George Fox University
12753 S.W. 68th Ave.
Portland, Oregon 97223
Three Professional References
One must be your current supervisor. References must be sent through the online application.
Once Your Application is Complete
Qualified candidates will be invited to interview. No preparation is required. The dress is business casual.
After Acceptance
If you are admitted to the one-year MBA program, then you are required to submit a $200 enrollment deposit by the date provided by your admissions counselor. This deposit guarantees your place in the program and typically covers the graduation fee applied to your student account in the last semester of your degree program.
Last updated Jun 2018
About the School
George Fox is Oregon's nationally recognized Christian university, providing students with personal attention, global opportunities to learn and serve, and a supportive community that encourages acade ... Read More
George Fox is Oregon's nationally recognized Christian university, providing students with personal attention, global opportunities to learn and serve, and a supportive community that encourages academic rigor and spiritual growth.
Read less