One-Year (Residential) MBA
Home ›
One-Year (Residential) MBA
Program Description
Get your MBA in nine months, even if you've never taken a business course.
Clarkson's accelerated MBA program starts in August. You graduate in May.
Or get your MBA on your schedule.
In addition to our nine-month program, we also offer options that take you from your first class to graduation in one calendar year, 18 months or two years.
Clarkson offers MBA dual degrees with Data Analytics and Environmental Policy to support your career goals.
Your degree is a valued business credential.
By earning the Clarkson MBA, you demonstrate your uncompromising work ethic. You master an advanced curriculum developed with industry and have proven your ability to solve real-world problems. From corporate offices to independent start-ups, you become sought after because you excel. If you're ready to lead and take on new challenges, then it's time to make the future you deserve.
The Clarkson MBA makes you a stronger candidate for the job you want.
Clarkson's Reh School of Business is accredited by the Association to Advance Collegiate Schools of Business (AACSB). Known worldwide, AACSB International challenges educators to pursue excellence and continuous improvement throughout their business programs.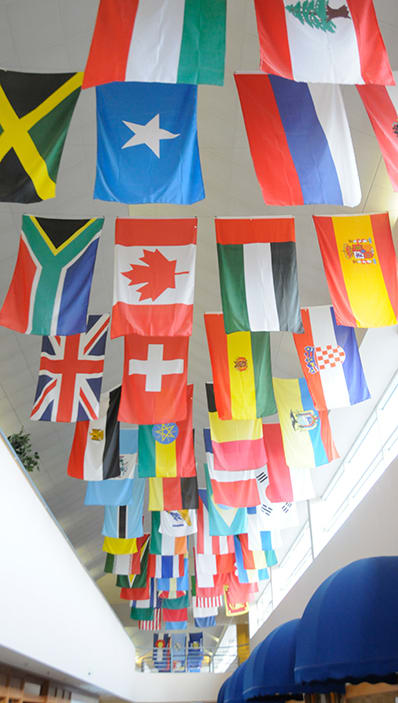 Curriculum
The Residential MBA consists of foundation courses in 10 specified areas and 38 credit hours of advanced graduate work. Students with undergraduate business majors will waive most or all of the foundation courses.
Through careful planning, students with backgrounds in engineering, liberal arts, or science may complete the foundation courses as part of an undergraduate minor or through pursuing the Summer Business Concepts program offered online, preceding the start of the regular fall semester. Articulation agreements, which specify acceptable foundation courses, exist for Clarkson's engineering and science programs and a number of universities in the United States and Canada.
The foundation includes the following subjects:
Microeconomics
Macroeconomics
Ethics
Organizational behavior
Marketing

Operations and production management
Quantitative methods/statistics
Financial and managerial accounting
Information technology
Corporate finance
Curriculum (16 courses, 38 credits)
Beyond the foundation, the 38 credits of the Residential MBA degree program consist of 10 2-credit interrelated core modules, five 3-credit graduate elective courses, and a 3-credit experiential course. The core modules stress business functions, emphasizing the development of communication, interpersonal and managerial skills.
Core Modules
Required courses for the program are:
AC603 Management Accounting
OM606 Supply Chain Management
EC604 Applied Economics
OS608 Organizational Behavior & Performance Management
FN607 Financial Management

OS610 Strategic Planning
IS605 Information Systems
MK609 Marketing Management
OM602 Decision Analysis and Supply Chain Modeling
SB609 Corporate Ethical Decision Making
A Strategic Planning module (2 credits) is offered as a 12-week course during the spring semester or as an accelerated winter semester online course. The other modules are taught for seven weeks each during the fall semester.
Experiential Course
Experiential learning is a strong part of Clarkson's culture so each student participating in the Residential MBA program is required to take a 3-credit-hour experiential course. Currently, the experiential requirement can be satisfied by participating in the Global Business Program or by taking the SB696 Global Business Strategies course.
The Global Business Program offers several options that are designed to give you the knowledge and new perspectives regarding international business, helping you develop critical skills necessary to compete and succeed in the global market. The most popular Global Business Program option is the course that includes a 2- to a 3-week trip to an international destination, often led by the faculty from that area. This course offers a unique opportunity to explore business outside the traditional classroom boundaries and to provide a unique experience to your resume. This course also helps students explore the global management issues facing business leaders and organizations in different parts of the world.
Electives Include:
AC623 Financial Statement Analysis
AC636 Auditing
AC648 Seminar in Accounting Information Systems and Auditing
AC650 Accounting Research and Theory
EC660 Environmental Economics
EC651 Industrial Organization in Supply Chain
FN655 Venture Capital and Private Equity
FN672 Investments
FN680 Strategic Financial Management
IS629 Global Outsourcing of Information Systems and Services
MK689 New Product Marketing

MK696 Marketing Methods
OM676 Developing and Managing Technology
OM680 Strategic Project Management
OM685 Quality Management and Process Improvement
OM671 Supply Chain Environmental Management
OS657 Leading Organizational Change
OS666 Negotiations and Relationship Management
SB611 Clarkson Consulting Group
SB693 Seminar in International Business
SB696 Advanced Topics in Supply Chain Management
Global Specialty Track
The Global Specialty Track Residential MBA follows the same curriculum structure and has the same foundation requirements as the regular Residential MBA program, with students completing up to six courses abroad during their spring semester at one of the partner AACSB-accredited institutions. Students starting in the spring semester cannot participate in the Global Track program in their first semester.
Our partner schools are:
IÉSEG School of Management, France
KEDGE Business School, France
ESSCA School of Management, China
CityU of Hong Kong
Monash University, Australia
Earn a Dual Degree
MBA/MS in Data Analytics

You can get a dual MBA/MS in Data Analytics by completing 21 additional credits when you pursue both degrees in tandem.

Probability & Statistics for Analytics
Database Modeling, Design & Implementation
Optimization Methods for Analytics
Information Visualization
Data Mining
Capstone Project






MBA/MS in Environmental Policy

Clarkson's two-year dual-degree program leading to a Master of Science in Environmental Policy (MSEP) degree and a Master of Business Administration (MBA) degree integrates the study of the function and management of complex environmental systems.

There are 16 credits of overlapping coursework between the MSEP and MBA programs, allowing for the 38-credit-hour MBA program and 30-credit-hour MSEP program to be completed together in a combined 52 credit program of study spanning two years, including an MS thesis (6 credits) supporting the EP degree.
An MBA Alum's Perspective
"Clarkson's accelerated, residential MBA boasts a 100 percent job placement rate within six months of graduation, and it's become clear to me why that is. With the high-quality education we are presented with and the opportunity to excel and grow, we leave Clarkson with skills that allow us to excel in many fields."

Stephen Lewis'18, MBA & MS in Data Analytics dual degree
Career Outlook
Market Demand
A Clarkson Master of Business Administration degree can lead to higher salaries that pay back the investment in graduate education. A general MBA results in a median early-career salary of nearly $60,000 and a median mid-career salary of around $100,000, according to PayScale's 2016-2017 College Salary Report. The average starting salary for a Clarkson MBA's is $72,000!
Among our 2019 MBA Graduates
Percent seeking employment and placed within three months of graduation: 95%
Average starting salary: $72,000
The total graduating class is defined as MBA students graduating during the 12 months ending June 30th.
General Admission Requirements
An application includes:
Completed online application
Transcripts from all institution(s) attended
GMAT/GRE scores (see full checklist for information about substitutions and waivers)
Resume or C.V.
Statement of purpose
3 letters of recommendation
International applicants also need:
English Proficiency Testing (see full checklist for options)
U.S. Bachelor's equivalency
Certificate of finance to receive an I-20
For a comprehensive review of application requirements, please check the full checklist of Admissions Requirements for Graduate Business Programs.
Scholarships
Merit-Based Graduate Business Program Scholarships
All students applying for Reh School of Business graduate programs will automatically be considered for merit-based scholarships and need not fill out a separate scholarship form. As long as funds are available, scholarships are given based on academic achievement (GPA) and GMAT (or equivalent) results. Additional consideration may also be given based upon the overall merits of an application.
There are four award levels associated with the Reh School of Business programs. These guaranteed levels range between at least 15% and up to at least 75% tuition discount, based upon the overall merits of a candidate's application. Awards are based on a percentage of the total cost of the specific program to which you are applying.
Award Levels
Fellowship (3.3 GPA, 550 GMAT) – at least 15%
Dean's (3.5 GPA, 600 GMAT) – at least 25%
Presidential (3.7 GPA, 650 GMAT) – at least 40%
Trustees (3.9 GPA, 700 GMAT) – at least 75%
Clarkson students are expected to keep a satisfactory academic status to maintain scholarship status. This includes achieving a minimum 3.0 cumulative GPA in all graduate coursework. Accelerated BS/BA/MBA students who wish to qualify for merit scholarships should take the GMAT regardless of their grade point average.
Additional Scholarship Awarding Policies:
Candidates who have the GMAT (or equivalent) requirement waived as part of their application may still be considered for a merit-based scholarship. Levels will be based upon the overall merits of the application, with a minimum award of at least 15%.
Scholarship awards are for the full duration of enrollment in the program of study, and actual awards each semester/quarter are prorated based on credits pursued.
Applicants who are receiving an employer benefit must select either the discount rate available through Clarkson's agreement with their employer, or the merit-based scholarship award (the higher of the two), but not both.
If a candidate receives course waivers at the time of admission, scholarship amounts awarded above will be prorated to the new total requirements for that program.
Early Decision Award for Residential Business Programs
For students who commit to Reh for a residential, cohort-based business program (e.g. One Year MBA) by the end of the calendar year prior to the following fall start, they will be eligible (upon enrollment in the program) to receive an additional "Commit to Reh" award, which would be added to their existing merit scholarship. These awards vary from an additional $3,000–$9,000 based upon the type of merit award given. The schedule is as follows:
$3,000 Fellowship Level
$5,000 Dean's Level
$7,000 Presidential Level
$9,000 Trustees Level
"I attribute a lot of my success in earning my Clarkson MBA. I wouldn't be where I am if I didn't have it. I know that."

Andrew Miller '14, '15, MBA, with data analytics concentration & BS in supply chain management
Last updated Apr 2020
About the School
At Clarkson, innovation is impact. Students who choose Clarkson for graduate and professional programs come here with a purpose: to advance knowledge, to explore ideas that propel society, and to buil ... Read More
At Clarkson, innovation is impact. Students who choose Clarkson for graduate and professional programs come here with a purpose: to advance knowledge, to explore ideas that propel society, and to build meaningful careers.
Read less