Read more about this program on the school's website
Program Description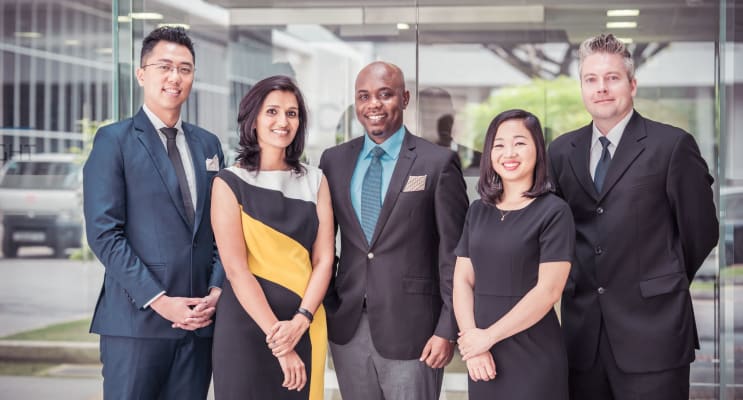 The Nanyang Fellows MBA is an exclusive full-time program for senior executives from the public sector who want to gain deep global business knowledge and Asian insights.
The program was launched in 1998 by Dr. Tony Tan, then Deputy Prime Minister of Singapore. Each year, a small and select group of about 25 participants from the public sector across the continents, join the program for a journey of profound and intense learning.
Program Overview
A one-year full-time program for senior executives from both public and private sectors, the Nanyang Fellows MBA offers an academically rigorous curriculum that addresses the most relevant global economic and management trends and leadership precepts that embrace the best of the East and the West.​​
The program combines a variety of academic methods to ensure an interactive and in-depth learning experience. Nanyang Fellows learn through dynamic lectures, keynote sessions with industry and government leaders, individual and team projects, peer-based learning, overseas study trips, and the case study method.
Developed by Harvard Business School, the case study methodology is widely used in executive education. Using this methodology, Nanyang Fellows sharpen their decision-making and analytical skills by examining authentic business scenarios and defending their recommendations to the group.​
International Format
The year of the leadership journey will be further enhanced by the international segment of the program. The in-depth learning at two globally renowned institutions in the U.S. – University of California, Berkeley, and The Wharton School of the University of Pennsylvania enables the Nanyang Fellows to amalgamate the best of the East and West practices. These set the Nanyang Fellows apart and gives them a competitive edge to sharpen their strategic management and leadership perspectives, moving them up the career ladder confidently.
Why Nanyang Fellows MBA
​Residential Programme in the U.S.
The learning begins in Singapore, at the Nanyang Technological University, and continues later on at two universities in the United States: UC Berkeley and The Wharton School of the University of Pennsylvania.
Overseas Business Study Mission
A key part of the learning takes place in a foreign country for the overseas Business Study Mission (BSM). The BSM provides the Nanyang Fellows with an opportunity to bridge theory with practice through studying a specific topic or issue and conducting a case study in the selected country.
Business Leadership Seminars
The Nanyang Fellows MBA program includes a series of Business Leadership Seminars where participants gain privileged insights from the experiences of top Asian and international CEOs and business and government leaders through closed-door dialogues.
Live Consultancy Project (LINC)
As a capstone to the Nanyang Fellows MBA, participants embark on LiNC; a consulting project to apply what they have learned on a real-world business problem. With guidance from experienced professors and applying all they have learned throughout the program, participants would act as consultants or domain experts to address the problems identified in the industry project, cumulating in the delivery of a final report and presentation to the sponsor company. Through such an experiential learning opportunity, participants would be able to reinforce their learning through practical hands-on opportunities.
Lifelong Bonds
At the end of the challenging journey, the Nanyang Fellow is rewarded with a firm conceptual foundation and practical knowledge of business models that embrace the best of east and west business practices, sensitive to the cultural diversity of business dealings within a global environment. You will also have established lasting friendships with other bright and dynamic leaders, from both the developed and emerging economies.​
Admissions
​​The Nanyang Fellows MBA program attracts only the top talent. As such, we are highly selective in handpicking individuals to be part of this program. While we look for leadership potential, strong academic capability, and good personal qualities (ethics, integrity, and social responsibility), we also try to ensure a good diversity of backgrounds to add to the richness of this program.
Admission requirements
A good bachelor's degree
At least 8 years of management or senior professional experience
Demonstrated fluency in English and a good score in TOEFL or IELTS (for international applicants whose medium of instruction was not in English at a tertiary level)
Recommendation from your organization's CEO or equivalent where applicable
Interviews
Shortlisted candidates will be invited for an admission interview. The interview may be conducted online or on campus. This interview will help us to better understand your application and assess your suitability for the program.
Leadership Potential
The Nanyang Fellows MBA Programme is for future leaders, and we want to ensure that all participants have proven leadership potential. We will carefully assess your leadership potential through your application essays, referees' testimonials, and interview outcome.
Strong Academic Capability
We look for candidates who have strong proven academic performance, as the intellectual demands of this program are rigorous and require excellent analytical abilities and good communication skills. Apart from a good academic record, we will also consider your GMAT (if any) and TOEFL scores to evaluate your academic abilities.
Character and Personal Qualities
As a future leader, we expect from you the highest levels of personal integrity and character. As you will be learning and working closely with other Fellows, we expect qualities of mutual respect and civil decorum, and the genuine desire to share and contribute towards community fellowship and cooperation, fostering camaraderie and furthering friendship and goodwill amongst all.
Participants' Experience
The full-time Nanyang Fellows MBA program serves as a welcomed sabbatical for busy executives who take one year off work to reflect, rejuvenate, and embark on an intense yet enriching learning journey.
Last updated May 2020
About the School

Young and research-intensive, Nanyang Technological University (NTU Singapore) is ranked 11th globally. It is also placed 1st amongst the world's best young universities for the sixth consecutive year ... Read More
Young and research-intensive, Nanyang Technological University (NTU Singapore) is ranked 11th globally. It is also placed 1st amongst the world's best young universities for the sixth consecutive year.
Read less