Nanyang Executive MBA (EMBA)
Home ›
Nanyang Executive MBA (EMBA)
Read more about this program on the school's website
Program Description
Empowering Next-Gen Leaders
With technology and innovation reshaping the global business landscape at an incredible pace, businesses and leaders need to be more agile than ever before.
The Nanyang EMBA is a transformative program designed for high-caliber, high-potential professionals who recognize the value of investing in themselves to keep pace with the constantly changing business world.
The program is focused on preparing you to rise to emerge challenges and opportunities. Beyond that, it empowers you to be a pioneering change maker in managing a business in this disruptive age.
Well placed to deliver new thinking and best practices from the region, the program will expand your views on strategy and leadership within an Asian context while preparing you to excel in global environments and adapt to each new wave of digital change.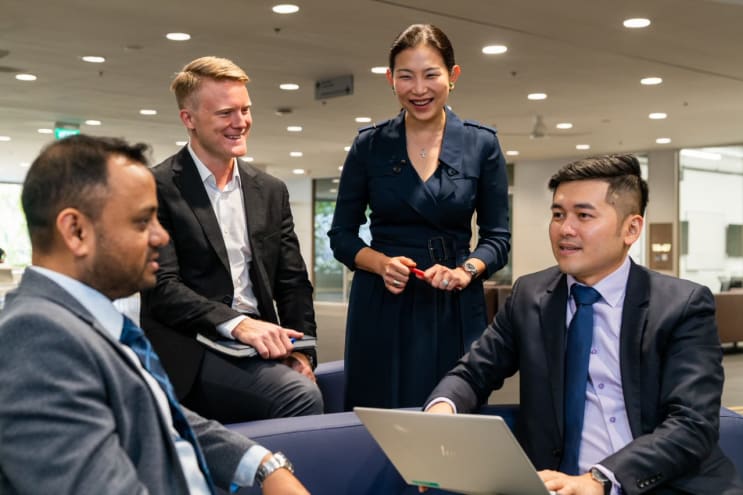 Program Overview
The Nanyang EMBA is a transformative program that empowers senior executives to thrive and succeed in the Age of Disruption. Its comprehensive, cutting-edge curriculum is distinguished by three key areas of focus:
Global leadership
Unique leadership modules offered in the Nanyang EMBA program, such as Cultural Intelligence, Agile Leadership, and Coaching, are designed to build sought-after skills like strategic thinking and the ability to manage cross-cultural organizations. In this way, our program helps to prepare you to become a global leader who is not only culturally-savvy and agile but is also someone who can make impactful decisions wherever you are placed.
Technology & Innovation
As a world-class business school in a leading technological university, Nanyang Business School (NBS) is uniquely positioned to help you make sense of the impact of new technologies in the business world. Drawing on the latest research by NTU's groundbreaking research centers, the curriculum explores how automation, AI, and robotics have disrupted businesses and how you can use these tools to make better decisions, lead with agility, and gain a competitive edge.
Dynamic Asia
Asia's growing influence on the global economy makes it a dynamic and exciting place to be doing business today. From economic issues to emerging market strategies, the Nanyang EMBA program delves into Asian markets in detail for an understanding of what drives the region's economic success.
The curriculum is delivered in an environment of experiential learning that focuses on the real needs of businesses and includes the practical real-world application of skills on the program's signature Live Consultancy Project (LiNC).
NBS is proud to offer the EMBA in collaboration with our partner institutions, UC Berkeley and Wharton, School of the University of Pennsylvania. You will take courses such as Technology-based Innovation & Disruption at UC Berkeley, surrounded by the inspiring atmosphere of Silicon Valley, and cover advanced finance at a corporate strategy level at Wharton, renowned for its expertise in finance.​
Why Nanyang EMBA
Here are six compelling reasons to make the Nanyang EMBA the next important step in your career.
1. Asia's Leading EMBA
In the Financial Times Executive MBA Ranking 2019, the Nanyang EMBA was ranked #1 for Career Progression in Singapore. We are also one of Asia's Top 10 EMBA programs.
2. Powerful Network
Benefit from best-in-class global alliances with academic and industry partners and trailblazers, outstanding faculty who represent today's thought leaders in global management, and the opportunity to enrich your professional network as part of NTU's extensive global alumni community.
3. Part-time Format, Immediate Impact
The program's part-time, modular format allows you to accelerate your professional growth without putting your career on hold. In fact, you'll be able to apply the new thinking, tools, and strategies you learn immediately in your organization.
4. Innovative and Relevant Curriculum
Reach higher levels of leadership performance through innovative courses such as Future Technologies, Agile Leadership, and Future-Ready Enterprise & Digital Transformation, developed with leading academic and industry partners to address the most pressing issues facing today's business leaders.
5. Asian Insights, Global Perspective
Overseas modules at premier partner institutions such as UC Berkeley and The Wharton School offer rare exposure to a culturally diverse learning environment while deepening your understanding of the global business environment from Eastern and Western perspectives.
6. Live-Action Learning
Gain crucial hands-on knowledge and experience through the Live Industrial Consultancy Project (LiNC), a live consulting assignment that addresses a real-life challenge in an organization, alongside company visits, insights from guest speakers, and collaborative learning with fellow participants.
Admissions
Admission Requirements​
The Nanyang EMBA program is designed for outstanding senior managers who have the ambition to build further on their already considerable experience. Our EMBA cohorts reflect a rich variety of professional profiles and industries, with each selected participant capable of contributing to classroom discussions and active participation to enrich peer-to-peer learning.
Minimum 8 years of work experience with at least 5 years in a leadership capacity
Undergraduate degree
Complete fluency in English, both oral and written
TOEFL score > 100 IBT or IELTS score > 6.5, if English was not the medium of instruction used at the undergraduate level​
Career Development
Working hand-in-hand with you in your journey to realizing your true potential
Whether you are at a career crossroads, looking to improve your career prospects in your current industry, or eager to fulfill the dream of being your own boss, Graduate Studies Career Development Office (GSCDO) offers tremendous resources to support your ambitions.
We appreciate the nuances, sacrifices, and challenges of earning an MBA as a busy working professional. As such, we have thoughtfully designed a wide range of services with you in mind. These facilities are available to you from the moment you arrive at NBS, right through to your graduation. Key services are listed below:
1-on-1 Career & Leadership Coaching
You will benefit from a talented team of experienced and trained coaches who are ready to provide students of diverse professional backgrounds with the expertise and insight they need to take that next career step.
Industry Insights
GSCDO is staffed with a team of career consultants to provide you with industry insights and broaden your network.
Career Skills Workshops
Join us in various career workshops that are aimed at helping you develop a unique personal brand, making a radical career switch, navigating your career journey, etc.
Events and Opportunities
Engage and connect with your peers at the many events held throughout the year by GSCDO. These events are also a great way to expand your professional circles, acquire industry knowledge, or simply enjoy the company of like-minded people with similar ambitions.
Access to Business Network
There will be frequent opportunities for you to interact with fellow students, faculty members, visiting professors with extensive management experience. You will cultivate a strong and stable network that is both wide and deep during your time here in NBS.
Tap into Alumni Network
The NBS alumni network spans more than 90 countries and includes about 50,000 graduates. Tap into the power of this community by connecting with alumni on LinkedIn or at get-together sessions organized by GSCDO. Many are accomplished professionals, from diverse fields, who are eager to mentor you and share experiences in NBS that facilitated their success.
Participant Experience​
​More than an education, the Nanyang EMBA unlocks new ways of thinking about what you are doing in your business or organization.
By interacting with world-class teachers and fellow students from a variety of industries you are given access to fresh ideas and innovative ways to apply meaningful changes to your work.
Creating a leadership mindset will allow you to anticipate challenges, seize opportunities and leverage relationships to grow your organization, and your value in the new and evolving business environment.
Last updated May 2020
About the School

Young and research-intensive, Nanyang Technological University (NTU Singapore) is ranked 11th globally. It is also placed 1st amongst the world's best young universities for the sixth consecutive year ... Read More
Young and research-intensive, Nanyang Technological University (NTU Singapore) is ranked 11th globally. It is also placed 1st amongst the world's best young universities for the sixth consecutive year.
Read less