Master of Business Administration
Home ›
MBA ›
Master of Business Administration
Read more about this program on the school's website
Program Description

Read more about how RIT is tackling the coronavirus crisis here
Overview
The MBA program requires 48 semester credit hours and consists of 16 courses, 11 of which are devoted to core functional areas, and five are dedicated to concentration areas and electives. An MBA concentration is a sequence of three courses in one discipline, giving you in-depth knowledge in a chosen topic.
Concentrations
Students may choose from a variety of concentrations that best fit their career goals. Popular business disciplines include finance, marketing, and entrepreneurship. You may choose from a number of joint concentrations offered in partnership with RIT's other colleges. Students may also create a custom concentration using any graduate courses offered at RIT (subject to prerequisites and program director review and approval). A concentration is defined as three MBA electives in an area of specialization. Concentrations are listed below. (MBA concentrations do not appear on a student's transcript.) Students must take one concentration.
Industries
Advertising, PR, and Marketing
Consumer Packaged Goods
Manufacturing
Investment Banking
Management Consulting
Curriculum
Business administration, MBA degree, typical course sequence
MGIS-650 Introduction to Data Analytics and Business Intelligence
ACCT-603 Accounting for Decision Makers
DECS-743 Operations and Supply Chain Management
ESCB-705 Economics and Decision Modeling
FINC-721 Financial Analysis for Managers
MGIS-735 Design and Information Systems
MGMT-735 Management of Innovation in Products and Services
MGMT-759 Competitive Strategy
MGMT-775 Corporate Social Responsibility and Business Ethics
MKTG-761 Marketing Concepts and Commercialization
MGMT-740 Organizational Behavior and Leadership
MBA Concentration
Electives
Concentrations
Accounting
Business Analytics
Documented evidence of computer programming experience required. Documentation may be based on the educational attainment of completion of massive open online course completion.
Digital marketing
Entrepreneurship
Finance
Innovation management
International business
Management and leadership
Management information systems
Marketing
Project management
Supply chain management
Customized concentration options
In addition to the above concentrations, students may complete a three-course concentration from other RIT colleges, with program director approval. MBA students may currently complete concentrations in communication and media technologies, health systems administration, human resource development, engineering management, or public policy.
Additional options may be pursued, but must receive approval from the program director.
Double concentrations
Students may elect to complete two concentrations. No more than one course may be used to fulfill the requirements of both concentrations.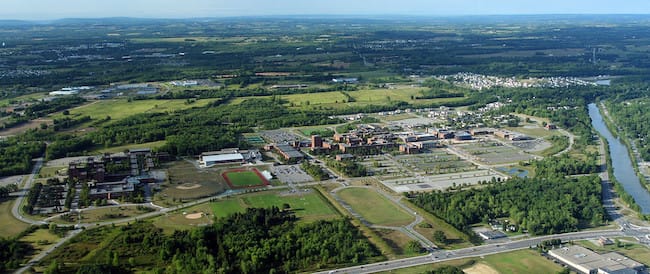 Admission Requirements
To be considered for admission to the MBA program, candidates must fulfill the following requirements:
Complete a graduate application.
Hold a baccalaureate degree from an accredited institution.
Have a working knowledge of algebra and statistics.
Submit official transcripts (in English) of all previously completed undergraduate and graduate course work.
Submit scores from the Graduate Management Admission Test (GMAT) or Graduate Record Exam (GRE) (GMAT preferred).
Submit a personal statement.
Submit a current resume.
International applicants whose native language is not English must submit scores from the Test of English as a Foreign Language (TOEFL). Minimum scores of 580 (paper-based) or 92 (internet-based) are required. Scores from the International English Testing Language System (IELTS) are accepted in place of the TOEFL exam. The minimum acceptable score is 7.0. The TOEFL or IELTS requirement is waived for native speakers of English or for those submitting transcripts from degrees earned at American institutions. For additional information on the IELTS, visit www.ielts.org.
Applications are accepted for fall, spring, and summer semesters. Students may complete their studies on a full or part-time basis.
For further information about program-specific GMAT/GRE waiver opportunities, tips on personal statements, and additional guidance on how to submit a successful application, please visit Saunders College of Business Admissions Requirements.
Completed applications for admission should be on file in the Office of Graduate and Part-time Enrollment at least four weeks prior to registration for the next academic semester for students from the United States, and up to 10 weeks prior for international students who are applying for student visas.
Last updated May 2020
About the School
With more than 80 graduate programs in high-paying, in-demand fields and scholarships, assistantships and fellowships available, we invite you to take a closer look at RIT. Don't be fooled by the word ... Read More
With more than 80 graduate programs in high-paying, in-demand fields and scholarships, assistantships and fellowships available, we invite you to take a closer look at RIT. Don't be fooled by the word "technology" in our name. At RIT, you will discover a university of artists and designers on the one hand, and scientists, engineers, and business leaders on the other – a collision of the right brain and the left brain.
Read less