Master of Business Administration
Home ›
Master of Business Administration
Program Description
UCAM is the place for students who want to lead the next generations based on their acquired knowledge, experience, and human quality. It is coherent to include an English-taught Master's Degree in Business Administration in our broad academic offer: with this curriculum, UCAM facilitates a high-quality training program in accordance with the university's values and objectives and is able to welcome students from all over the world.
The here presented MBA provides graduates from a variety of backgrounds – e.g. law, communication, engineering, arts, and health – with a solid formation in business administration, thereby enabling them to further develop their professional career. After UCAM's Full-Time MBA, graduates will be ready to start their own businesses as entrepreneurs, act as executive directors, accountants, economists, project administrators and human resources experts or fulfill any other managerial position in a company. To achieve this goal, the teaching faculty is composed of both academic lecturers as well as company executives who will assist students in developing their knowledge and skills.
With a total of 60 ECTS, the MBA is an Official Master's Program with recognition throughout the European Higher Education Area, paving access to any aspired Ph.D. program. The 360 hours of lectures are complemented with a minimum of 150 hours of hands-on experience in a company and 990 hours of practical work – individual or as a group. Moreover, from April on students should dedicate 1.5 hours a day to work on their Master's Project, which they will present and defend in September.
The curriculum requires a high level of personal commitment, effort and organization of the students' daily workload in order to prepare future graduates to achieve their academic goals.
KEY FACTS
Master of Business Administration
Faculty of Business and Legal Studies
Full-Time, On-Campus
1 Academic Year
60 ECTS
Limited Access: 30 Places
Access to PhD
Today's society is evolving at a steady pace. Every day, different problems and challenges emerge, making the development of companies an uncertain path. In order to grow and contribute to the world's progress, enterprises have to present new solutions to the market and to the business culture, never ignoring the real purpose of any society: to contribute to the common good.
The objective of the Full-Time Master of Business Administration is to empower each participant with strong leadership skills in an international and multicultural context. Students will acquire knowledge and competencies in business administration, consulting as well as companies' evaluation, thereby being able to apply their gained skills in real situations.
Recognized academics and successful executives join hands with a strong faculty team representing the broad perspective of a company in its different aspects and assisting future leaders in their decision-making processes.
The students' development depends on their cooperative attitude and open-minded personality. As part of an international, multicultural group, classmates will have to team up with each other and work together to overcome different tasks and case studies based on real company problems. Naturally, networks will grow in this MBA course and the bonds created can lead to new and exciting projects beyond the students' studies.
During the MBA, every participant will have the opportunity to actively engage in the business world by means of an in-company internship. With a minimum of 150 hours, this internship will contribute directly to the experience and professional profile of students.
Moreover, UCAM's career services will be available to the MBA students, including the SOIL – i.e. the "Orientation and Work Placement Service" of UCAM, "Portal de Empleo" – the university's employment portal – and the "Network of Recruiting Erasmus", a service that promotes international students' employment in top companies throughout Spain.
Student Profile
UCAM's Full-Time MBA was particularly designed for people with a desire to advance their careers in the area of business and decision-making.
Core target of this Master's Program are international and Spanish university graduates from a variety of academic backgrounds such as law, communication, engineering, arts, health, nutrition, retail or physical activity, striving to gain advanced knowledge in the field of business administration, assessment and consulting as well as general management, strategy formulation and capacity planning.
For graduates with previous experience in this area, the MBA will be an opportunity to refresh their knowledge and add new perspectives to their focus based on the objectives and values which the program reflects.
Students should be ready to work and relate with mates from different countries, cultures, and backgrounds in a multicultural environment that reflects the globalized world we live in. The Full-Time MBA focuses on people that are willing to lead, contribute to humanity and engage in social and economic sustainable development. Students should intrinsically wish to become leaders of empathy and ethics who put sincere efforts into the projects they are involved in. Moreover, future graduates should be capable of working hard and inspiring others as role models, show team spirit and be eager to help others succeed in their endeavors.
Last updated Mar 2020
About the School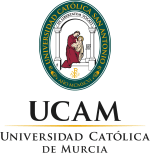 UCAM (Universidad Católica de Murcia) is a private university founded in 1996 with a clear mission: to train students with knowledge and skills to serve society, to contribute to the further expansion ... Read More
UCAM (Universidad Católica de Murcia) is a private university founded in 1996 with a clear mission: to train students with knowledge and skills to serve society, to contribute to the further expansion of human knowledge through research as an integral part of the development of man and mankind and to participate in the evangelical mission of the Catholic Church in the areas of education and culture.
Read less