Master of Business Administration
Home ›
MBA ›
Master of Business Administration
Read more about this program on the institution's website
Program Description
Have you considered working in business, running or developing businesses? If so, this unique MBA will provide high-quality training and education you need. You will develop the professional skills required to develop and run businesses in the 21st century. Your studies will build up a foundation of knowledge of current professional principles and practice on which to base your career.
"1 Decembrie 1918" University of Alba Iulia, Romania, gives you the unique opportunity to develop your expertise in the field of business, management and administration in accordance with the current and future trends in the field of economics, curriculum theory and practice, information technology and communication, design, and assessment, providing quality and efficient conditions for education.
What will I be studying
The MBA provides the opportunity to choose between professional training for a future career in business administration and a more specialist research path for those with a strong interest in Business Studies who wish to undertake research or work in the business administration sector.
Length of studies: 2 years, full time, 120 ECTS
The curriculum includes courses that provide training in the theory and practice of business administration, e.g.: Business Strategies and Models, Business Communication and Negotiation, Accounting and Business Consultancy, Financial Performance Analysis, E-Business, Business Ethics and CSR, Taxation, Investments and Acquisitions, Project Cycle Management, Contemporary Issues in Business Management, Business Law and Mediation, On-line Marketing Research, International Affairs, and Globalization, Practice in Business Consultancy, Entrepreneurial Culture, and Business Development, Organizational Change and Innovation Management, Global Affairs Management, Economic Scientific Research, Conflict Management, Research for Final Thesis
Career prospects
Business life is one of the driving forces in contemporary society. It's also the most important employer in the labor market. Fortunately, your Business Administration Master degree gives you excellent options for a successful business career.
After you successfully complete the Master of Business Administration you will have the opportunity to advance in your career in mid-to-upper level management professions at organizations of all sizes and types both in the private and public sector, such as:
Multinational companies, banks, pension funds and insurance companies (e.g. as a financial analyst)
Companies of all sizes in all industries (e.g. as a manager)
Government ministries (e.g. as an advisor)
Academic institutions (e.g. as a lecturer)
Consulting companies (e.g. as a management or business consultant)
Start-up companies (e.g. as an entrepreneur: starting your own business)
Why study in Alba Iulia?
The Master of Business Administration offers a unique opportunity to undertake a postgraduate degree in a vibrant research-led environment that prides itself on its national and international status. The opportunity for experiential and hands-on learning through internships and practical courses combined with the unparalleled opportunity to work with outstanding and dedicated academics offers students the chance to graduate after acquiring a unique set of skills and knowledge.
The Master of Business Administration has been developed by the members of the Department of Economics and Business Administration. The Department is highly rated in Romania with active research groups in business administration.
The beautiful and historic city of Alba Iulia provides a stimulating and picturesque backdrop to your master's experience.
How to apply?
Academic requirements:
The applicants must present study papers issued by accredited/recognized educational institutions, have good results in education, respectively an average of the study years of at least 7 (seven) corresponding to the scoring system in Romania or the "Good" score, as the case.
English language requirements:
For acknowledged study programs that are carried out in foreign languages, the receiving high education institution will organize a foreign language test. The persons that come from countries where the official language is the language in which the courses are run and the persons who have an internationally acknowledged language certificate will be exempt from this test.
Registration requirements:
International students from outside the EU who wish to attend a degree program must comply with the national legislation and "1 Decembrie 1918" University of Alba Iulia Charter.
Application procedure:
Step 1. Prospective students will send by regular post the application files directly to "1 Decembrie 1918" University of Alba Iulia.
Step 2. The University will evaluate the files and send to the Ministry of National Education – General Department for International Relations, a shortlist of persons that are nominated to receive the Letter of Acceptance to Studies. Along with the list, the University must send a copy of the application files
Step 3. The General Department for International Relations will issue the Letter of Acceptance to Studies and send it to 1 Decembrie 1918" University of Alba Iulia.
Step 4. Applications are received on a rolling basis, starting with the beginning of June until the end of August for admission to studies in the following academic year. The Letter of Acceptance will be issued by the Ministry of Education by the commencement of each academic year, i.e. 1st of October.
Documents required for the application file:
Application form (in two copies);
Certified copy of the High school graduation diploma or equivalent – for undergraduate studies-duly stamped by the Romanian embassy;
Certified copy of the Bachelor's degree or equivalent – for postgraduate applicants or Ph.D. - duly stamped by the Romanian embassy;
Transcript of records translated into Romanian, English, French or German;
Language certificate (optional);
Certified copy of the birth certificate;
A copy of the passport valid at least 6 months after the date when the letter of acceptance to studies is issued;
Medical certificate (in a widespread international language) to prove that the person to be registered for studies does not suffer from infectious diseases or other illnesses that are incompatible with the future profession;
Two passport-type photos.
Tuition
Tuition for foreign citizens from non-EU member states payable in advance for one academic year:
Master of Business Administration
2,700 de euro / year for non-UE prospective students
3,000 lei / year for UE prospective students
Enrolment
When registering, the candidates will present the original documents from the Application file, certified for authentication by the Embassy of Romania to the issuer country or endorsed with Apostille of Hague, if the previous studies were not completed in Romania, in a European Union country or in accordance with the legal assistance agreements signed between Romania and third countries.
Last updated Jul 2020
About the School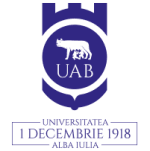 As a public higher education institution, "1 Decembrie 1918" University of Alba Iulia is going through a new stage of its existence, a stage marked by the three principles underlying the current manda ... Read More
As a public higher education institution, "1 Decembrie 1918" University of Alba Iulia is going through a new stage of its existence, a stage marked by the three principles underlying the current mandate of the University's Management: performance, quality, and consistency. As a relatively young University - we are celebrating 28 years of existence in 2019 -, our University is fully aware of its purpose and role within the higher education system in Romania and constantly relates to the tradition of the Transylvanian educational system.
Read less