Master of Business Administration
Home ›
Master of Business Administration
Program Description
Ivey's one-year MBA program starts in March and is designed for high-achieving leaders who are ready to accelerate their career success. Join one of the top MBA programs in Canada today.
What You Need to Know About Ivey's MBA Program
Our 12-month MBA Program appeals to students who want to achieve their career goals in less time, with the help of the top-ranked career management team in Canada and an extensive alumni network.
One-Year MBA Program
We offer a full-time MBA that starts in March, delivered using Ivey's case study method. We use an action-oriented, dynamic approach to simulate the challenges and complexities of real-world business.
Our one-year format recognizes that part of the big cost of doing your MBA is time away from the workforce. With only one year out of the workforce instead of two, we've minimized your opportunity cost while providing a world-class package of intense curriculum that will help you to achieve your career goals and get you back into the workforce quickly.
Full-Time Master of Business Administration
Our program is not simply a set of courses, but an action-oriented learning experience designed to accelerate your success in the real world. You'll learn everything you'd learn from a lecture and more: you'll be the decision-maker, asked to analyze the data, develop alternatives, make and defend your recommendations.
#1 for Career Management
Work with the top-ranked career management team to prepare for post-MBA jobs and transition or grow your career. Our consistently strong job placement rates are a testament to the talent and resources of our Career Management team.
Top MBA Program in Canada
Ranked #1 in Canada for five years running by Bloomberg Businessweek* for both student and recruiter satisfaction, Ivey Business School has one of the best MBA programs in the country, and we're proud of both our student experience and how well our graduates perform in the marketplace.
*Bloomberg Businessweek 2018 MBA ranking.
†The Economist Full-time MBA ranking 2015-2018
Top 20 Alumni Network Globally
Join a network of 24,500 alumni in 106 countries and discover why The Economist consistently ranks our alumni network top 20 in the world.† You'll build connections that will foster career growth, mentorship opportunities, and lifelong friendships.
Case Study Method
The Ivey MBA curriculum is delivered using Ivey's case study method. While other schools may employ cases in their teaching methodology, Ivey is the only case-based program in Canada. Employing the use of over 300 cases a year, we use an action-oriented and dynamic approach that mirrors the challenges and complexities of real-world business.
Ivey faculty use cases and work together to expand your perspective on the way issues impact an entire organization, using cross-teaching and an integrated approach to curriculum planning.
Global Learning Opportunities
Ivey recognizes that the world of business today is a global one. For this reason, we include international business issues and opportunities for learning into our curriculum. In addition to a variety of global case discussions, world-class faculty, and a diverse classroom environment, as an Ivey MBA, you'll also get the opportunity to extend your learning outside of the classroom.
International Study Trip
These trips are designed to complement the classroom activities of the Ivey MBA Program with on-the-ground exposure to some of the world's most dynamic and exciting economic regions. You will have the option of participating in an international study trip to China or South America for elective credit. During your time in one of these countries, you'll visit local businesses, make connections with business leaders (including successful Ivey alumni), join in 'cultural plunge' team activities, and learn how businesses operate successfully in these economic climates.
Exchange Abroad Opportunity
Students have the option to participate in an international exchange that will take place in the final semester (January to April). This is an exciting opportunity to immerse yourself fully in another culture and to expand your global network.
Exchange Schools
Universidad Adolfo Ibáñez, Santiago, Chile
Fundação Getulio Vargas, Escola de Administração de Empresas, São Paulo, Brazil
ESADE Business School, Barcelona, Spain
Erasmus University, Rotterdam School of Management, Netherlands
NHH Business School, Norwegian School of Economics, Bergen, Norway
Fudan School of Management, Fudan University, Shanghai, China
HKUST Business School, Hong Kong
NUS Business School, National University of Singapore, Singapore
Indian School of Business (ISB), Hyderabad, India
Graduate School of Business, University of Cape Town, Cape Town, South Africa
University of Otago, Dunedin, New Zealand
SDA Bocconi, Milan, Italy
University of St. Gallen (HSG), Switzerland
University of Warwick, United Kingdom
Global Faculty
Ivey's full-time faculty members have a truly global scope, with half holding international citizenship and representing 21 different countries. Every day, Ivey faculty bring their global experience and perspectives into the classroom.
Our faculty members are experts in their fields with impressive research and academic backgrounds. Their real-world business experience and knowledge are demonstrated not only in the classroom but by the approximately 150 business cases they write each year and the practical research they do with organizations. This expertise is critical to our commitment to having the finest faculty to train our future leaders.
Our faculty members will get to know you as an individual, and they are highly committed to your success. They love teaching, and it shows.
How to Choose an MBA Program
Not all MBA programs are created equal, and you owe it to yourself to make an informed decision.
With so many options to choose from, you need to consider what program length, location, learning style, class size, elective offerings, and career support best suit your needs and goals. Determine which criterion are the most important to you.
Create a Short-List of Programs
With your list of must-haves in hand, begin your research into specific programs. Get more detailed information from school websites, and gain insider perspectives by reading student blogs and social media channels.
Network
Talk to people: friends, family, colleagues, alumni, staff, recruiters. Ask about their experiences and lessons learned. Talking to people will give you first-hand insight that can't be found online or in a brochure.
Attend Events and Introduce Yourself
When you've determined the short list of programs you feel best suit your needs and goals, get out and attend events. The staff and faculty working for a school reflect the type of culture and personality of the program, so these interactions will provide you with a first-hand understanding of whether or not it's a good fit.
Be sure to take the time to introduce yourself and share a little about yourself and your goals. This can help the recruiting and admissions team put a face to the name if and when you do apply. Remember that first impressions are powerful, so you want to be positive and professional.
MBA Jobs
Ivey's Career Management team will provide you the tools and resources needed to navigate your career path well into the future. Although it is up to you to land your post-MBA job, the integrated curriculum and expertise that you will receive are unmatched.
Placement Rate: 90% of those seeking, received an offer by September 1, based on a 95% reporting rate
Starting Salary: $103,024 average salary (includes: base salary, signing bonus, and other guaranteed compensation)
Career Transition: 97% of Ivey grads made at least one career transition (change in industry, function, and/or geography)
What You'll Learn
A successful career demands a solid foundation of business knowledge. That's why an Ivey MBA effectively teaches business fundamentals and then goes one step further than most business school programs to also develop and hone your leadership abilities. In one intense year, only Ivey readies you for the continued leadership challenges required to thrive in the complex economy of today and tomorrow, with a curriculum that is designed to prepare you for career success.
Pre-Ivey Classes
Preparatory Knowledge Program
To make sure you get the most out of your MBA class time, we provide optional courses before the official program work begins. These preparatory courses are a great way to refresh your knowledge of business basics, reacquaint yourself with school routine, and get to know some of your classmates.
Business Essentials (March)
Your incredible year starts in the Spring
To ensure you have a solid foundation in the core subjects, the first six months of the Ivey MBA Program consist of courses including Strategy, Leadership, Finance, Accounting, Information Systems, Operations, Marketing, Analytics, Communications, and Economics and how they integrate.
Essential Courses
Accounting and Control for Managers
Decision Making with Analytics
Developing and Executing Strategies
Leading People and Organizations
Managing Operations
Marketing Products and Services
Leveraging Information Technology
Macroeconomics for Business Decision
Communicating Effectively
Managing Financial Resources
Electives, International Experiences & Real-World Projects (September)
Our elective courses are designed to support your career goals and satisfy your professional and personal interests.
International Experiences
Participate in an optional study trip to China or South America as part of the elective cycle. You can also pursue volunteer opportunities to teach and provide business consulting in China or Eastern Europe.
If you want to experience an international study exchange, you can take advantage of this in the final semester. This is a great opportunity to immerse yourself fully in another culture and to expand your global network.
Real-World Projects
Put your learning to the test when you participate in the Ivey Field Project. You can choose to develop a New Venture or work with an existing organization to develop strategic solutions.
Leading Cross-Enterprise (March)
Bring it all together
This capstone module pulls together everything you've learned and connects it to today's real-world leadership challenges. You'll examine some of the big questions like:
Who leads best and how do they do it?
How are great leaders developed?
What are the major forces and trends that will affect business in the 21st century?"
Admission Criteria
MBA Admission Requirements
We're looking for tomorrow's leaders; people with exceptional talent and ambition to succeed in areas they are passionate about.
These candidates represent a diverse group of backgrounds and experiences - culturally, professionally and personally. Building on your track record of accomplishments and leadership success, you have strong career aspirations and are looking for a dynamic and challenging MBA experience.
Critical Qualities in a Candidate
Leadership
From career success and promotion to volunteer work and community initiatives or other interests like athletics or the arts – we are looking for candidates who have demonstrated strong leadership orientation in previous experience and can bring that into the Ivey classroom.
Strong Academic Record
The Ivey MBA Program and case method require you to be analytical and comfortable solving problems and making decisions with ambiguity or incomplete information. Our assessment of this is based on your academic history in combination with your GMAT or GRE score. We view these within a holistic framework that seeks to understand all aspects of a candidate's character, qualifications, and experiences.
Quality Work Experience
At least two years, full-time work experience ensures that you and your classmates will have experiences to contribute to team and class discussions, along with the context and maturity to apply this learning in a professional setting.
Supporting Documentation
Unofficial transcripts from all post-secondary institutions. One copy of official/certified transcripts will be required if a candidate receives an admissions offer.*
GMAT score (Designate Ivey with code CMB-MG-18) OR GRE score (Designate Ivey with code 0292)
GMAT requirement is waived for applicants who have passed all 3 Levels of the CFA designation.
Resumé demonstrating a minimum of two years, full-time work experience
TOEFL or IELTS score (if required for ESL applicants)
Two to three completed reference forms
Online application including completion of two required written essay questions and two required video questions
Application fee of $150 CAD
*For University of Western Ontario Graduates(UWO), Ivey's Admissions office will contact UWO directly to obtain transcripts, so you are not required to order them.
Admission Criteria for International Applicants
In addition to meeting the minimum admissions criteria for all candidates, international applicants are also required to demonstrate a strong level of English proficiency which can be done by either post-secondary education at an English speaking institution or significant work experience in an English speaking environment. Alternatively, candidates must successfully complete an English language proficiency test. Ivey accepts:
TOEFL (minimum internet-based score of 100)
IELTS General OR Academic (minimum score of 7)*
MELAB (minimum score of 85)
PTE (minimum score of 70)
CAEL (minimum overall score of 60 required with no part less than 60)
*General IELTS test is recommended by Canadian Immigration.
International applicants who are admitted to Ivey will also be required to submit the following documents upon, or prior to, their arrival:
One copy of their original diploma
One official certified transcript from each foreign institution with English translations
Tuition & Living Expenses
It's important to consider all of the costs associated with the MBA investment when selecting your business school. In addition to tuition, it's important to consider the cost of living in the city you choose, as well as other academic expenses you may incur throughout the year. Below is an estimate of costs for the Ivey MBA Program.
Tuition & Academic Expenses (2020) *
All amounts are in Canadian dollars.
Domestic Students: $83,250
International Students**: $111,750
Western Ancillary and Supplemental Fees*** (approximate): $1,545
International Students – UHIP*** (Health Insurance): $772.50
Casebooks and Supplies*** (approximate): $2,678
*Subject to University Senate approval.
** Some international students at the University of Western Ontario are eligible to pay Canadian citizen tuition fees. Please see the Western Registrar's site for more information.
***Subject to change.
Other Academic Expenses
Preparatory Knowledge Program* (Optional)
Economics Primer (8 classes): $678
Finance, Accounting and Spreadsheets Primer (16 classes): $1,130
Quantitative Analysis Primer (10 classes): $904
International Study Trip (Optional Elective): $3,000 -$4000
*All costs are subject to change. The cost of the Preparatory Knowledge Program (PKP) is subsidized to ensure that as many incoming students as possible may participate. Pricing is on a per primer basis and includes HST.
Living Expenses: Monthly Estimates*
Rent: (up to $1,200): $1000
Apartment Liability Insurance (approximate range of $15-$20 per month): $20
Utilities (i.e. Personal hydro is approximately $50 and home internet is between $50 and $65 depending on bandwidth): $100
Food: $500
Cell Phone (range: $40 - $80): $80
Bus Pass (Monday – Friday pass is $70 and monthly unlimited is $81): $81
Miscellaneous (i.e.: eating out, clothing, movies, laundry): $425
Laundry: $50
*Monthly estimates based on single student sharing a house or apartment
*If you will file a Canadian Income Tax Return, you can claim your MBA Tuition. A T2202A receipt is provided through online service on the Student Center, which allows you to view your T2202A - Tuition and Education Amounts Certificate(s) from Taxation year 2000 and onwards.
Last updated Jun 2019
About the School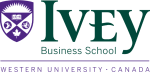 Welcome to the Ivey Business School at Western University, Canada's leading provider of real-world, case-based business education. Drawing on extensive research and business experience, Ivey faculty p ... Read More
Welcome to the Ivey Business School at Western University, Canada's leading provider of real-world, case-based business education. Drawing on extensive research and business experience, Ivey faculty provide the best classroom experience, equipping students, through Case-Method Learning, with the skills and capabilities they need to tackle today's leadership challenges. Beyond the classroom, Ivey students gain a global perspective on business issues, through international study trips, exchanges, and practicums.
Read less