Master of Business Administration, Flexible Learning
Home ›
Master of Business Administration, Flexible Learning
Program Description
Why this course?
We know not everyone can, or indeed wants to study full-time or by evening classes.
That's why our flexible learning route allows you to vary the pace and order of study to suit your personal circumstances. This route combines the best of full-time, part-time and open learning study.
You'll carry out most of your studies off-campus, with compulsory attendance at only one or two weekend schools per year.
You'll begin on an open learning basis with the option to supplement your studies through optional face-to-face classes in Glasgow.
This study method is ideal if you value face-to-face contact with tutors, visiting specialists and fellow students, but can't attend fixed weekly classes.
How does flexible learning work?
On joining the programme, you'll be given a recommended study timetable which allows you to complete the Strathclyde MBA within 3 years. It aims to provide you with an ideal balance of home study, attendance at weekend schools and intensive seminars in Glasgow.
Along with the timetable, we send you your first year of core learning materials and key textbooks and provide full details of our online and tutor support programme.
If you wanted to fast-track and complete the Strathclyde MBA in less than 3 years, our support team can suggest an alternative study schedule. Alternatively, if you'd like to take a bit longer to complete your MBA, we can accommodate your studies up to a maximum of 6 years.
Compulsory weekend schools
There are certain subjects, such as "the Learning Manager" which we feel can't be taught at a distance. This is why we've incorporated two compulsory weekend schools over the duration of the entire programme. These weekend schools are included in the standard tuition fee.
You can obtain great value through working with other ambitious managers, often from a wide cross-section of industry and commerce.
Optional intensive seminars
To make the most of your MBA experience we strongly recommend that you take advantage of the optional intensive face-to-face seminars in Glasgow. The cost of these is included in the tuition fees.
These sessions provide a valuable opportunity for in-depth study of a chosen subject area, to meet fellow students and benefit from shared experiences. In addition, intensive seminars are key to accelerating your progress through the programme.
Our suggested timetable will give you a firm idea of commitments well in advance. This allows you to plan your year ahead at work and home.
When can I join the programme?
In theory, you can start flexible learning study whenever you like. However, we do have an annual schedule of induction classes, weekend schools and intensive seminars. We recommend that you start close to an induction period. These normally take place around April and October each year.
We do our best to schedule induction classes, weekend schools and intensive seminars together throughout the year. This ensures that you have every opportunity to maximise your stay in Glasgow.
Weekend schools run for all study routes of the Strathclyde MBA. If you can't make a specified date, then you have the opportunity to attend the next weekend school at a later date.
Intensive seminars are only scheduled for our flexible learning course members. If you're unable to attend, we recommend that you complete the subject area using core learning materials rather than delay your progress.
How much time do I need to commit to studying?
If you attend all possible weekend schools and intensive seminars on offer in any one year, you should expect to be away from the office for a total of around 15 days.
You can also expect to spend around a minimum of 15 hours a week in addition to weekend school and optional seminar attendance.
Accreditation
Less than 1% of business schools in the world hold "triple accreditation", and Strathclyde is one of them. The 3 international accrediting bodies are:
The Association to Advance Collegiate Schools of Business
The European Quality Improvement System
The Association of MBAs
To gain accreditation by one of these bodies is an achievement in itself. To gain accreditation by all three bodies is a truly outstanding accomplishment and one we're proud of.
Association of Masters of Business Administration (AMBA)
You're eligible to join AMBA after enrolment on an MBA course.
Course content
The Strathclyde MBA is based on collaborative learning. You share work experience, knowledge, understanding and skills.
Our purpose is to help to develop you in diverse areas of management.
The MBA will shape and guide you as reflective, open-thinking, adaptive learners.
Modules
The Reflective Practitioner
This module is designed to help you respond to the increasing emphasis in the business world about corporate social responsibility, stakeholder expectations and the professional practice of management. The module has three classes, Learning Manager, Governance and Entrepreneurial Management & Leadership. This module provides you with the foundations to become an adaptive manager open to life-long learning.
The Learning Manager
Corporate Governance
Making the Business Work
This module helps you understand the management fundamentals and processes vital to business success and that are operated by specialist functional teams in an organisation.
By becoming aware of these disciplines you're more able to appreciate each function as well as the relationships and tensions between them.
The module has six classes:
Finance and Financial Management
Marketing Management
Analytical Support for Decision Making
Operations Management
Managing People in Organisations
Financial & Management Accounting
This module is designed to help you integrate the classes in the 'Making the Business Work' module.
The classes are designed to help you explore, understand and confidently manage internal and external ambiguity, complexity and uncertainty. The Strathclyde MBA is renowned for its reputation in these aspects of management.
There are four classes in this module
Exploring the International Environment
Strategy Analysis and Evaluation
Making Strategy
Strategic Consulting in Practice - This provides you with an opportunity to work with a live organisational issue in conjunction with a client organisation. The client will feature significantly in the evaluation of the class. Designing the class in such a way provides you with many insights into the uncertainties of managing yourself, the task of strategising and meeting the expectations of the client.
Personal Development
As you progress through the Strathclyde MBA we work with you to help you personalise your learning and development. We do that through two routes – Elective Classes and the final MBA Project.
Elective classes
MBA Project
Interaction with real companies
Learning & teaching
Core learning materials
The core learning materials are extensive study guides for each subject. They provide both direct tuition and commentaries on the recommended textbooks.
We've invested heavily in developing these study materials. They're constantly revised to keep them up-to-date.
Textbooks
Unlike most other MBA providers, core textbooks are included as part of the tuition fee.
These are the recommended books you require to complete your Strathclyde MBA. The majority of them are written by Strathclyde academics.
For some subjects, you'll also receive reprinted articles and CDs that provide additional instruction.
Support
Margaret English and Karen McMillan will be your main points of contact and can be easily contacted by e-mail, telephone or fax.
Margaret and Karen will deal with your day to day issues, but also provide advice on timetabling your studies, and how best to tackle flexible learning.
You're allocated a tutor for each subject studied. They can guide and support your work by telephone, fax and email and will be happy to provide detailed feedback on marked assignments.
Online support
We provide an online intranet service that is easily be accessed via the internet.
The intranet allows you to remotely access our Business Information Service. There you'll find a wide range of electronic databases so that you can easily carry out all your research and desk-work.
The intranet allows us to update you with current news and relevant information about SBS and provide you with supplementary information about your study subjects. It allows you to contact study and group colleagues via bulletin boards.
Assessment
Flexible learning has the same assessment criteria as our other study methods. Assessment throughout the programme involves a combination of:
coursework
workshops
examinations
group work
presentations
Examinations
There are three examination schedules each year:
It's also possible for our flexible learning course members to take examinations out of Glasgow.
You may be able to take exams at one of our international centres or a local British Council office, British Consulate or a University.
The venue will normally charge a room hire plus invigilation fee (this will vary) and you'll also be asked to pay £40 per exam payable to the University of Strathclyde.
Entry requirements
Our selection process is designed to identify talented professionals from a wide range of academic, business and cultural backgrounds.
While there are formal requirements for entry listed below, we take into consideration:
your potential
your interpersonal and team working qualities
the range and nature of your managerial experience
In order to assess these skills, we ask you to complete a number of essays outlining your experience and aspirations alongside references supporting your work experience and academic record.
We may ask you to undertake a formal interview to discuss your achievements and aspirations. We would encourage you to visit the school or centre you're applying to and to ask as many questions as you need to clarify your decision.
Qualifications & experience
For entry to the MBA programme you must:
hold a degree from a UK university or equivalent academic qualification from a comparable non-UK institution. If you studied for your undergraduate degree at a non-UK institution we will need a copy of your degree transcript. Professional qualifications will also be considered.
be at least 24 years of age.
have a minimum of three years' full-time postgraduate experience where the management of people and resources has played a significant role.
Entry at Diploma level may be offered to applicants who do not hold sufficient recognised degree level qualifications, but who do:
hold non-degree/professional qualifications plus at least five years' varied management experience.
have no formal qualifications but extensive and varied management experience (10 or more years).
are exceptional candidates over the age of 24 with a minimum of two years' managerial experience. This is available only to candidates applying to routes other than full-time.
Admissions testing
Although the Graduate Management Admissions Test (GMAT) is not a standard requirement of our admissions process, strong verbal reasoning and numerical abilities are critical for the MBA and we may ask you to undertake such a test.
Competence in English
The MBA programme is highly interactive and requires a high level of competence in English speaking, writing, reading and understanding. A minimum score of 6.5 in IELTS is required for those applicants whose first language is not English. We may consider applicants who fall slightly below these standards if they are willing to undertake the pre-sessional study.
Computer competence
In order to undertake the Diploma/MBA, you need to be competent in word processing, the use of spreadsheets and in report writing.
The application process
Completed application forms are considered by the Admissions Committee as they're received. You're encouraged to submit your application form and all the supporting documentation as soon as possible. Once all the details are with us you should receive a decision within three or four weeks of application.
Exemptions
Some exemption may be available from subjects in the 'Making the Business Work Module' and will be considered on a case by case basis. For further information contact the admissions team.
Fees & funding
How much will my course cost?
All fees quoted are per academic year unless otherwise stated.
Flexible learning - September intake
MBA
MBA (students first registered in 2015/16) - £5,334 ¹
MBA (students first registered in 2014/15) - £5,333
MBA (students first registered in 2013/14) - £4,500
PgDip Business (years 4 to 7 re-registration fee) - £100
PGDip Business (students first registered in 2015/16) - £5,250 ²
PGDip Business (students first registered in 2014/15) - £5,250
PGDip Business (students first registered in 2013/14) - £2,500
PGDip Business to MBA conversion (year 4) - £2,000
Business (years 4 to 7 re-registration fee) - £100
MSc Business & Management to MBA conversion (September) - £9,000
MSc Business & Management to MBA conversion (April) - £9,000
MBA Leadership
MBA Leadership (students first registered in 2015/16) - £11,250
MBA Leadership (students first registered in 2014/15) - £10,000
Flexible learning - April intake
MBA (students first registered in 2015/16) - £4,000 ³
MBA (students first registered in 2014/15) - £6,400
MBA (students first registered in 2013/14) - £4,725
MBA (years 4 to 7 re-registration fee) - £100
PGDip Business (students first registered in 2015/16) - £4,000*
PGDip Business (students first registered in 2014/15) - £6,400
PGDip Business (students first registered in 2013/14) - £2,725
PGDip Business to MBA conversion (year 4) - £2,000
PgDip Business (years 4 to 7 re-registration fee) - £100
You should also budget for additional costs such as travel and accommodation expenses in Glasgow.
Note
Fees for part-time and flexible MBA courses may vary between years of study. For students first registered in 2015-16, the payment profiles are as follows:
Year 1: £5,334/Year 2: £5,333/Year 3: £5,333 (Total fee: £16,000)
Year 1: £5,250/Year 2: £5,250/Year 3: £3,500 (Total fee: £14,000)
Year 1: £4,000/Year 2: £6,400/Year 3: £5,600 (Total fee: £16,000)
Year 1: £4,000/Year 2: £6,400/ Year 3: £3,600 (Total fee: £14,000
How can I fund my course?
Deciding to study the MBA is a considerable financial investment. We ask you to research how you're going to finance this as early as possible.
The majority of students on the full-time programme are self-funded. UK students can apply to loan schemes to fund their studies and non-UK usually raise their own finances through bank loans or scholarships.
The University's Finance Office administers instalment plans for tuition fee payments by self-funded students. Details can be found at http://www.strath.ac.uk/finance/student/tuitionfees/
Career Development Loans
The Career Development Loan Scheme is run in partnership with the UK Government's Department of Education and Employment. It's available at the following banks:
Barclays
Co-operative
The Royal Bank of Scotland.
For further information on eligibility visit the web-pages at www.lifelonglearning.co.uk/cdl/index.htm
Scholarships
Details of university scholarships are available at www.strath.ac.uk/search/scholarships/
Careers
We recognise that career development is one of the main reasons why people invest in an MBA. The MBA job market offers plenty of global opportunities but can be complex and challenging.
That's why we offer a dedicated careers service for MBA students. This consists of career planning and skills development as well as unlimited access to personal advice and coaching. Our careers service is delivered in-house and by a team of top consultants.
We work with you to complement your own proactive job search efforts. We help you to use your own particular career background and strengths to help with your next career move.
You'll gain the understanding and tools to develop your personal, strategic career plan, as well as the self-marketing and communication skills to make effective applications and impress at interview.
You'll have the knowledge of the global job market and a range of contacts to make it work for you.
Career & Professional Development Programme
Our core professional development programme is delivered in four modules throughout the year. Each lasts for a week and are held in October, November, January and February. The programme includes:
CPD 1
Introduction to strategic career planning and how to get the job you want
Creating a personal profile (to be published on our profile site)
Presentation skills workshop
Networking skills, including social media
The Glasgow Challenge
CPD 2
Personal skills audit
Setting career development goals
Self-branding/self-presentation (CVs, cover letters and applications)
Supporting resources
CPD 3
Company visits and industry presentations, including alumni
The Scottish MBA Careers Event
CPD 4
Practical interview and assessment centre sessions
Throughout the year, there will be additional workshops, master classes and company presentations.
Dedicated careers resources
You'll have access to a library of MBA-specific information and resources through our Careers Portal. This offers:
company and market information, both UK and global
vacancies all over the world
links to top MBA sites
Where are they now?
94.9% of our MBA graduates are in work or further study:**
Job titles include:
Business & International Development Manager
Chief Executive
Commercial Director
Consulting Manager
Digital Manager
Director of Customer Relations
Finance Director
Investment Manager
Senior Project Manager
Technical Director
Employers include:
Accenture
Barclays Plc
Deloitte
Devere Group
JP Morgan
Morgan Stanley
National Australia Bank
Rolls Royce
Scottish Southern Energy
Scottish Power
Based on the results of the national Destinations of Leavers from Higher Education Survey (2010/11 and 2011/12)**.
Last updated Sep 2019
About the School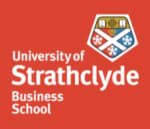 Strathclyde Business School(SBS)is a pioneering, internationally renowned academic organisation that shapes anddevelops the business minds of tomorrow. Strathclyde is one of a small percentage worldwi ... Read More
Strathclyde Business School(SBS)is a pioneering, internationally renowned academic organisation that shapes anddevelops the business minds of tomorrow. Strathclyde is one of a small percentage worldwide to be triple accredited, holding accreditation from the international bodies, AMBA, AACSB and EQUIS.
Read less
Glasgow ,
Athens ,
Zürich ,
Singapore ,
Dar es Salaam ,
Manama ,
Kuala Lumpur ,
Petaling Jaya ,
Muscat ,
Muscat ,
Dubai ,
Abu Dhabi ,
Milan ,
Munich ,
Beijing ,
Toulouse
+ 15 More
Less