Master of Business Administration (MBA)
Home ›
MBA ›
Master of Business Administration (MBA)
Read more about this program on the institution's website
Program Description
Get in. Gain the right experience. Grow your career. This program is built for the ambitious, hard-working, hands-on students and professionals who, rather than invest in a logo, are ready to invest in themselves. The Herberger Business School MBA program is where real-world case studies replace theoretical lectures. Where you can build a program focused on your success. Where you can apply your knowledge outside the classroom, through experiences with classmates that you'll take with you into the next phase of your career.
You don't just need an MBA. You need an MBA that means business.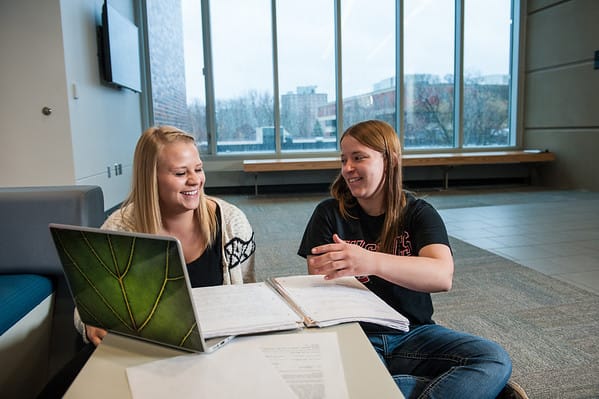 ©St Cloud State University
Program Highlights
Options for your convenience: Courses offered in St. Cloud, 100 percent online and St. Cloud State at Plymouth.
The curriculum combines business theory with hands-on application.
Courses scheduled to accommodate employment responsibilities, vacations and holidays to allow students to balance their studies, work, and personal lives.
Shorter time to completion: Part-time students typically earn their degree in 28 months, while full-time students often earn their degree in just 16 months.
Graduate assistantships offered each year for students attending at St. Cloud.
One of the most affordable Minnesota MBA programs.
Program Distinctions
Accredited since 1982 by the Association to Advance Collegiate Schools of Business (AACSB), the world's leading business school accrediting agency.
30+ years of AACSB accreditation (one of only two MBA programs in MN) means a long record of success. And the confidence to ensure yours.
Learn from faculty that don't just teach, but give you the tools to grow your career.
A faster ROI makes Herberger Business School a smarter MBA choice.
Application Deadlines
| | | |
| --- | --- | --- |
| | International Outside U.S. | International Inside U.S. |
| Fall | May 15 | August 1 |
| Spring | September 15 | December 1 |
| Summer | N/A | N/A |
Popular Careers
Financial analyst
Fund development administrator
Real estate executive
Corporate strategist
Project manager
Marketing communications manager
University Facts & Statistics
60 graduate programs leading to graduate certificates, master's and doctoral degrees
More than 200 graduate assistantships awarded per year
Graduate assistants receive up to a $9,250 stipend per year and tuition reimbursement for up to eight graduate credits per semester.
Why an SCSU MBA
Our Innovative Approach
The business world has changed. So has our MBA program.
St. Cloud State is leading the way forward with it's MBA to provide an education for tomorrow's business leaders with a foundation to face issues that matter. Now, more than ever, aspiring leaders need an MBA. St. Cloud State University makes it a real possibility for you.
Our Approach: Defined
Know: It's the traditional content, the foundation of the discipline.
Do: Where you put that knowledge into action. How do you apply what you are learning to action? How does that content play out in the industry and your professional landscape?
Be: It's all about reflecting. What are your strengths and where are the areas that you can identify that need enhancing? Successful leaders are continually reflecting and assessing and we have built that into each of our courses.
Experiential Learning
You'll delve into real-world learning opportunities, reflect on your business' roles and responsibilities in society, learn what it takes to be a game-changer and experience a curriculum grounded in ethics, sustainability, leadership, communication, and critical thinking.
The Result
A high-value master's degree in business administration that gives you the knowledge, leadership skills, and self-understanding to influence and lead others. You'll further yourself, your career and the world around you.
We pride ourselves on providing our MBA students with a way forward that has the greatest value for their hard-earned dollars. When you hear an MBA from St. Cloud State is high value, we mean it. You can earn your MBA degree from St. Cloud State for 60-70 percent less than you would pay at many other schools.
Value of a St. Cloud State MBA
The Herberger Business School MBA is one of just two programs in Minnesota to be accredited by the AACSB, the world's leading business-school accrediting agency, for more than 30 years.
Accreditation by the AACSB means your Herberger MBA meets the highest standard of achievement for business schools worldwide. It means you're attending a program that maintains continuous and rigorous improvement. It means your MBA education will deliver high value. And, it means you'll stand out among your peers.
Our graduates earn a high return on their investment when comparing their average salary increase to the cost of their program.
Estimated costs:
$32,000 at St. Cloud State
$35,000 at St. Cloud State at Plymouth
$35,000 Online program
Program Options
Three Formats. One Quality MBA. Your Way Forward.
Grounded in theory and complemented by experiential learning, St. Cloud State's MBA curriculum combines classroom education with real-world applications. It prepares tomorrow's business leaders – like you – with the knowledge, confidence, and integrity to enact real change.
We offer an Ignite course designed for individuals who need an introduction to business course fundamentals.
Our MBA program courses integrate a broad-based business education. But, you'll also develop your individual skills.
Plymouth
A part-time cohort MBA program is offered in Plymouth.
St. Cloud
Both part-time and full-time programs are offered on the St. Cloud campus for an MBA degree completed in as little as 16 months.
Online
This convenient program can be completed 100% online.
Admissions
The Herberger Business School MBA program attracts students committed to bettering themselves and the business world. They're people who have a desire to lead, a passion to make a difference and a high standard of excellence.
Admission to our graduate program is competitive. Note that 3-5 years of professional work experience is expected for cohort program applicants.
Application Deadlines
All three programs have rolling admissions. The Plymouth program starts a new cohort each spring semester. The Online program begins a new cohort each fall and spring semester. And students in the St. Cloud program direct their own path with the option to start either fall or spring semester.
Secure your spot today.
Application Tips
Attend an information session.
Complete your application in multiple sessions using your user ID and password. You can also log in to check if specific application materials have been received.
The GMAT exam admission requirement may be waived for an MBA program applicant. Within the online application, applicants will be asked questions to determine if they meet any of the following requirements:

3.25 GPA or higher on a business degree (last 60 credits) earned from an AACSB accredited school.
A minimum of five (5) years of recent full-time, post-graduation, professional work experience involving progressively more responsibility.
Prior completion of a graduate degree from an institution accredited by an agency listed on the U.S. Department of Education list.

Approval for GMAT waivers will be at the discretion of the MBA program director based upon all available information regarding your potential success in the program.
Pay the nonrefundable application fee online through a credit card, or mail a check to the School of Graduate Studies.
Find scholarship and loan information through Graduate Admissions.
Application Checklist
To complete your application you will need:
Transcripts
Official GMAT score
Statement of intent
Resume/curriculum vitae
Three recommendations
International Students
English proficiency exam results
International transcript evaluations
Application Process Timeline
The School of Graduate Studies receives a completed application.
The application is sent to the MBA Program for review.
After review, an admission decision is reported back to the School of Graduate Studies.
The School of Graduate Studies sends applicants the official admission decision via email.
Newly admitted MBA students receive a welcome and next steps email from the MBA Program.
Each of the steps may take seven to 10 business days.
Last updated Oct 2020
About the School
At St. Cloud State, an education is about far more than an education. It will be an opportunity to explore ideas, seek out unique perspectives and embrace new challenges – all of which will help you u ... Read More
At St. Cloud State, an education is about far more than an education. It will be an opportunity to explore ideas, seek out unique perspectives and embrace new challenges – all of which will help you unleash your true potential. You will make life-long memories on our 100-acre campus along the scenic Mississippi River. Futures that begin here might seem unassuming at first, but like the mighty Mississippi River, they quickly gather strength. Growing. Surging. Until they're seemingly unstoppable. If you're looking for choice, we've got that covered. We have more than 200 undergraduate programs of study and more than 60 graduate programs, holding nearly every available national accreditation. Founded in 1869, St. Cloud State has evolved into a comprehensive university. We're on a mission to unleash ideas, unleash imagination, purpose, and promise.
Read less