Master of Business Administration (MBA)
Home ›
MBA ›
Master of Business Administration (MBA)
Program Description
Southern States University's Master of Business Administration is a two-year program designed to help prepare students for dealing with a world of business and industry that is constantly changing and evolving. With its emphasis on providing a solid academic and theoretical business foundation combined with modern management skills, the program is structured to ensure its students acquire an in-depth understanding of the structure of the global economy, as well as the practical business decision-making skills required to cope with the ever-increasing complexity of business activities in this global economy. In addition to its educational focus on globalization and international business knowledge and skills, SSU is uniquely positioned to offer an MBA program that brings together aspirants from countries all around the world to study in a collaborative spirit. In consideration of students' tight schedules and responsibilities, SSU's MBA courses are offered on weekday evenings and Saturday mornings and afternoons.
Duration
2 years
Cost & Fees
| | |
| --- | --- |
| Fee Description | $ |
| 65 Quarter Credits x $155/unit (16 classes) Quarter = 10 weeks and Orientation class = 1 week | 10,075* |
Incidental Fees
| | |
| --- | --- |
| Fee Description | $ |
| International Booking Student Fee | 400 |
| Application Fee (non-refundable) | 100 |
| Evaluation/Critique – Final Project | 500 |
| Re-evaluation Fee – Final Project | 250 |
| Courier Fee (non-refundable) | 85 |
New pricing goes into effect for students starting their studies in Winter Quarter 2010 (starting in January 2010). Current students are bound by the pricing and terms included in their Enrollment Agreement.
Entry Requirements
Students applying for admission to the graduate MBA program are required to satisfy the following admission requirements:
Complete and submit an Application for Admission
Submit the non-refundable application fee of $100
Provide verification of completion of a Bachelor's Degree in the form of an official transcript of record from a USDE-recognized accredited institution, and submit official transcripts from all other universities or institutions previously attended; transcripts from outside the U.S. must be evaluated by a NACES approved organization (http://www.naces.org/members.htm);
Submit a written, single-spaced essay of at least 1000 words detailing educational and work history, goals as they relate to education and work history and the relationship between these goals and future career aspirations
Submit two official Letters of Recommendation (from professional or academic referees only)
Provide a current resume
In addition to the above items, international students and green card holders applying for admission to the MBA program must submit the following:
Financial documentation confirming that the student has adequate resources to ensure that s/he can meet all obligations throughout the period of study.
An official bank statement, not more than three months old reflecting a minimum positive balance must be submitted either in the student's personal name or the student's financial sponsor's name (in which case an Affidavit of Financial Support is also required). The minimum balance required is determined by program choice, selection of payment option, and a number of dependents.
If you cannot provide an official bank statement or letter in English, the University can refer you to a professional language services provider who will accommodate your translation needs. To have the service translate an official bank statement or letter into English, please contact the Admission Representative.
Copy of passport, including information page, Visa, and I-94 validity page;
International students must show proof of medical insurance upon arrival in the United States. Failure to produce valid proof of insurance will result in an inability to enroll in classes and maintain immigration status.
TOEFL (Test of English as a Foreign Language) result of 61 or above on the iBT (Internet Based Test), 500 or above on the PBT (Paper Based Test), OR an IELTS (International English Language Testing System) result of 5.0 or above. Test scores more than two years old will not be accepted.
TOEFL/IELTS Exam Exceptions will be granted to students who:
come from a country that uses English as the primary language in its education system;
have previously studied in an English-medium, USDE-recognized accredited university-level program for at least one academic term and maintained a minimum cumulative 3.0 GPA during the time attended;
have achieved a score of at least 80% on SSU's English Placement Test (EPT).
This test consists of listening, speaking, reading, and writing sections.
Last updated Dec 2017
About the School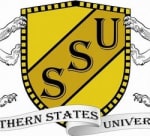 Southern States University (SSU) is becoming a leader in executive business education by providing its students with the skills necessary for managing a small business or advancing into senior managem ... Read More
Southern States University (SSU) is becoming a leader in executive business education by providing its students with the skills necessary for managing a small business or advancing into senior management positions in a large company.
Read less