Master of Business Administration (MBA)
Home ›
Master of Business Administration (MBA)
Program Description
The Master of Business Administration program enables students to contribute to the business profession and fosters independent learning. Upon completion of this program, students are able to:
Evaluate an organization's financial position through financial statement analysis and/or forecasting.
Summarize and discuss the ethical and legal responsibilities of organizations.
Apply selected methods of quantitative analysis to enhance business decisions.
Compare economic environments and markets and their impact on business.
Through a conceptual understanding, apply managerial leadership skills, marketing strategies and/or international business concepts, theory, and research to critically analyze and solve problems in unpredictable environments.
The Master of Business Administration offers an intensive graduate program that educates students in theories and practices of the modern business world. The MBA program fosters independent learning and enables students to contribute intellectually to the business profession.
MBA students complete general coursework in valuable areas such as accounting, finance, management, marketing and business research methods. Graduates demonstrate a conceptual understanding of advanced business strategies and critically analyze and solve problems based on applied research methods. There are four concentrations in the MBA:
Marketing
The concentration in Marketing is designed to provide students with a basic marketing background to prepare them for positions in business and government.
International Business (IB)
International business is an important aspect of the business world today. This concentration prepares graduates for employment in positions with companies engaged in international commerce.
Entrepreneurship
This concentration analyzes business entrepreneurship in an entirely new way. It is designed to inspire and expand the way business challenges are approached and to offer a curriculum designed to hone the skills of those who are currently – or aspire to be – an entrepreneur.
Leadership
This concentration prepares students to manage people, teams, and organizations in different cultural environments. It provides students with the tools they need to be successful organizational leaders.
Core Courses
MBA 5001 Decision Making and Problem Solving
MBA 5002 International Finance
MBA 5003 Project Management
MBA 5004 Managerial Accounting
MBA 5005 Management Information Systems
MBA 5006 Competitive Intelligence
MBA 5007 Human Resources and Knowledge Management
MBA 5008 Business Perspectives
MBA 5009 Tools for Business Statistics
MBA 6019 Executive MBA Capstone
International Business Concentration
MBA 6011 International Competitiveness
MBA 6013 Global Business Law
MBA 6014 Global Business Environments
or Marketing Concentration
MBA 6016 Global Marketing Case Analysis
MBA 6022 Marketing Research and Analysis
MBA 6024 Marketing Strategy and Planning
or Entrepreneurship Concentration
MBA 6030 International Trade for Entrepreneurs
MBA 6031 International Entrepreneurship: Case Studies
MBA 6032 Creating New Ventures
or Leadership Concentration
LMS 5002 Leadership Theories and Practices
LMS 6010 Cross-Cultural Human Relations and Negotiation
LMS 5003 Creating and Leading in Effective Organizations
Last updated Jan 2019
About the School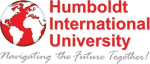 The mission of Humboldt International University is to offer quality educational services in suitable virtual environments in order to meet the learning needs of students through the development and i ... Read More
The mission of Humboldt International University is to offer quality educational services in suitable virtual environments in order to meet the learning needs of students through the development and implementation of appropriate technologies. We encourage and support innovation and creativity, utilizing technology as the backbone of our content delivery. We foster an environment conducive to quality learning experiences through a problem solving model and a competency based approach, coupled with the academic and practical training that enables students to achieve their professional goals.
Read less