Master of Business Administration (MBA)
Home ›
Master of Business Administration (MBA)
Program Description
The Master of Business Administration program is designed for aspiring and mid-career managers seeking to enhance their analytic, decision-making, and communication skills in complex organizational environments. Our students are mature, motivated adults seeking a graduate degree program that is adapted to their experience and expertise. They represent individuals within the for-profit and not-for-profit sectors who want to make more significant contributions to their organizations and to assume more significant management responsibilities.
Graduate credit for Prior Learning
In this 48-credit program, you will study executive management and develop leadership skills and complete 16 three-credit courses that represent the major functional areas of management. However, you may have already gained valuable knowledge through your management experience to date. Through academic assessments, you may earn credit in up to eight of 16-course content areas.
Those eight content areas include accounting and finance, managerial decision-making, managerial economics, management information systems, operations management, marketing management, human systems and behavior, and high-performance management.
Successful applicants to the program are expected to bring advanced-level knowledge from their experiences. Generally, students earn 6-12 credits or up to a total of 24 credits.
Flexible Online Study
You complete your work in the M.B.A. program predominantly through online courses. This format provides great flexibility and interactivity, enabling you to engage with your instructor, faculty mentor, and fellow students at times that are most convenient for you. It also makes the full range of the course's academic resources available to you at any time of the day or week.
This includes all course information, discussion spaces, access to fully online library resources, and "high end" enhancements including self-assessments, simulations, and modeling (where appropriate).
Residencies: Your Chance to Network, Collaborate and Learn
Three short-term statewide residencies bring students and faculty together for two days each. At these residencies, you have the opportunity to meet and interact with other M.B.A. students from across the state and country. Residencies offer you the opportunity to network face-to-face with others with similar academic and professional interests and with the M.B.A. faculty.
Residency experiences complement the online courses in those areas where individual and group interactions enhance student learning, from the development of teamwork skills to oral presentations.
The residencies are linked to two courses at the beginning of your program: Scanning the Business Environment and Executive Assessment and Development, to Managerial Reasoning (in the middle of your program), and to Strategic Executive Leadership (at the end of your program). In this last residency, you present the final project of your program.




Last updated Mar 2018
About the School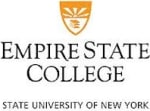 Founded in 1971, Empire State College, State University of New York, is one of the university's 13 colleges of arts and sciences, accredited by the Middle States Commision on Higher Education. We are ... Read More
Founded in 1971, Empire State College, State University of New York, is one of the university's 13 colleges of arts and sciences, accredited by the Middle States Commision on Higher Education. We are uniquely designed to serve adults pursuing associate, bachelor's and master's degrees. The college offers affordable, SUNY degrees onsite at 35 locations in New York state and abroad, as well as entirely online. You choose how, when and where you will study. When you take courses at Empire State College, you are among the 17,000 adult learners served annually by the college. We offer: Affordable SUNY tuition Degrees that can be tailored to meet your education, career, and personal goals A clear process for assessing and awarding credit for college-level learning from your work and life experience An independent study program, guided by outstanding SUNY faculty mentors, that allows you to study at your convenience "Transfer- friendly" policies Student online library and study resources In recent SUNY student surveys, Empire State College consistently ranks #1 in student satisfaction. Our online degree programs are industry leaders with more than 300 courses available. Our 53,000 graduates are proud that their degrees are current, relevant and marketable, often leading to promotions, new employment or master's degree studies.
Read less