Master of Business Administration (MBA)
Home ›
MBA ›
Master of Business Administration (MBA)
Read more about this program on the school's website
Program Description
Each generation of business students faces new obstacles and challenges. That's why Webster's MBA program attracts people from a variety of industries and culture and leverages this diversity into unique educational opportunities.
Webster Leiden Campus's MBA degree is a recognized brand that signifies highly specialized leadership and management training in a multicultural world. In fact, you won't learn the tricks of the trade, you'll learn the trade.
You will delve into serious timely issues relevant in today's business world and learn how to prepare for them. You will be asked to study leadership and then demonstrate it.
The program provides training for students interested in understanding the working nature of business in a competitive environment. Courses in the MBA program integrate information and theories from various disciplines, including accounting, economics, finance, marketing, production operations, and strategic management. The objective of this program is to develop students into broadly educated business managers who understand the nature of business, with the tools and techniques applicable to a wide variety of business situations.
The Master of Business Administration at Webster University is ACBSP accredited (Accreditation Council for Business Schools and Programs).
Learning Outcomes
Students will demonstrate foundation knowledge in each of the primary functional areas of business.
Students will be able to solve semi-structured business problems.
Students will be able to solve unstructured business problems.
Program Curriculum
The MBA degree requires completion of 30 credit hours of the MBA core curriculum and 6 credit hours of electives. Students may choose to complete an emphasis with additional specialized coursework in a variety of fields online in addition to their MBA coursework.
Core Courses:
MRKT 5000 Marketing
MNGT 5590 Organizational Behavior
BUSN 5760 Applied Business Statistics
FINC 5000 Finance
FINC 5880 Advanced Corporate Finance
BUSN 6070 Management Accounting
BUSN 6110 Operations and Project Management
BUSN 6120 Managerial Economics
BUSN 6200 Strategy and Competition
Program Outcomes
Our graduates enjoy careers in companies like Abn Amro, AkzoNobel, European Space Agency, Heineken, Shell, Philips, Samsung, TomTom, Rabobank, and more. Webster enhances entrepreneurial talent to which the many successful business ventures of our graduates are a testimony.
Average finance manager salary in The Netherlands: €67,699*
Admission Requirements
At Webster University we look for high potential individuals with a global mindset, who are not only motivated to succeed academically but also to thrive in society. We are proud to welcome students from different countries and backgrounds with the belief that embracing such diversity can only contribute to their overall development and enhance their experiences both inside and outside of the classroom. The Board of Admissions reviews every application carefully to decide who will be offered a placement.
Graduate Applicants
Application Form: The process begins with the submission of your online application form and payment of the application fee. The application fee can be paid by credit card. Applicants are required to upload a number of supplemental items to support their application. These are listed below.
Supplemental items: After receiving your application form you will be able to upload the following remaining documents into your application:
Copy of a recent CV or Resume
Letter of motivation (one page) stating why you want to pursue the program and how it ties into your current career or future professional goals
Two letters of recommendation
Certified copies of your transcripts
TOEFL 550/80 or IETLS 6.5 scores or Password English Test (6.5)
Financial documents
Why Webster Leiden Campus?
Webster Leiden Campus was founded in 1983 and since then we have had over 2,000 students from over 50 countries graduate. We are the only institute for Higher Education offering American-accredited degrees in the Netherlands with five schools and colleges include Arts & Sciences, Business & Technology, Communications, Education and Fine Arts.
Our mission is bold and appropriate for these times: Webster University, a worldwide institution, ensuring high-quality learning experiences that transform students for global citizenship and individual excellence.
Top Reasons to Study at Webster Leiden Campus
If you are planning to study an American degree abroad here are our top reasons why you should choose Webster Leiden Campus as your study destination.
Study in the heart of Europe

Located in the heart of the Netherlands, our Leiden campus neighbors The Hague and Amsterdam, home to many organizations and businesses with a diverse and international workforce and clientele. Our strategic location and global reach attract a network of world-class faculty, often coming straight from the same international businesses and organizations, who provide our students with a unique learning experience where deep academic knowledge is combined with professional expertise.
American education in Europe

Webster Leiden is the only university that facilitates the ability to get an American education and accreditation in The Netherlands.
Flexible Degree Structure

Webster's flexible degree structure promotes academic depth and intellectual breadth, encouraging you to explore diverse interests. Approximately half of your courses will be focused on your major area of study. Your remaining courses can be allocated to a second major, emphasis, minor, or certificate.
© Webster Leiden Campus - Webster University USA
It's affordable

In comparison to other European destinations like the United Kingdom, the Netherlands is an affordable place to earn a degree. The cost of living is significantly lower in "university towns" like Leiden, especially in comparison to what you'll find in London or Paris. The NS, the country's national train company, also offers heavily discounted tickets for students via its OV-Chipkaart program. In addition to the many student discounts offered by restaurants, theaters, and other businesses, living without a car isn't just an option, it's practically a way of life. It's much easier to get around on a train or a bicycle.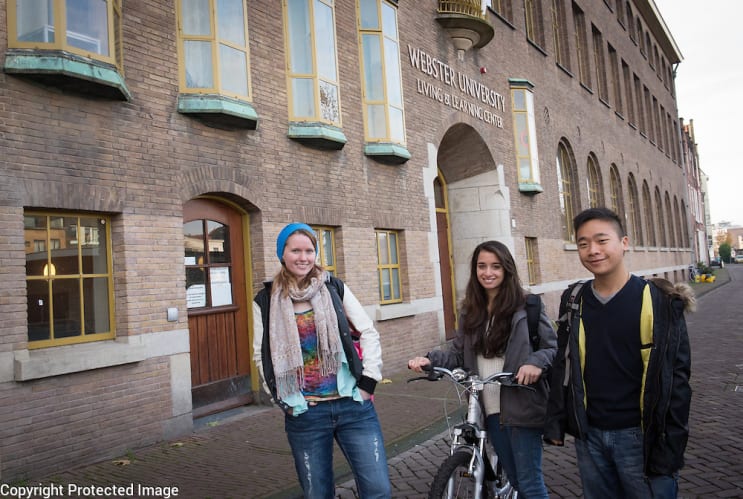 © Webster Leiden Campus - Webster University USA
Orientation year 'Zoekjaar' for graduates

Following graduation from Webster, a world of exciting opportunities will become available to you. The 'Orientation Year for Graduates Seeking Employment' is a residence permit aimed at retaining foreign talent for the Dutch labor market. You have up to three years after graduation to apply for this one-year residence permit.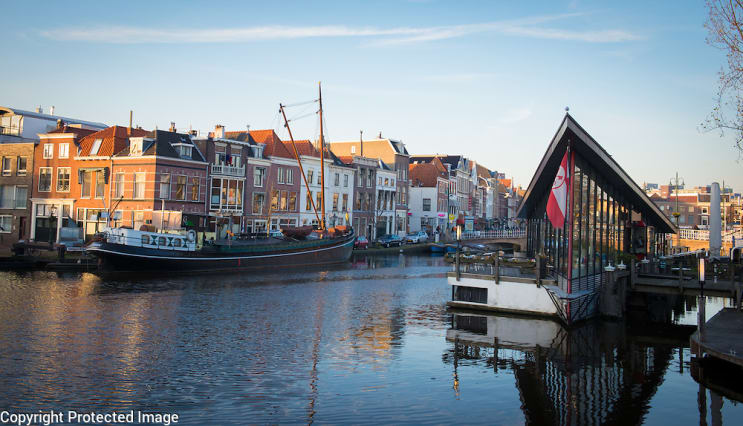 © Webster Leiden Campus - Webster University USA
Career Service

Webster University's Career Center aims to give students the opportunity to present the best of themselves when applying for internships or jobs. The Career Center's mission is to educate our students about the career development process and industry options, empowering them to make informed career decisions. Further, we aim to prepare our students for experiential learning (i.e. internships and community service), employment, and further education and to connect hiring organizations with our diverse student talent.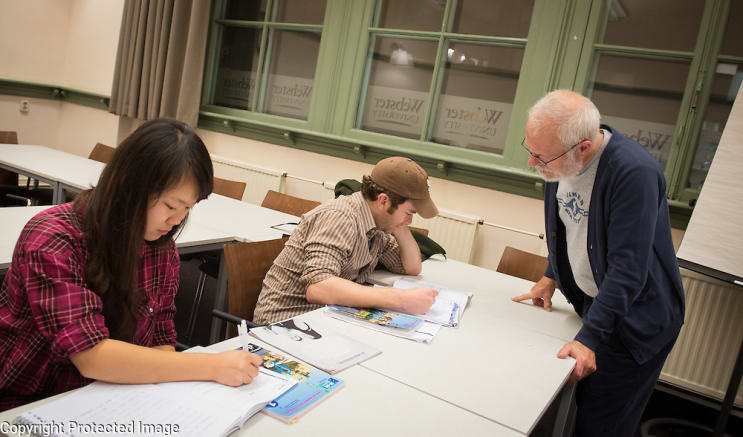 © Webster Leiden Campus - Webster University USA
Webster University's global recognition

Webster University continues to be ranked in the top tier of the Regional Universities-Midwest category of the 2020 U.S. News and World Report Best Colleges
Study Abroad programs ranked in the top 2 percent of the 1,500 colleges and universities surveyed in the "America's Best Colleges" 2019 edition of U.S. News & World Report
Forbes' "America's Top Colleges" 2018, and recognized among the best in the nation for study abroad programs
TheBestSchools.org recognized Webster for being among the best online master's program
Location
Webster University Leiden
Boommarkt 1, 2311 EA Leiden, Netherlands
Province: South Holland
Telephone: +31 71 516 8000
Email: WLinquiry@gus.global
Last updated Apr 2020
About the School
Founded at St. Louis, Missouri in 1915, Webster University is an accredited, non-profit American university with over 100 locations.
Founded at St. Louis, Missouri in 1915, Webster University is an accredited, non-profit American university with over 100 locations.
Read less