Master of Business Administration (MBA)
Home ›
MBA ›
Master of Business Administration (MBA)
Program Description
Kalinga University has been conceptualized as a centre for academic excellence. The 30 acres wi-fi campus has been carefully designed to conform to world standards. The Academic Block is fully airconditioned and comprises of office spaces for faculty members, computer labs, regular classrooms with the latest audio-visual facilities and a well-equipped auditorium. The Students' Residential Blocks accommodate students and ensure that the students have world-class facilities from the spacious rooms provided with internet connectivity, recreational and reading rooms. The dining halls provide a range of hygienically prepared health cuisines to meet the demands of the students. Totally pollution free, the campus boasts of tree-lined walkways, spacious lawns, and playing fields etc. The University provides an ambience perfectly conducive to teaching, learning and research. The world-class infrastructure includes a modern auditorium, a well-stocked library, and computer centre functioning round-the-clock, executive dining hall/mess, canteen, banking and postal services.
The University has separate hostels for undergraduate and postgraduate course students. Separate Boys and girls hostels are located in the vicinity of the campus. Security of the students and hygiene at the mess have been important aspects. 24hr Internet connectivity is available in every room of the hostel on high broadband speed.
Specialization for

MBA (Select any Two) & Executive MBA (Select any One)
Marketing,

Human Resource,

Finance,

E-Commerce

,

Digital Marketing,

Hospital Management,

International Business,

Banking

Economics

International Relations

Public Relations,

Global Management
Eligibility
KU Value Addition
In today's more-than-ever competitive world, every decision you make has an effect on your career. We understand the criticality of the opportunity and prepare the candidates with utmost confidence to make them the winners. Nowadays companies try contemporary ways to select a candidate. We know the gaps between what interviewers ask and what they get from candidates and are able to fill up those gaps with our intensive programs which include:
Short Term Internship Program based upon Opportunities from Business & Industry.

(Optional) Certification

Program on Personal Computer Application Course in Association with First Edu India Ltd.

Training & Joint

Certification on E-Commerce from First Edu India Ltd.

Coaching for MBA Students on Banking and other competitive exams.

Free Soft Skill & Personality Development Program (Spoken English, Group Discussions, Public Speaking, Management Games, Mock Interviews & Employability Training)
Industry Integration
Industry Integration is a process of integrating academic curriculum with the Industry requirements making the end product a useful input for the Industry. Industry Integration is a unique aspect of our programmes which not only differentiates our programmes from all other but is beneficial to the student as well as the industry.
The TRADITIONAL management qualification setup consists of classroom teaching, tests, personality development & other facilities. Lacking in a traditional setup is limited industry interface of only two months summer training. Hence a student passes out& joins an industry with almost nil or limited experience and learns on the job and can look forward to growth only after 2 to 3 years. The industry has to deal with a fresh recruit with no knowledge about the industry apart from what he has learnt in the textbooks. It thus takes much longer time to train a person, make him comfortable & start getting output from him/her.
On the contrary in Industry Integrated education system, a student after learning basic management concept takes up training in an industry of his desired specialization as a regular employee under the guidance of an internal institute guide & an external Industry guide. They can apply classroom knowledge at workplace &seek solutions from faculty.
The net result is a perfect integration of classroom learning with workplace performance. It is a win-win situation for both the student and the Industry. A student does not approach the industry with only the degree or diploma but with relevant experience. They are also in a position to demand higher salaries than their traditional Management qualified. The organization receives management qualified, trained & experienced candidate who needs almost negligible time to settle in the job & starts giving output or contribution almost instantaneously thus achieving department & organization objectives.
Our Placement Partners
Suzuki, Tata, Dabur, Eicher, NIIT, Wipro, HCL, L&T, IBM, Microsoft, Sony, Nokia, Infosys, LG, Capgemini, Hewitt, Accenture, Alcatel, Vedanta, Ericsson, Birla Soft, AVL etc.
Application form
Candidates may apply on the pre-printed form attached with the prospectus or may download from our website www.Kalingauniversity.org or can be collected from the Reception by paying Rs. 500/- in cash or via demand draft in favour of Kalinga University payable at Raipur Downloaded form will be accepted only with Rs. 500/- cash or demand draft as above mentioned.
Certificates
The application form must be attached with notarized or attested (from a Gazetted officer) photocopies of all eligibility certificates as given below:
For Under Graduate Programmes Copy of X, XII Mark Cards & Migration Certificate/ Transfer Certificate.

For Post-Graduate Programmes Copy of X, XII, Graduation Certificate (all 3 years Marksheet, Degree/Provisional Degree) & Migration Certificates.
Deposit of Fee
Selected candidates will have to deposit the fee within ten working days after the declaration of Successful candidates list. In case the fee is not deposited in the stipulated time, the student's claim to the admission expires & the same will be passed on to the first waiting list candidates.
At the time of deposit of fees, students need to deposit the original certificates with the Admission/Administration department & collect the receipt of the same.
Enclosures to be attached with the filled in application forms:
Self-attested photocopies supporting academics and evidence of proof for employment, self-employed candidates must attach the relevant document as proof of work experience for their organization.

Candidates have to produce the originals of all documents at the time of personal interview as well as at the time of admission if selected
Academic Calendar
The academic calendar of the Kalinga University will be followed for all the academic and examination matters.
Discipline
The students of the programme will be governed by the University rules in regard to minimum attendance, evaluation for the award of Degree Certificate. The student shall abide by the statutes ordinances, Rules, and Regulations of University that are in force from time to time. They shall give due respect to the teachers and staff of the University and shall display decent and cordial behaviour to fellow students.
Last updated Apr 2020
About the School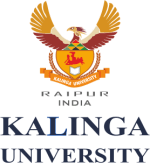 The Kalinga University, a premier institution of teaching and research in the country, is established under Chhattisgarh Private Universities (Establishment and Operations) Act 2005 and under section ... Read More
The Kalinga University, a premier institution of teaching and research in the country, is established under Chhattisgarh Private Universities (Establishment and Operations) Act 2005 and under section 2 (f) of UGC Act 1956.
Read less