Master of Business Administration (MBA) in Global Leadership
Home ›
Master of Business Administration (MBA) in Global Leadership
Program Description
Master of Business Administration (MBA) in Global Leadership
Richfield College's Master of Business Administration (MBA) with Option in Global Leadership is graduate degree program focused on preparing the students to contribute to the management and the leadership of the entities that have an active presence in the global business operations. The program offers a solid foundation in business administration with its focus on executive and global leadership. The program not only covers the functional business knowledge but it prepares its graduates to take leadership responsibilities in today's complex world business and relations.
Career Opportunities
The program is preparing our graduates to contribute to their international organizations and business enterprises through global awareness, citizenship, and responsibility, recognition of cultural diversity ethics and their dynamics, utilization of new information and communication technologies and resources, and development of innovating and humane solutions and alternatives. Our graduates learn to respect human dignity, environment, and the value of global peace and cooperation.
Admission Requirements
1. Completion, submission, and approval of the application form and the supporting documents, including the payment of the required fees.
2. A bachelor or a higher degree with a minimum "C" grade points average from a nationally accredited educational institute of higher learning in the United States or from an equivalent foreign institute. All foreign documents including certificate and transcripts are subject to evaluation and validation by Richfield College's admissions office. Certified English translated copies must accompany all documents in a foreign language.
3. Proficiency in English evidenced by one of the following:
a. 70% or above passing score on Richfield college English Proficiency Examination (RCEPE), or
b. A score of 600 or above on the paper-based Test of English as a Foreign Language (TOEFL), corresponding to a score of 100 or above on the internet - based (iBT), or
c. High School Diploma or a minimum of one (1) year college education at an institution with English as its official instructional language.
4. A Statement of Purpose (SOP) written by the applicant, outlining his/her academic goals while pursuing graduate study at Richfield College. This document must be submitted as a part of the application documents for admission.
5. The GMAT score is required for admission. This score may be substituted by the GRE — including the GRE revised General Test — as an alternative. GMAT/GRE scores are valid for five years and must be taken before the submission of an application for admission.
Applicants who have not taken the GMAT/GRE exam conditioned upon the submission and approval of the other required admission documents and criteria will be admitted conditionally to the program and must take and submit the GMAT/GRE test results within a year of their admissions to the graduate program. Applicants with a bachelor degree with a GPA of over 3.5 or higher may request a waiver of the GMAT requirement. Upon approval of the applicant's eligibility to pursue graduate studies, the admissions will notify the applicant of the approval of the waiver.
6. Employment verification letter verifying present or prior employment in a managerial or executive position.
7. Two letters of recommendation from individuals who are familiar with the application's ability and qualifications to pursue graduate studies and research.
Last updated Dec 2017
About the School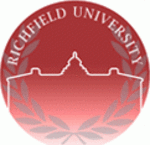 Richfield University is an independent higher education institution and is a part of the Richfield Technology, a domestic corporation incorporated under the laws of the States of California. Richfield ... Read More
Richfield University is an independent higher education institution and is a part of the Richfield Technology, a domestic corporation incorporated under the laws of the States of California. Richfield University is proudly located in the City of Woodland Hills, State of California, approximately twenty-five miles northwest of downtown Los Angeles. Richfield University is committed to promoting diversity and global awareness for the advocacy of peace and world welfare. We highly welcome international students and are committed to serving a diverse multicultural body of students and scholars in an atmosphere that promotes pride, respect, and teamwork. Our students and scholars come from different ethnic and community backgrounds. Richfield University's programs and initiatives strive to recognize the value of respect for diversity and global citizenship and cooperation. Richfield's learning community provides a learning climate that recognizes the value of originality and diversity, the richness of diverse thinking and dialog, the value of offering alternative perspectives and solutions, and the effectiveness of developing focused instructional content that will serve the needs of individual learners and their respected communities.
Read less