Master of Business Administration – Major in Leadership and Project Management
Home ›
MBA ›
Master of Business Administration – Major in Leadership and Project Management
Program Description
The MBA program in Leadership in Project Management will develop professionals with the necessary skills to be effective project managers, capable of generating creative ideas in the development of projects. Particular emphasis will be given to the management and strategic leadership component of project management practice. The program will focus on the leadership component of developing human capital in organizations while promoting innovation, differentiated assets management to achieve and maintain competitiveness.
Program Objectives/Outcomes
Improve student's leadership skills so they can coordinate and harmonize the abilities and talent of their human resources team.
Learn to use resources in an effective and efficient way, within the time, cost and human resources available while achieving high-quality standards.
Promote the formation of leaders capable of understanding their organizations as part of national and the international environment in which they operate while understanding the necessity of change; innovation created by accelerated technological change.
Develop professional leaders with the right management skills to deal with new challenges in the development of projects in public and private organizations.
Teach the skills necessary to identify, develop and manage strategic alliances with private, public and nonprofit organizations.
Emphasizes in future leaders the importance of integrity in their dealings with the human resources of their business and the benefits to the general community in which they function.
Develop in students the ability to communicate, analyze and synthesize information in Spanish and English, which facilitates an efficient and understandable decision-making process.
Promote the use of technological resources in developing analytical skills that will maximize opportunities and minimize risks in global markets.
Foster the exchange of experiences, opinions and knowledge transfer in the development of organizational projects.
Communicate adequately in English and Spanish both orally and in writing.
Develop in students an ethical and social conscience.
| | |
| --- | --- |
| Curricular Sequence | Credits |
| Core/Professional Courses | 21 |
| Major Courses | 18 |
| Internship | 3 |
| Total | 42 |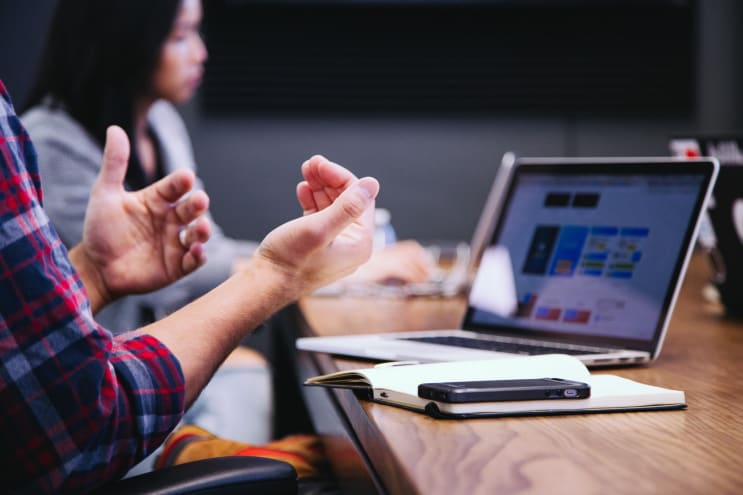 Headway / Unsplash
Curriculum
ACCO 500-O Accounting Survey (This course is recommended for those students who do not possess a background in business administration although this course is worth 3 credit hours, they are not counted towards the total amount of credits for the degree)
Core/Professional Courses (21 Credits)
ACCO 503-O Managerial and Financial Accounting
BUSI 605-O Business Research Methods
ECON 519-O Managerial Economics
FINA 503-O Corporate Finance I
MANA 501-O Organizational Behavior
MARK 511-O Marketing Management
STAT 556-O Statistics for Managerial Decision Making
Major Courses (Students will select 6 courses to complete the required 18 credits)
PRMG 600-O Operation Management
PRMG 601-O Project Scope and Time Management
PRMG 602-O Project Cost Management
PRMG 603-O Project Quality Management
PRMG 604-O Project Human Resources & Risk Management
PRMG 606-O Project Procurement Management
PRMG 607-O Project Communication Management
PRMG 608-O Using It Application in Project Management
Elective Courses (Select 1 course – 3 Credits)
STGM 604-O Organizations and Global Economy
PRMG 530-O Project Management I: Introduction to Project Management
PRMG 640-O Project Management II: Project Planning
STGM 608-O Strategies for Change, Professional, and Entrepreneurial Development
Elective Courses (Select 1 course – 3 Credits)
PRMG 605-O Project Integration Management (Internship)
Professional Development Workshops (6)
*Language skills in English and Spanish will be assessed with a placement test. Additional language courses may be needed according to the student's scores in placement tests. If students qualify for Preparatory Language Courses or Developmental Language Courses, they must enroll in the courses immediately to increase academic performance in the language. Students must abide by the minimum required hours and policies set by the state and local agencies for practicum experiences. Students must comply with state and local agencies' certification requirements for the degree, as applicable. In addition to the regular curriculum, students are required to attend six (6) professional development workshops during their course of study. The workshops are designed to broaden and enhance student's knowledge in an area other than their area of major. The workshops will be at least three hours each.
Last updated Dec 2019
About the School
The South Florida Campus is organized to Implement the Discipline-Based Dual Language Education at the university level in South Florida. This campus serves a culturally diverse community of students, ... Read More
The South Florida Campus is organized to Implement the Discipline-Based Dual Language Education at the university level in South Florida. This campus serves a culturally diverse community of students, offering academic programs and personalized services of quality, meeting the needs of the adult learner.
Read less