Program Description
The University of Wyoming MBA Program provides a lock-step curriculum program ensuring that our students acquire the necessary tools to gain a competitive advantage in today's business marketplace. While continually developing practical business knowledge, students are able to apply concepts to real-world situations in a number of different industries.
Our modest cohorts ensure that students are not just a number. These smaller sized MBA classes allow students to truly connect with their classmates as well as their faculty members, fostering an atmosphere that emphasizes team building, leadership, and respect.
Getting an MBA is a matter of investing energy and resources (specifically time and money). When looking for the right fit in an MBA Program, ample consideration should be given to who can provide the highest return on that investment. Our programs are affordable, yet highly experiential and application-based, which provides students with the tools to be immediate contributors to the organizations they join upon graduation.
The University of Wyoming has graduated many incredibly successful individuals that are intensely interested in seeing our students succeed. In addition to our highly integrated curriculum and unique experiential learning opportunities, we provide a number of networking events that allow our students to connect with an astute network of business professionals. Many times these relationships afford mentor/mentee opportunities and employment prospects.
With an Average 90% Job Placement Rate, What Makes Us Different?
We provide our students with unique experiential learning opportunities. Network face-to-face with C-Level Executives, acquire global economy knowledge through our International Experience, participate in Company Consulting Projects, and attend a Leadership Summit in Jackson, Wyoming.
Through these opportunities, you will acquire a powerful skillset to become an immediate contributor to the organization you join when you successfully graduate from our program.
Experiential learning
Because of the specialized nature of the MBA Program at the University of Wyoming, students have the opportunity to participate in a number of experiential opportunities outside of the traditional classroom setting. We find it crucial for our graduates to become immediate contributors to the organizations they join when they successfully graduate from our program. Below you can explore some of the unique opportunities we provide students in order to ensure them an understanding of how business is truly conducted and under what kind of circumstances decisions have to be made.
International experience
International Exchange: MBA Students from Wyoming Visit Pforzheim University
This year will be the 9th annual exchange.
University of Wyoming (UW) MBA students spend a week touring European companies as part of a collaborative international experience sponsored by the University of Wyoming and Pforzheim University in Pforzheim, Germany. Students from the UW MBA and Pforzheim International MBA programs collaborate as part of this engagement as well. This year will be the 8th annual exchange.
The international experience is an integral part of the MBA curriculum and part of the second-year MBA student's Capstone course, taught by Dr. Joe Russo. Prior to departure, students research each company they visit, doing an analysis of the company's business model and key success factors, as well as an assessment of opportunities and threats in the company's overall competitive environment. Dr. Russo commented that, as a result, "students are able to ask informed questions and are able to emulate professional consultants and industry analysts. It is a true capstone experience."
Russo adds, "An aspect of international travel such as our MBA program provides, and which is quite unique compared to those of other MBA programs, is that our students arrive with far more contextual knowledge as to the German economy and its industries. Given Germany's tremendous interrelatedness to the world economy, such knowledge extends beyond the border and allows for an appreciation of other economies as well. Said another way, the international week activities extend my students' experiences with issues they are likely to encounter in global business settings, while also providing the opportunity for them to develop their own personal competencies of working effectively in multicultural teams."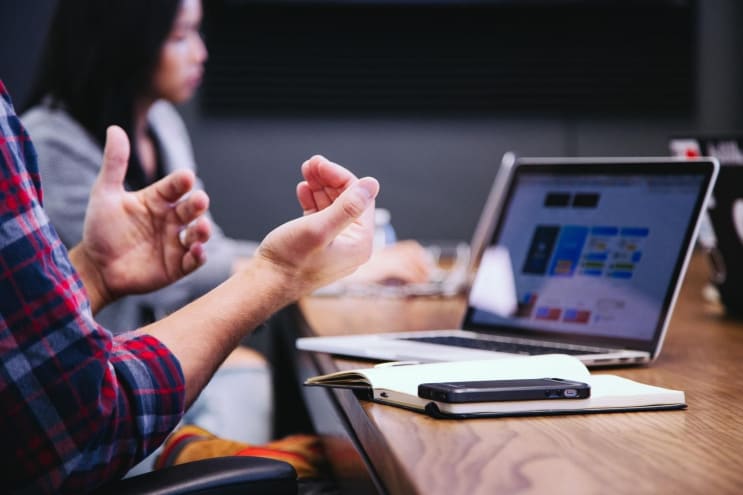 Headway / Unsplash
Choose your track
Energy Management MBA
The University of Wyoming MBA in Energy Management was designed by energy executives to develop future leaders in the energy industry. The highly applied curriculum prepares students to quickly advance in their energy careers. Seven integrated, energy-focused courses that range from energy economics and marketing to energy trading and project evaluation, are complemented by multidisciplinary team consulting projects. Company site visits and access to a broad network of energy industry executives are program differentiators.
Finance MBA
Choosing a finance-focused degree path prepares you to be a well-versed finance professional, responsible for managing and improving wealth for a number of entities. Whether it be for families, small businesses, or large corporations, you will require an advanced skill-set tailored to understanding investment strategies and a number of technically advanced skills. The University of Wyoming MBA Program will provide you with the knowledge you need to effectively implement management and leadership aspects of the business with the technical skills needed for careers in finance.
Completing our specialized finance track will improve your knowledge and your decision-making capability, making you an asset in today's competitive marketplace.
Early Career MBA
Do you want to start your own company or do you have a specific job in mind, but are unsure of whether or not you have the right skills or experience? The UW MBA program offers an early career MBA tailored to those looking to gain the needed experience and business insights required in today's competitive marketplace. This 16-month program is designed to provide students with a breadth and depth of business knowledge through classroom work and extensive experiential learning. Our students work on cross-functional teams with real companies on real projects. With the focus being on leadership and management development, the UW MBA program is dedicated to providing students with opportunities for success.
PharmD/MBA
The Doctor of Pharmacy / MBA program takes five years to complete – four years of Pharmacy studies and one year of MBA core courses. Students spend their first year (Fall, Spring, and Summer semesters) in the MBA program completing the core curriculum, the summer experiential project, and the experiential leadership program. The next four years will encompass the traditional Pharm. D. curriculum, including the MBA Capstone course in Year 2. Students completing this program will earn a Doctor of Pharmacy degree and a Master of Business Administration degree.
International MBA
In conjunction with Pforzheim University, we offer a joint degree International MBA Program. Participating students will receive an MBA from Pforzheim University as well as an MBA from the University of Wyoming. Students will spend their first year in Laramie, WY completing the core MBA curriculum, the summer experiential project, and the experiential leadership program. They will then spend their second year in Pforzheim, Germany completing coursework. While in Germany students will complete a thesis as part of the graduation requirements.
M.S. in Engineering/MBA
Students that hold both an MBA as well as an MS in Engineering degree set themselves apart from many when entering the competitive marketplace upon graduation. Not only can they speak the technical lingo, but they can also understand the overarching strategy and operational goals while keeping in mind the managerial/leadership role
Juris Doctor/MBA
The University of Wyoming JD / MBA dual degree program takes approximately four years to complete. Students spend three years on-campus engaged in their law studies and one year in the MBA program completing the core curriculum, the summer experiential project, and the experiential leadership program. The MBA Capstone course will be completed in the fall following the core curriculum completion. Students typically start the MBA portion of their degree in the 2nd or 3rd year. Nine (9) credit hours of approved Law coursework will be transferred as elective hours to the MBA Program. Students successfully completing this lock-step program will earn dual Juris Doctor and Masters of Business Administration degrees.
Online MBA
The part-time, Online MBA Program is specifically designed for experienced business professionals interested in a fully AACSB International accredited, 100% online program that fits their busy schedules. This two-year, part-time program is intended for professionals that are interested in enhancing their understanding of business disciplines and applying them to decision-making in the workplace. The cohort-based program begins each Fall and Spring semester and consists of 30 credit hours of core coursework.
Online Energy Concentration
The Online Energy Concentration MBA Program is designed for professionals working in the energy industry. Individuals electing to pursue this track will take 3 additional energy-focused courses after successful completion of the general online MBA course of study for a total of 39 credit hours. Courses in Energy Supply Chain, Energy Accounting and Energy Finance were selected as a direct result of conversations with relevant industry leaders and provide students with the opportunity to gain knowledge related to the real-world applications within the highly competitive industry.
MBA Learning Objectives
The University of Wyoming MBA Program and College of Business are accredited by the Association to Advance Collegiate Schools of Business (AACSB) International. AACSB sets the highest standards of a student, faculty, and institutional excellence, and visits each institution every 5 years for assessment for re-accreditation. The UW MBA program utilizes the following Learning Objectives to assess curriculum relevance as well as instructional effectiveness in guiding our students to the successful achievement of their MBA:
Students will demonstrate a clear understanding of business concepts.
Students will show the ability to apply business concepts to solve complex, unstructured business problems.
Students integrate concepts of sustainability, globalization, ethics, and entrepreneurship into decision making.
Students will present ideas using written and verbal/nonverbal communication in an effective manner to a professional audience.
Students will demonstrate leadership and teamwork skills.
Last updated Mar 2020
About the School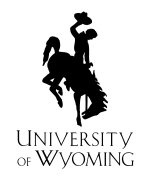 The University of Wyoming offers a world-class education in the small community of Laramie, Wyoming. Founded in 1886, the university each year welcomes more than 14,000 students from all 50 states and ... Read More
The University of Wyoming offers a world-class education in the small community of Laramie, Wyoming. Founded in 1886, the university each year welcomes more than 14,000 students from all 50 states and 90 countries. As a land-grant university, we are dedicated to serving the state of Wyoming and producing graduates who go on to be global leaders. Here you can study everything from agronomy to zoology, criminal justice to theatre and dance.
Read less
Accreditations