Program Description
"I attribute my career success to the University of New Haven. To be competitive in the job market, my professors continuously encouraged my involvement and development of leadership skills. My experiences at the University of New Haven have a lasting impact on my life, professionally and personally."

— Jenny Lam '16 MBA, Senior Auditor, Ernst & Young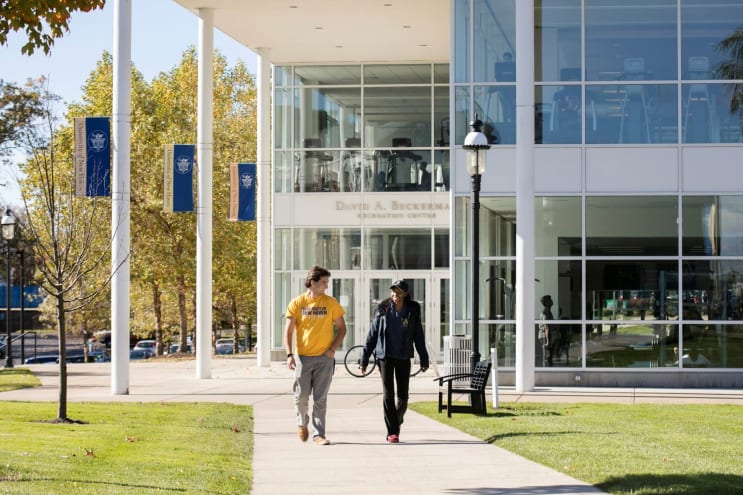 Our College of Business is Among the Top 5% Worldwide
The MBA program is designed to transform current and future business leaders. Build your knowledge base and hone your skills to become a strategic, collaborative, and corporate thinker, ready to navigate the business challenges professionals are faced with today.
Recognized nationally as a leader in experiential education, the University of New Haven offers a flexible part-time and a full-time AACSB-accredited MBA program designed for both seasoned professionals and those with little or no experience in the business. The program is built on a series of foundational courses in core business subjects like accounting, finance, and economics followed by a series of advanced courses and a selection of electives or courses in a concentration area. Each of the program's seven concentrations provides students with a specific subset of coursework to prepare them for their anticipated career path. For students with recent coursework in business, the foundation business classes (up to 4.5 credits) may be waived. For many full-time students, the MBA can be completed in one year.
Students may pursue the degree by taking classes offered in a full-time day format or flexible evening format. Hybrid and online classes are also available. Classes are offered at our Orange Campus, which boasts a beautiful location, smart-classrooms, and small group workspaces to foster a dynamic, collaborative student and faculty experience.
Analytics and STEM Certification
The majority of businesses don't know what to do with their exponential amounts of data. The following MBA concentrations will train you to crunch that data and present it in a form that busy, high-level executives can use to make decisions, making you indispensable to your workplace:
• Business Analytics • STEM-Certified Financial Analysis • STEM-Certified Data Analytics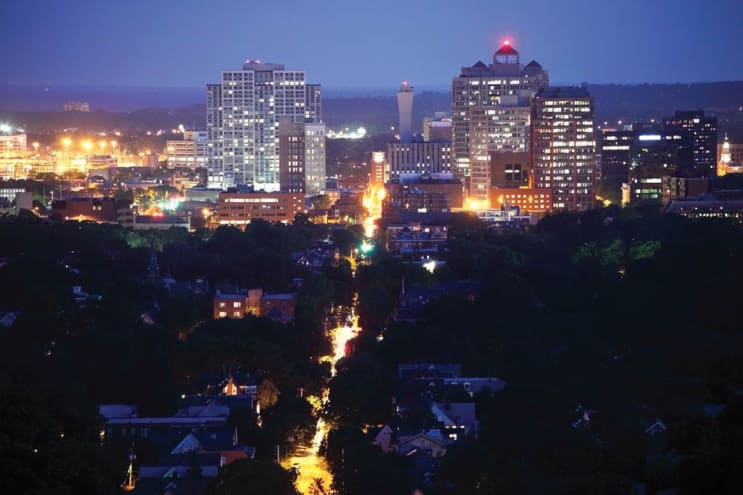 Curriculum
A minimum of 34 graduate credits are required for completion. 3 foundation courses (4.5 credits) can be waived.
8 required courses (25 credits) plus 3 courses (9 credits) may be taken as unrestricted electives or in a particular area for a concentration.
Concentrations
Data Analytics (STEM)
Financial Analysis (STEM)
Strategic Leadership
Global Supply Chain Management
Dual Degree Options (60-75 credits)
MBA/Master of Public Administration (MPA) is available to those with career objectives focused on both the public and private sectors.
MBA/M.S. Industrial Engineering (MSIE) is available to applicants with an undergraduate degree from an ABET-accredited engineering program.
Course Options
Courses are offered during the day and in the evenings Monday through Friday, mainly at our serene Orange Campus. Courses range in length from 15-week (full semester term) to 7-week (mini-semester term). They are offered in multiple formats, including on-campus, online, or hybrid (a mix of online and in-class sessions). A number of courses can be taken online, with more online options being added each semester.
Foundation Courses (4.5 credits, waivable)
ACCT 6619 Accounting Foundations
ECON 6633 Economics for Managers
FINC 6601 Introduction to Finance
Advanced Courses (25 credits, not waivable)
MGMT 6663 Leadership and Team Building
ACCT 6621 Managerial Accounting
BANL 6100 Business Analytics
FINC 6602 Corporate Finance
MKTG 6610 Marketing Analysis and Customer Value
MGMT 6668 Leading Organizational Strategy and Change
ECON 6644 Managing in a Global Economy
MGMT 6669 Strategic Management
Below is an example of the schedule of course offerings over the first year.
Fall
Spring
Summer

ACCT 6619
ECON 6633
FINC 6601
MTKG 6610
Electives/
Concentration
MGMT 6663
BANL 6100
ECON 6644
MGMT 6669

ACCT 6619
ECON 6633
MGMT 6663
BANL 6100
Electives/
Concentration
ACCT 6621
FINC 6602
MGMT 6668
MGMT 6669

ACCT 6619
ECON 6633
FINC 6601
ECON 6644
Electives/
Concentration
MKTG 6610
ACCT 6621
FINC 6602
MGMT 6668
MGMT 6669
Time to Completion
12 months (3 semesters), 18 months (4 semesters), or 24 months (6 semesters)
The average time to degree completion is 18 months.
Scholarships
We offer two types of scholarships/assistantship to our international master's students.
Dean's scholarship provides up to 50% tuition assistance during their enrollment.
Provost Assistantship offers 75% tuition assistance and the opportunity to work for an academic department up to 20 hours per week during their enrollment.
Last updated Apr 2020
About the School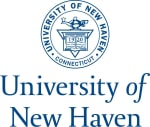 Founded on the Yale campus in 1920, the University of New Haven is a private, coeducational university situated on the coast of southern New England. It's a diverse and vibrant community of 7,000 stud ... Read More
Founded on the Yale campus in 1920, the University of New Haven is a private, coeducational university situated on the coast of southern New England. It's a diverse and vibrant community of 7,000 students, with campuses across the country and around the world.
Read less
Accreditations