MBA in Tourism - Madrid
Home ›
MBA ›
MBA in Tourism - Madrid
Program Description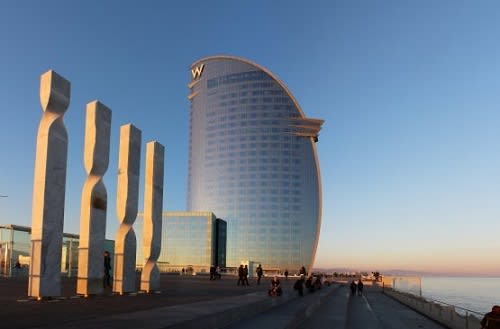 The MBA in Tourism at the Madrid Campus of Ostelea was born with the aim of training future leaders in the tourism sector: managers, professionals and entrepreneurs capable of managing, at the highest level, business projects in the tourism and hotel sector, for what that affects, in a very special way, the development of managerial skills and aptitudes of a strategic nature.
For this reason, this MBA in Tourism was designed together with EAE Business School - a benchmark business school in Management at an international level * -including, in a very special way, the development of strategic management skills and aptitudes.
* According to Merco Ranking 2018, EAE Business School was chosen as the 2nd most reputable school in Spain for the fifth consecutive year.
Why study the tourism MBA in Ostelea
Residential
The MBA student will have the possibility of completing an International Tourism Residential in Saxion (Netherlands), Finance at ESG UQAM (Montréal, Canada) or Cross-Cultural Marketing at Kean University (NJ, USA) (additional cost).
Campus to Campus: Possibility of taking part of the MBA at the other Ostelea campus. Exchange with the MBA in Barcelona (In English)
Management Skills
Management Experience: In the tourism MBA program designed together with EAE Business School, students will develop the basic skills to manage projects effectively, the "Soft Skills".
Business Game and Case Methodology: Learning through real cases as the main methodology of this program, and business simulation through practice and execution in a context very close to reality.
Cycle of meetings with hotel managers and catering companies, and international tourism consultants.
Development of managerial competences with the Tourism Skills Development Program (TSDP).
Employability and Entrepreneurship
The MBA offers its students international internships in companies such as: Hilton, Tundra Hotels, Melia Hotels, among others
MBA students who want to start their own business will have access to the Entrepreneurs Project to receive advice.
Training Oriented towards employability. Through different activities:

Professional career itineraries
Employability Week
Employment forum
Graduate program (subject to convocation)

Seminar "Doing Business in Spain": Entrepreneurs in Spain tell us the key factors to take into account to be successful and be competitive in the Spanish market.
Other outstanding values
Seminars in Hospitality (Barcelona) or Sustainability (Madrid): 25 teaching hours.
Language Seminars: English or French to choose (limited places): 30 teaching hours / language.
The Ostelea-EAE MBA in Hospitality and Tourism
International vision in the tourism industry
Offer managerial and management training with an international vision of the tourism industry, and an adaptable perspective to a changing and competitive environment.
Strategy
Ensure tourism business management based on strategic plans and aimed at obtaining results.
Needs
To respond to the training needs of managers specialized in the tourism and hospitality sector.
Innovation
Develop the capacity for innovation and creative management in managers of tourism and hotel companies.
Future leaders
Train future leaders of the global hotel and tourism industry. Provide managers and entrepreneurs in the tourism sector with the managerial skills and competencies necessary to ensure dynamic, effective and successful leadership.
Trends
Analyze global trends in the tourism and hospitality sector, and acquire perspectives and strategies to become ethical leaders of global tourism organizations.
Careers and career opportunities
TSDP - (Tourism Skills Developement Program)
An exclusive program where they will learn to develop their skills and abilities.
The TSDP consists of 55 teaching hours that includes (limited places):
Management Skills
Public relations
advanced Excel
Turistic marketing
Coaching
Itineraries
Employability: 3 workshops focused on candidate selection and improvement processes
Entrepreneurship: through the Entrepreneurs Project where they will receive advice
Career Transition: 5 workshops to guide students about their professional future
(To choose one)
Talent Tourism Week
With the presence of relevant companies in the sector that will present their offers and then interview the MBA students who are possible candidates.
Employment forum
Companies participate by publishing their offers online and interviewing our students
Graduate Program
Prepared by multinational companies in the hotel, catering and hospitality sector (Hilton, Mandarin Oriental, Hotusa ...), whose objective is to select the most suitable candidates
Company Meetings
Meetings between national and international companies, where students can learn about the most demanded profiles in the sector.
Tourism MBA career opportunities
Director or hotel manager, or other tourist establishments.
Operational director or responsible for functional areas in tourism companies.
Corporate director in hotel and tourism companies, in any of its functional areas.
Director of companies that operate in the tourism sector in general.
Responsibility charges in companies and public institutions of the sector.
Positions in companies offering complementary, marketing and marketing linked to the hotel and tourism industry
Entrepreneur in business of the tourism sector, or related to it.
Tourism and hotel consultant / consultant.
Training plan
The MBA in Hospitality and Tourism is classified into 6 modules:
Environment and global markets
Address of people
Address of the international company
Internationalization of the company
Master's thesis
Intensification Seminar
Cloister
The MBA in Hospitality and Tourism at the Madrid Campus is chaired by Mr. Héctor Coronel Gutiérrez , who currently has Sales Director at Pestana Collection Plaza Mayor-Madrid Hotel Group in Pestana.
With more than 20 years of experience in the service sector in leading companies such as Meliá Hotels International, TRYP by Wyndham, NH Hotels or Condor Vacations. His professional background has been developed in both operational departments and corporate positions, being regional sales director in Portugal, Spain, central area, responsible for the revenue management area of TRYP Hotels, as well as sales director of ME Madrid hotels, Meliá Madrid Princesa and Meliá Galgos.
Admission
The admission process guarantees the suitability of the candidates, in this way all the participants will be able to take full advantage of this learning experience.
To start the admission process it is necessary to fill in the information request. From that moment Ostelea will contact the candidate to close an interview to which the following documentation must be submitted:
University degree
The Curriculum Vitae
Motivation letter
Two letters of recommendation
After finishing the interview, the Admissions Committee will analyze case by case and communicate the resolution to the candidate to inform him of the status of his admission.
Titling
The participant who successfully completes the program on the Madrid campus will obtain a triple qualification :
by Ostelea School of Tourism & Hospitality
by EAE Business School (own)
by our partner University
Scholarships
Ostelea offers candidates scholarships that consist of financial aid with the objective of supporting our students.
Each application will be studied independently, it will be granted during the admission process and it will be communicated personally by the Admissions Committee before the formalization of the registration.
Scholarships representing 100% of the total enrollment fee will not be awarded in any case.
The economic aid will be offered in the following cases:
Advance reservation of place.
Adequacy of the profile to the requirements of each program.
Former students of the school. In this case, a 25% discount will be applied to the enrollment.
Last updated Mar 2020
About the School

Somos un centro universitario internacional especializado en la formación de líderes, directivos y técnicos especializados en la industria del Hospitality
Somos un centro universitario internacional especializado en la formación de líderes, directivos y técnicos especializados en la industria del Hospitality
Read less