MBA in Tourism, Leisure & Event Management
Program Description
Specializing in Luxury Tourism or Business & Event Management, our MBA courses offer
professional instruction, open to students worldwide and cover all sectors of the evolving tourism
industry: ecotourism, event management, hotel business, catering, tourism transportation,
travel and event business, etc. They prepare students for management positions in all tourist
industry careers in a way that is cross-disciplinary, operational, and international.
SPECIALIZATION IN LUXURY TOURISM
In the world of tourism, the luxury sector is experiencing the
greatest expansion. Economic growth in China, India, Russia and
Brazil has created a new demand that our program will help to
fulfill. Most tourism players have seized on this change and
products designed for wealthy clients are growing, as evidenced
by the new French hospitality classification. The number of five-stars
hotels are growing and some destinations like Dubai are
specializing in this sector. There is now a real need for professionals
specializing in the field of luxury.

COURSE EXAMPLES
• Luxury Event Management
• Brand Management
• Marketing in Luxury Tourism
• Brand Law
• Luxury Hotel Management
• Recruiting in the Luxury Field
SPECIALIZATION IN TOURISM, BUSINESS & EVENT MANAGEMENT
In the world of tourism, the events sector, and business tourism
are experiencing noteworthy growth. The rise in power of Chinese,
Indian, Brazilian and Russian companies hints that the number
of events tied to business tourism will continue to grow in the
coming years. Furthermore, cultural and sporting events have
become essential tourism products in western countries. Film
and music festivals now number in the hundreds. Major companies
have kept significant communications and event management
departments.

COURSE EXAMPLES
• Financial Management of Events
• Event Management Law
• Human Resource Management
• Marketing and Communication of Events
• Commercial Negotiation
• Event Organization
Last updated Dec 2017
About the School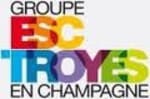 Being the youngest Grande Ecole in France is an asset for Groupe ESC Troyes, which since its creation in 1992, has strived to forge ahead through daring innovation and, as much as possible, challengin ... Read More
Being the youngest Grande Ecole in France is an asset for Groupe ESC Troyes, which since its creation in 1992, has strived to forge ahead through daring innovation and, as much as possible, challenging experimentation
Read less