MBA in Organizational Development
Home ›
MBA ›
MBA in Organizational Development
Read more about this program on the institution's website
Program Description
Why study Master of Business Administration?
The MBA is a forward-thinking curriculum providing students a perspective in leadership, functional department integration, ethical management, and risk assessment. The program provides learners the opportunity to examine ethical and managerial issues in a respected educational environment supporting life-long learning.
Curriculum
The curriculum for the Master of Business Administration degree consists of 36-semester credits of graduate-level course work, with a minimum cumulative grade point average of 3.0 on a 4.0 scale for completion. Three semester credit hours taken per session are considered full-time enrollment.
Organizational Development
The Organizational Development Emphasis provides the skills and understanding of the organizational structure, corporate culture and the ability to analyze, diagnose and develop recommendations supporting long-term change. The emphasis provides a perspective on process redevelopment and training for continual change.
Curriculum:
BA 520 Training and Development
BA 553 Organizational Development
BA 555 Organizational Culture
BA 560 Organizational Diagnosis and Intervention
BA 570 Team Building Techniques
Careers for professionals with an MBA in Organizational Development can vary greatly. Positions can range from Personnel Development Consultants to Leadership and Organizational Development Specialists. An Organizational Development Emphasis can increase opportunities for executive level management positions as well.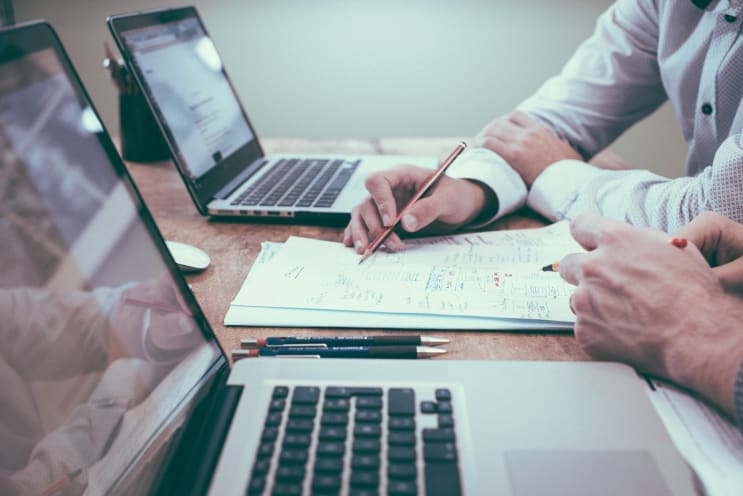 Helloquence / Unsplash
Teaching Strategies
Each course focuses on applying theoretical principles and practical experience to business situations and problems. Case studies, report writing, and class discussions are blended to assure students an opportunity to clarify and assimilate course learning outcomes. Assessments can take a variety of forms including team projects, individual reports, and case study analysis. Participation in discussions is crucial to student success.
The program concludes with a BA 590 Research Seminar providing a capstone experience for the student to apply the concepts of the program in the development of a business report or proposal. The report or proposal is presented to peer students and/ or business leaders using presentation software. The researched report or proposal provides the student with an opportunity to demonstrate the integration of the core curriculum and emphasis acquired knowledge and skills using graduate-level communication and critical thinking skills.
Program Learning Outcomes
Analyze the implications of regulatory and legal issues for corporations competing in the current economic environment.
Identify and resolve problems, create change, or develop recommendations using analytical tools for business decision making.
Explain the interdependence of corporate functional responsibilities.
Evaluate effective business and management practices of corporations competing in the global or domestic economy.
What students are saying:
"I started my MBA while living in Belfast Northern Ireland. With my passion for travel and a flexible asynchronous class schedule, Upper Iowa University has made this journey possible with astute faculty and support." - Fiona, a current student
Upper Iowa is a nationally recognized university serving over 4,500 degree-seeking students from around the world.
Faculty with real work experience
No on-campus residency
Six convenient start dates throughout the year
Flexible schedule for accelerated degree completion
Online courses allow you to attend class anytime during the day or night
Evening courses offered at select locations
The potential transfer of ACE recommendation coursework
Five 8-week sessions and an accelerated, 6-week summer session
UIU's MBA program highlights:
UIU recognized for offering the 'Top Online MBA Program' in Iowa.
No on-campus residency; complete your MBA in two years or less.
Our MBA can be completed entirely online or at select locations (including evening courses).
Transfer up to 12 graduate credits. The potential transfer of ACE recommendation coursework.
Learn from faculty who have real-world experience and are experts in the fields they teach; helpful, caring staff who are there for you from start to finish.
A personalized learning environment with an average UIU class size of just 14 students.
Distinctive schedule of 5 eight-week sessions and an accelerated six-week summer session.
Start your MBA during any session of our six sessions.
Graduate students are considered full-time by taking one graduate course per session.
Last updated Aug 2020
About the School
Since 1857, Upper Iowa University has been preparing students to succeed—in the classroom and in the world. That rich history, coupled with a student-centered mission, has created a springboard for UI ... Read More
Since 1857, Upper Iowa University has been preparing students to succeed—in the classroom and in the world. That rich history, coupled with a student-centered mission, has created a springboard for UIU to become a recognized innovator in offering accredited, quality programs through flexible, multiple delivery systems, including online and self-paced study.
Read less