Program Description
About
The College of Business Administration at Al Falah University in Dubai aims to become a competitive College and internationally recognized for its competent education, consultancy, and research services. The College provides the students with the vision and practical tools to enable them to become distinguished leaders in business, management, human resources, accounting and marketing; some at the undergraduate levels and others at the graduate level. The students are nurtured with the intense foundation in both the theoretical and applied aspects of the relevant courses in their specialized program of study. At the graduate level, the students are secured by being exposed to teaching at an advanced level to distinguish them among others in their majors.
The College arms the students with the vision and practical tools that enable them to be privileged in human resources discipline. The students are provided with a strong grounding in both the theoretical and applied aspects of marketing and other relevant courses.
The program prepares students for their roles as potential senior managers while achieving an immediate improvement in managerial performance. Being practical in nature, the theory is related to the practice of providing 'better solutions' to business problems and opportunities.
The proposed Master of Business Administration (MBA) is structured to generate graduates that will reveal a leadership, skillful application of business principles, and conscientious understanding of the impact of business on society and the environment.
The MBA Program is designed to develop strategic, behavioral, and technical competencies that enable individuals to be superior performers in their business environment. The program focuses on providing educational experiences that prepare students to effectively engage in issues at the intersection of business and society such as ethical business practices, globalization, and technological change.
Pre-MBA Courses
Applicants to the MBA Program are expected to have an appropriate background with demonstrated proficiency in mathematics, economics, and various business areas. Prospective MBA students who do not have proficiency in the required foundation areas may enroll as Pre-MBA students while completing the necessary foundation courses.


| | | | |
| --- | --- | --- | --- |
| Course No. | Course Title | Prerequisite | Cr |
| 0501501 | Principle of Management | None | -- |
| 0502501 | Principle of Accounting | None | -- |
| 0509501 | Principle of Economics | None | -- |
| 0504501 | Principle of Marketing | None | -- |
| 0509502 | Principle of Statistics | None | -- |
The MBA program has four concentrations:
Business Administration
Human Resource Management
Marketing
Accounting
Goals
Verbal and Written Communication: express beliefs, judgments, and investigation articulately, influentially, and efficiently, exploiting different approaches and methods including presentations within given time restriction and obvious and brief information and business texts.
Management and cooperation ability: connect in team activities and to strive in the realization of a general goal. Identify the strengths and weakness of others and engage them to achieve the goals set forth.
Basis Business Knowledge: expand skill sets to incorporate the principal concepts and multi-specialized methods to business decision making, including the major business proficiency accounting, finance, marketing, management, operations, human resource management, and technology.
Quantitative and Qualitative Skills: employ quantitative and qualitative methods to thoroughly and methodically represent, evaluate, analyze business situations and problems, interpret results, and recommend meaningful solutions.
Ethical Orientation: Evaluate and identify conditions of ethical and moral problems and concern, understanding appropriate principles of human conduct, effects of various behaviors on others, and ethical codes and standards, in developing personal principles and values for dealing with such issues and situations.

Objectives
Students will express the skill to communicate in group settings, commenting, raising questions, and otherwise participating correctly in official and informal discussions.
Graduates will demonstrate proper group methodologies to lead a team task that results in effective performance.
Graduates will analyze unproductive business performs that result from poorly integrated business processes.
Graduates will formulate sound proposals for improving integrated business processes.
Graduates will implement a systematic method for solving business problems.
Graduates will assess the financial statements and documents to support business decisions.
Students will use proper methodologies in collecting and analyzing data relevant to managerial decision-making.
Students will demonstrate ability by being able to understand analytical results.
Program Learning Outcomes
On successful completion of this program the graduate will be able to:
Knowledge
PLO 1- Demonstrate communication skills orally and in writing to general and specialized audiences using media and IT tools.
PLO 2- Describe the core business disciplines from people, economics, selling and managerial perceptions crucial for administration organizations in a complex environment.
PLO 3-Assess the organization's managerial options and decisions making at the tactical and operational altitude.
PLO 4- Evaluate and develop marketing methods designed to serve business to business and industrial marketing structures.
Skills
PLO 5- Analyze data using various statistical approaches and problem-solving techniques.
PLO 6- Apply methodological research for critical and irregular administration situations requiring novel solutions.
PLO 7-Assess and realize practical strategies for different organizations at the international and national levels.
PLO 8-Evaluate different concepts, types and methodologies and their impact on changing the business environment.
PLO 9-Apply modern strategies in a business scenario dealing with particular organizational challenge and/or change management.
Autonomy & Responsibility
PLO 10- Practice independence at work and study framework to explain problems and design pioneering solutions.
Role in Context
PLO 11- Illustrate effective roles as a team member and a manager in exploiting the organization's resources to realize business and strategic objectives.
Self-Development
PLO 12-Appraise the complexity of moral, educational and community suggestions in an organization's business practices.
PLO 13-Display a high level of curiosity and talent to independently gain new knowledge for personal and professional development.
Last updated November 2019
About the School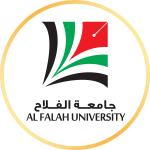 Al Falah University is located in the heart of the Emirate of Dubai and is determined to become one of the nation's leading institutions of higher education. Our University offers a teaching and learn ... Read More
Al Falah University is located in the heart of the Emirate of Dubai and is determined to become one of the nation's leading institutions of higher education. Our University offers a teaching and learning environment generated by a distinguished academic cadre, supported by best practice educational and communications technology, as well as library resources. In this exemplary educational environment, students will be motivated to understand disciplinary concepts, tools and data that will prepare them for more advanced education, or for satisfying and productive careers which contribute to further national and regional development.
Read less