MBA in International Business Management & Leadership in Germany
Home ›
MBA ›
MBA in International Business Management & Leadership in Germany
Program Description
For executives and Young Professionals
Are you looking for a flexible and practice-oriented MBA programme that supports you in your career? Our MBA International Business Management & Leadership is highly application-oriented and allows you to develop your personal leadership competencies. The MBA programme is located in Kempten in the south of Germany, close to Munich.

The Kempten MBA at a glance
An outstanding programme to develop leaders. Our programme develops the personal leadership competencies of each participant in a sustainable way. Its structured approach to develop leaders is unique in the German MBA market.
Specialization: Besides the General Management Track we offer the following three Special Tracks:

International Logistics Management
International Sales Management
Organisational Transformation

Duration: The standard option is the 4 semester, part-time MBA. Participants will run through the programme with a fixed group of students.
It is also possible to study the programme in a full-time mode. All seminars can be finished in 12 months, excluding the Master Thesis, which will need another three months.
Career move: Our regular empirical studies show that our students are highly successful in achieving their career goals. With our location in the heart of the Allgäu machinery and automotive industry and the proximity to Munich, the career opportunities are unmatched in any other area of Germany.
International focus: The programme is carried out completely in English. A study module abroad, in South Africa, Thailand or Australia, is an integral part of the course. Additionally, lectures are enriched by the experiences of international students and lecturers.
Our MBA students are very flexible timewise when planning their studies. Since we always have four different MBA groups being carried out at the same time, there is always the possibility to catch up on a seminar or even bring one forward.
Individual support: So that you can arrange work, private life and studies in the best possible way, the Professional School team assists you individually in planning your MBA course of study.
Quality: In addition to the FIBAA re-accreditation in 2011, the Kempten MBA was awarded the international EPAS accreditation in June 2015. The accreditation is awarded by the EFMD (European Foundation for Management Development).

Admission Requirements
The MBA starts each year in late September (winter term) as well as in March (summer term).
As the seminars are conducted in English, participants will need a good level of proficiency in the English language. Applicants for the MBA course must have successfully completed a degree-level course of study at a university or equivalent institute of higher education, e. g. polytechnic, Fachhochschule or Berufsakademie (only in Baden-Württemberg), and require a minimum of two years' employment.

Application Documents
Please keep the following documents ready for your online application
CV/Resume
A passport photo
A copy of your degree certificate (minimum of 210 ECTS; Applicants with an undergraduate degree score less than 210 ECTS have to take an additional Special Track.)
Proof of your two-year working experience (acknowledgement from your employer or an older job testimonial)
Proof of your English certificates (TOEFL test: min. score 80 or IELTS language test: min. band 6,5)
A short motivational letter (describing your motivation for our MBA programme and your future career plans, e.g. working in Germany)

Leadership Task Model
Our leadership development programme is based on the Leadership Task Model that has been developed based on the leadership research that is done by the lecturers at the Professional School (Desjardins & Baker, 2013).
The Leadership Task Model has been developed to provide reflective leaders with a results-oriented set of leadership behaviours derived from scientific theory and practical economic effectiveness. Simply speaking it answers the question: What do I need to do to be a good leader? Goodness is defined as a combination of socially and culturally defined role expectations regarding positive leadership behaviour and economic expectations towards the leadership role. That means a modern leader needs to achieve organisational goals and serve the purpose of a commercial enterprise, and be a responsible and positive member of his or her society. Just focusing on the first part leads to socially and economically devastating results like in the first financial crisis in 2008. But a thriving free society is dependent upon a solid, sustainable financial foundation, which is why good business leaders play a crucial part in our societies.
Last updated Jul 2018
About the School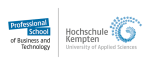 The Professional School of Business & Technology is the competence centre for postgraduate studies at Kempten University of Applied Sciences.
The Professional School of Business & Technology is the competence centre for postgraduate studies at Kempten University of Applied Sciences.
Read less