MBA in Creative Enterprise
Home ›
MBA ›
MBA in Creative Enterprise
Program Description
Wisdom at Work
The MBA in Creative Enterprise is designed to enable graduates who are well-educated in core business functions like management, marketing, finance, operations, and strategy. Meridian MBA curriculum weaves three dimensions through all courses: 1) transformative innovation, 2) business as a means of regenerating the commons, and 3) entrepreneurship that is generative, not extractive.
"Business has become, in this last half-century, the most powerful institution on the planet. The dominant institution in any society needs to take responsibility for the whole...Every decision that is made, every action that is taken must be viewed in light of that responsibility. This requires more than incremental adjustment; it calls for a fundamental redefinition of business as a social partner."

—Willis Hartman
At A Glance
APPLICATIONS
ACCEPTED

Quarterly

HIGHEST DEGREE
REQUIRED

Bachelors

LEARNING
FORMAT

Hybrid

PROGRAM
LENGTH

18-24 Months

TOTAL CREDITS
REQUIRED:

64 Credits

COST PER
CREDIT

$676

RESIDENCIES
REQUIRED

3

ACCREDIATATION


WASC
Concentrations Available
Complexity Management
Developmental Coaching
Generative Entrepreneurship
Organizational Development
Transformative Leadership
Educational Objectives
Cultivating Leadership Capacities: To cultivate the leadership capacities that further transformative and ethical engagement within business and cultural contexts.
Practicing Creative Action Inquiry: To develop creative inquiry skills that enable collaboration responsive to high complexity and ambiguity.
Core Business Functions: To identify and implement business methods and practices of human resources, operations, economics, finance, accounting, marketing, management, and strategy, towards building and sustaining a creative enterprise.
Generative Entrepreneurship and Transformative Innovation: To develop the practices and perspectives that link entrepreneurial competencies with impacting the commons in ways that are generative and emancipatory, and to ignite individual and collective creativity to generate emancipatory, disruptive, and transformative innovations.
Transforming Business as a Profession and Regenerating the Commons: To develop competencies required to conceive, build, and lead creative and emancipatory enterprises; to apply the competencies associated with generative entrepreneurship to producing generative globalization in service of thriving local communities, restoration of the earth's resources, and regenerating the commons.
Graduation Requirements
Students are required to complete 64 credits (640 hours).
Students are required to attend 3 residencies.
Students are expected to complete a Creative Action Project (capstone).
Students have a maximum of five years from their initial date of enrollment to complete their Master's in Business Administration degree.
Admission Requirements
A Bachelor's degree is required for admission to Meridian's graduate degree programs.
Students submit an online application form along with documents such as official transcripts, a personal statement, and letters of recommendation. The Admissions Committee reviews all applications and invites select applicants to proceed to an interview. More information is available on the Application Process page.
All students are expected to be proficient in the English language as all instruction at Meridian is offered in English.
Academic Structure
Meridian's academic structure gives students the flexibility to navigate the University's curricular architecture in ways that match their passions, professional goals, and other life commitments.
The structure is designed to serve a diverse student body, who live around the globe, have varied cultural and clinical visions for their careers, and are at different stages in their professional journey.
Students enroll in a degree program, can elect a concentration, and register for one or multiple courses each quarter. In addition to core courses for the specific degree program and anchor courses that represent the Transformative Learning intent of Meridian's curriculum, students select elective courses that align with their Meridian concentration, background, and career path.
Learning Format
Meridian's hybrid learning format is designed to enable students to pursue their graduate education at a flexible pace, combining asynchronous coursework via the University's custom social learning platform, Pivot, live course video calls with faculty, synchronous student community engagement, and onsite one-week residencies. By combining innovative online education methodologies with rich video calls and deep onsite residency connections, Meridian's learning format enables students to contribute locally and perceive globally.
Each quarter, students take one or multiple seven-week online courses. This schedule provides students with the time between quarters to rest, engage, and prepare. Additionally, students attend at least two weeklong residencies per academic year, until they complete their residency requirements. Residencies run Monday through Friday throughout the year, at Meridian's Bay Area Center and other globally distributed locations. Students can select residency dates and locations based on their personal circumstances and professional aspirations.
Last updated Oct 2020
About the School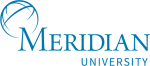 Meridian University is dedicated to enabling human development through wise transformative impact across multiple domains of the public and private sectors with global reach and local value. Meridian' ... Read More
Meridian University is dedicated to enabling human development through wise transformative impact across multiple domains of the public and private sectors with global reach and local value. Meridian's graduate degree programs in Business, Psychology, Education, and Transformative Leadership enable students to combine passion with a profession in service to larger social, cultural, ecological, and developmental goals. Meridian is accredited by the WASC Senior College and University Commission and approved by the US Department of Education for participation in the Federal Student Aid program. WASC is the Department of Education recognized regional accreditor for such schools as the University of California at Berkeley, UCLA, and Stanford University. Meridian's licensable degrees have been recognized by the California Board of Behavioral Sciences and Board of Psychology for over 25 years.
Read less