MBA in Corporate Social Responsibility
Home ›
MBA ›
CSR ›
MBA in Corporate Social Responsibility
Program Description
MBA in Corporate Social Responsibility
CSR is a gift to young India. It emerged as a profound area of management with assuring opportunities and growth. A new scope of the job breaks the boundaries of man-machine concept. Rather it synergizes machine and humanity. This is the only area offering containment of pleasure with a combination of human touch and business. Thus, for tomorrow's CSR manager, an individual needs to be academically well versed and professionally trained in the areas of CSR. Also to be typically groomed in perspective of CSR.


About the Program (MBA in CSR)
Endeavour to start MBA in CSR course is a national need and considered as a national contribution too. From now onwards, references would be 2013; citing the mandate of CSR law as a new business feature, larger than any other Management Area of Specialization. CSR in Companies Bill is the silent revolution which will take forward India's growth trajectory at a different level. The Value of our MBA in CSR program can be found through the breadth of exposure from academics option and opportunities to professional outcomes. As for the law, there are more than 3000 big companies and other 11000 companies have to set up their CSR Department with full-fledged operations. There would be a requirement of thousands of professionals from this year. Hence, CSR-CoE is the only Indian viz. South Asia's first Institution to offer 120 seats.


Program Distinctive Feature
MBA in CSR provides the opportunity for you to develop your career by combining social issues with business perspectives. Better groomed in a way where you would be able to co-relate and differentiate between a typical welfare project and peoples benefit through corporate participation by CSR. Sustainability Reporting is already fallen under CSR. It is linked to Industrial Relations, Supply Chain Management, R&R and Brand Values, the list is literally big. This will equip you with the knowledge and skills to tackle business and society for the benefit of the people.

This is the first formal management program has job potential with career growth. MBA in CSR is fresh endeavor to realize the power of your dreams. If you have a reason to grow in your time, this program is the answer.

We understand your potentials and this is our passion This pioneering program demonstrates our commitment to ensuring that the teaching of social responsibilities of corporate practices and ethics are a core part of the CSR-CoE's MBA.

Through this program, we are building new management cadres- its bit different compared to as usual general MBA program. We are caring for your right choice and this is the only emerging area en route for realizing your power of dreams. This is undoubtedly distinguished opportunity calling you.


Last updated Dec 2017
About the School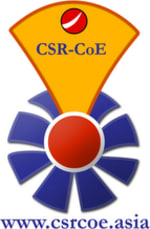 CSR Centre for ExcellenceCSR Centre of Excellence (CSR – CoE) entailed with dedicated professionals having versatile experiences in industry and academics. They are widely acknowledged and are referen ... Read More
CSR Centre for ExcellenceCSR Centre of Excellence (CSR – CoE) entailed with dedicated professionals having versatile experiences in industry and academics. They are widely acknowledged and are references in the field of CSR. The way India legitimated CSR – first of its kind in the world. This is a history. So far the New Companies Bill, CSR is mandatory.It is now embedded in the DNA of Indian business. To address this new development, for bridging the gap of human resources, CSR – CoE is actively working towards realising its vision of leveraging CSR to enhance and enable enterprise competitiveness in a market-driven environment. Through its activities, CSR –CoE already established an institutional framework that has taken a lead role in setting-up higher learning in CSR, MDPs, Research and professional facilitation for industry and civil society.It is now mandated that the business is not just for profit, rather responsible business ensures inclusiveness of public interest, which in turn safeguards sustained development. That's where India stands today.This bill gives directions to Companies forspending minimum 2% of Profit After Tax ( PAT ) in CSR. Displaying the CSR Report in the public domain is a must. The bill also aims to have a dedicated 'department' supported by an independent director plus two other promoter directors. These directors shall be responsible and accountable for CSR activities and spending. Violating CSR norms will tantamount to penal actions. This reflects the great importance of CSR in Indian business.From April 2013, listed 2073 Companies (plus 11,000 Industry) will be under the ambit of CSR; this will create more than INR 270 trillion (Rs. Twenty Seven Thousand crores)yearly. Apart from this, SEBI already enforced mandatory CSR for the 100 top listed Companies. Within next six months, with these unique instruments, CSR would emerge as one of the most vibrant departments for the 13,000 companies of India. India alone requires over 50,000 MBAs in CSR and more than 1,50,000 Certified and Trained Professionals in the coming years. This is literally unique compared to other opportunities of the business in India.Interestingly, this year onwards organizations required trained human resources in CSR. With this development, to tackle the situation, India doesn't have any dedicated Institution to cater the huge demand of CSR and its Human Resources. For managing CSR, an individual has to be academically exposed and professionally trained. Also to be intellectually groomed in perspective of CSR. This is purely an emerging academic viz. professional area of the Management in India.
Read less