Program Description
This program gives to our students' possibility to obtain a double MBA degree in 15 months.
First 3 months take place in Paris, where students should validate 5 core courses (classes taught entirely in English) and prepare their departure to the US.
After that student can continue the program in one of our partner universities in the US for 12 months:
Pace University, New York
Northeastern University, Boston
Bryant College, Rhode Island
Suffolk University, Boston
Central Michigan University
University of Dallas
CLU, Santa Barbara, California
The international structure of the program (Paris, USA) gives the participant a unique opportunity to experience different cultural environments, which will be very useful when managing business operations in the international environment. At the end of the program, participants get the MBA degree from one of our American partners (which are A.A.C.S.B. accredited) jointly with the IFAM MBA.
The MBA University program enrolls each year a small number of participants, after a selective admission procedure. Therefore high-level pedagogical methods adapted for intensive learning are used for all courses during the program: small group discussions, business games, case studies with data furnished by American, European or internationally operating firms, simulation exercises, lectures, and thesis.
All courses are delivered in English.
Last updated Dec 2017
About the School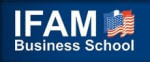 Our history IFAM Business School has been created in 1982 by Mr. Alain JOSEPH, MA in Economics at Paris I, MBA from ESCP (highly ranked French business school), also a professor at the best business s ... Read More
Our history IFAM Business School has been created in 1982 by Mr. Alain JOSEPH, MA in Economics at Paris I, MBA from ESCP (highly ranked French business school), also a professor at the best business schools in France and Dean himself of a business school in Paris which is highly regarded for its academic quality. Mr. Alain Joseph pursued his MBA studies at Northwestern University at Evanston, Illinois in 1972 and after this rewarding experience, he came back to France with the idea of emulating the American way of teaching and studying business for the French students. He chose Mrs. Marie-France Joseph to run this program, she obtained her BA, MA at Indiana University and started her Ph.D. in the United States. With this strong background in the university environment in America, IFAM Business School looked for partners in the US to consolidate its academic background. IFAM was lucky to find two partners the very first year of 1982, one was President Trachtenberg from the University of Hartford, Connecticut, who is now President at George Washington University in Washington DC, and the other was Dean Tom Moore from Northeastern University in Boston, currently Dean of executive programs at Babson College and a highly regarded scholar on higher business education. Immediately IFAM created a program very imaginative and unique: the students started studying in Paris for 2 years and then concluded their BBA program within an academic year. The requirements from the American universities were: a good GPA (minimum B), a minimal TOEFL of 250, and of course the French Baccalauréat of general education. Through this process, IFAM has sent over 1.500 students to the United States. Our very strong relationship with Pace University makes this joint program in New York City very successful. We also worked with Temple University at Philadelphia and University of San Diego in San Diego. In 1986, IFAM Business School started to develop its own MBA program with the appropriate courses in business topics to be accredited by the Business Schools in the US or elsewhere. The final goal of this evolution was for our students to enter the MBA programs of our American Universities partners. Furthermore, we expanded our program to several other universities like Central Michigan University, Babson College, Suffolk University, Bryant College, and the University of Dallas. Therefore the students had the choice of 2 Programs: 2 years in Paris and 1 year in the US, or 3 years in Paris and then go to the US for their MBA. At the same time, some of our alumni have obtained their MBA in the most prestigious business schools like Harvard, University of Pennsylvania, Wharton, Darden University of Virginia, New York University, UCLA, Columbia University. In recent years, IFAM Business School has continually updated and expanded its curriculum to fulfill its commitment to respond to the changing needs of its students of diverse ethnicity and the new development of the business community. IFAM Business School utilizes distinctive teaching and the intellectual contributions of its faculty to provide educational opportunities in a supportive independent setting. Our graduate and undergraduate programs develop competent, confident and ethical students able to compete in a dynamic global economy by linking Management concepts and practices. Our mission IFAM Business School students are encouraged to develop competencies in : Leadership and interpersonal communication, Problem solving and analysis, Fast learning, Applying critical thinking to Management in a global context. Our objectives An academic tradition that combines scholarly excellence with continuous interaction with business leaders and current management issues. A culture that is based on merit and that is congenial to people of widely varying ethnicities, and national backgrounds. A tradition and commitment to the importance of a global perspective and ethical behavior in the conduct of business. In order to fulfill this mission, we had to adopt several rules: excellence, coherence, focus, innovation, and communication. Those are the issues that win the race in the world that evolves from day to day.
Read less