Program Description
Earn an Internationally Recognized Degree in as little as 24 Months
Flexible Program. Hybrid, online, and face to face classes to fit your work schedule. Classes meet Monday through Friday evening.
Take 10 Core Courses plus 2 Track Courses. Two track options include Business Analytics and Finance.
Consulting Project. Work with other MBA students to assist a local firm with real-world business challenges.
Highest Accreditation. Purdue University Fort Wayne is accredited by The Association to Advance Collegiate Schools of Business (AACSB-International) which is the highest level of accreditation that can be obtained. Purdue Fort Wayne offers the only AACSB-International accredited business school in Northeast Indiana.
Alums report a one-year median salary change of 20%.
Assistantships
To apply for a graduate assistantship, students must include the following with their application for admission:
A current resume
A letter that describes their skills, work experiences, and special abilities that may be useful to the position
The deadline for graduate assistantships is February 15.
Graduate assistantships are available on a limited basis to full-time MBA students. Graduate assistants receive a stipend plus a tuition remission up to a maximum of 12 credits per semester (special course fees may apply). Graduate assistantships carry a service obligation to the Doermer School of Business and Management Sciences that may include assisting faculty with research projects, teaching assignments, or performing other designated activities. Assistantships typically require a 20 hour per week commitment and may be renewed contingent on a satisfactory performance evaluation every semester. Graduate assistants are expected to make normal progress toward their degrees, maintain a cumulative graduate GPA of 3.0 or better, and remain full-time students.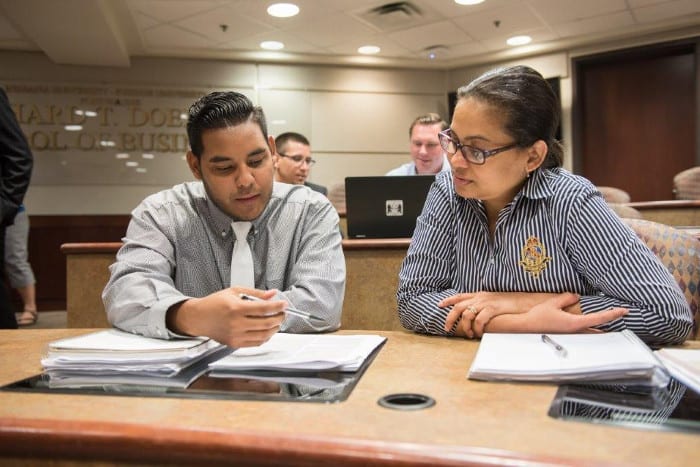 Apply for Admission
Domestic Students:
Rolling Admissions: Fall 2019 Classes start August 26, 2019
International Students Deadline:
Two months before classes begin.
Admission Requirements (domestic and international)
Supported Degree Objectives
Master of Business Administration (MBA)
Non-Degree
Required Supporting Documents
Transcripts
Two Recommendation Letters
GRE (Conversion to GMAT Scores, Minimum Score of 450)
GMAT (Minimum Score of 450)
Candidate Statement
English Proficiency (Non-native English speaking international applicants: choose a test below)

TOEFL: Internet-Based Test (IBT): Minimum Overall Required Score: 80

Minimum section requirements:

Reading: 19
Listening: 14
Speaking: 18
Writing: 18

TOEFL: Paper-Delivered Test: Minimum Overall Required Score: No minimum

Minimum section requirements:

Reading: 19
Listening: 14
Writing: 18

IELTS (Academic Module): Minimum Overall Required Score: 6.5

Minimum section requirements:

Reading: 6.5
Listening: 6.0
Speaking: 6.0
Writing: 5.5

ELS - Certificate Level 112
Master's Degree Program Requirements
Bachelor's degree from an accredited college or university
Undergraduate Cumulative Grade Point Average:
Interview with MBA Director
Benefits
Earn your MBA in as little as 24 months - 36 Credit Hours
The flexible program includes face to face, hybrid, and online classes to fit your work schedule (Classes meet in the evenings Mondays through Fridays)
Take 10 core courses, plus 2 elective courses
Tracks include these topics:
Business Analytics - 6 credit hours, 2 classes
Revenue Management
Value-Based Pricing Analytics
Risk Analytics
Predictive Analytics
Finance - 6 credit hours, 2 classes
Asset Valuation and Strategy
Investment Analysis
Corporate Financial Risk Management
Real Options in Capital Budgeting
General
Your choice of 2 elective courses tailored to fit your needs. You are able to take courses in Human Resources, Healthcare, Advanced Manufacturing, etc.
Organizational Action Project
Assignments can be directly related to your organization, allowing real-world application of information learned in the classroom setting
Learn skills designed to promote effective and ethical business decisions in an ever-changing global environment, such as:
Innovative problem solving
Transcending functional boundaries
Making complex, short-term decisions
Strategic decision making
Solving managerial problems
Utilizing information technology
Building effective organizational environments
Sense of professional and social responsibility
Alumni report a one-year median salary change of 20%
Applications to this program will need to be submitted via the Purdue Application Portal.
Program Policies
Course Load
Most MBA students are employed full time and normally take a maximum course load of 6 credits (two courses) per semester and 3 credits (one course) per summer session. However, students may elect to pursue full-time study in the program. Enrollment in 9 credits is considered full time.
Courses are scheduled to accommodate the needs of part-time students. Since the school cannot guarantee that all courses will be available to all students at all times, students must accept the risk that in a given semester or session, scheduled courses may not be compatible with courses needed. Careful planning in consultation with the MBA advisor and participation in early registration will minimize the likelihood of this becoming a problem.
Transfer Credit
Students who hold advanced degrees or have earned credits beyond requirements for their bachelor's degree may apply for transfer credits. A maximum of 6 credits in such graduate courses completed with grades of B or better from an AACSB-accredited institution may be accepted for transfer. Within these limits, acceptability and applicability of transfer credits are determined by the director in consultation with appropriate faculty.
Within the limitation noted above, students seeking approval to complete degree requirements by taking a course at another AACSB-accredited institution must submit a written request and a copy of the institution's course syllabus to the director in advance of taking the course. The request for this exception must identify (1) the institution, (2) the specific course(s) that will be taken, and (3) the Purdue Fort Wayne requirement(s) to which it or they will apply.
Academic Standards
A candidate for the MBA must maintain a cumulative graduate GPA of 3.0 or better. The graduate GPA is calculated based solely on completed graduate-level courses. Students whose graduate GPA falls below 3.0 will be placed on academic probation and must bring their grade-point average back to 3.0 within the next 6 credits of course work. Failure to remove the GPA deficiency within the next 6 credits may result in immediate dismissal. Graduate level courses in which students earn grades of D or F must be repeated. Grades of D or F will be included in the calculation of the student's graduate GPA.
Time Allowed for Completion of Degree
Students are permitted up to 48 months to complete all requirements. This 48-month period commences once students begin taking any modules or core courses. The schedule of classes has been designed to make it possible for full-time working professionals if they wish, to complete the MBA program in 18 months to two years.
Students who fail to attend graduate business classes for two regular consecutive semesters must reapply for admission or have their original application renewed.
Tuition and Fees
Program Tuition 2018-2019
Indiana Residents: $437.70 per credit hour
Non Residents: $876.45 per credit hour
Last updated Jul 2019
About the School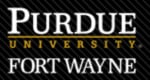 The Doermer School of Business was named after a very successful local businessman, Richard T. Doermer. Who believed that "partnerships between business schools and local businesses are extremely ben ... Read More
The Doermer School of Business was named after a very successful local businessman, Richard T. Doermer. Who believed that "partnerships between business schools and local businesses are extremely beneficial to both parties." Our school offers opportunities for learning abroad, entrepreneurship, learning RFID technology and SAP, internships, co-operative education, project work, teamwork, and research.
Read less