MBA-Master of Business Administration
Home ›
EMBA ›
MBA-Master of Business Administration
Read more about this program on the institution's website
Program Description

Why learn from MBA Case Study Learning Methods?
We believe the best way to learn the real business is to 'involve yourself' in the business, and this can only be done from the MBA Case Study Learning Methods.
Imagine! the case study will tell you the history and culture of the company, then the case will also tell you what are the activities and plans recently completed by the company.
Next, the case will also tell you what is the current market conditions and the competitors' latest situation.
In the end, the case will take you (the reader) into the case study as a manager of the company in the case and you are in charge to take the next moves for the company.
Now, imagine you will be going through all these cycles of learning methods from at least 20 real company case studies from different setup and industries, all within the 12- 18 months MBA programme.
This learning method won't just teach you boring business theories, but we will show you real, practical success stories, failure stories, and even decision-making skills, a secret recipe of survival in business.
Who are the lecturers?
The MBA Case Study Learning methods will be taught by lecturers with at least 10 years of corporate experiences and education field. This not only gives you extra knowledge but this case study learning methods will help you to avoid real business mistakes in the future!
Why our experience matters?
Established since 1999, Mantissa College, Malaysia being a specialised business school has successfully graduated more than 15,823 students from all over 50 countries.
Our graduates are able to master the survival skills from our MBA Case study learning methods in areas of
1) Ability to Market your business products and services to attract growth
2) Develop and Change your business so that you can remain competitive and sharp in the industry
3) Managing International Human Resources so that you know how to grow your company and even expend your business beyond many countries!
Brief Programme Details
MBA-Master of Business Administration-you will receive a Level 7 Masters qualification at the end of the programme. You may also use this qualification to pursue Doctorate or PhD qualifications after this
Qualification awarded by Paris Graduate School of Management, PGSM ESGCI France)-At the end of the programme, the awarding body of the MBA will come from PGSM ESGCI France
Fully Accredited by the Malaysia Qualifications Agency (MQA)-The programme quality has been checked and accredited by the MQA, so peace of mind when you can apply for migration and jobs opportunities
Study Duration between 1 to 2 years (For face-to-face MBA Programme)-You may complete the programme at your own pace, without affective your quality work-life balance
Study Duration between 12 - 24 months (For Online MBA Programme)-Learning makes easy when you can complete the MBA at own pace, remotely from anywhere
Modules / Subjects
You will be taught on the practical advanced business skills covering modules/subjects below;
Core Subjects
Organizational Behavior
Organizational Development and Change
Management Information Systems
Operations Management
Marketing
International Business Management
Corporate Financial Management
Strategic Management
International Human Resource Management
International Marketing
Master Project
11. Research Methodology-Literature Review / Data Sampling & Data Analysis
12. Research Project of 8,000 words
Entry Requirements
For Malaysian / Non-Malaysian Applicants (Face-to-face MBA) and (Online MBA)
1) An applicant with a minimum Degree qualification (in any field)
Additional English Proficiency Requirements for Non-Malaysian applicants (For Face-to-face MBA only)
Minimum English Proficiency Scores-(Cambridge CAE 160 Scores / IELTS5.0)
Fees Structure?
Under the November 2020 structure, applicants will decide your own course fees instead.
The fees structure is very much affordable so contact our programme consultant to find out more
More info?
You may check out the pre-recorded MBA Trial class here to understanding the programme in detail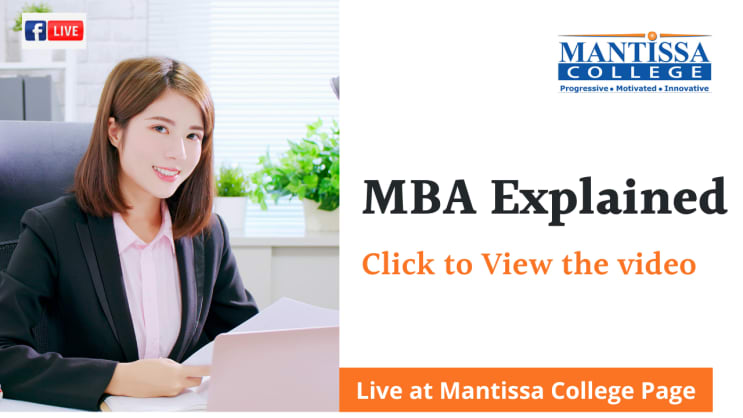 How to apply?
The application makes easy, kindly please email the followings to (info@mantissa.edu.my) or whatsapp us here
Documents Needed
1) Scan copy of your Degree Certificate
2) Scan copy of your Degree Transcripts
3) Latest Resume
Additional Documents for Non-Malaysian
4) Passport Profile Page
Last updated Dec 2020
About the School

Established on the values of being progressive, motivated and innovative, Mantissa College persistently contributed to nurturing students,in not only to be well qualified academically, but also to pos ... Read More
Established on the values of being progressive, motivated and innovative, Mantissa College persistently contributed to nurturing students,in not only to be well qualified academically, but also to possess a high level of competency in managerial skills. The institute will provide a solid platform for students to achieve their goal and gain success in the future, it was humbly founded in 1999 as an IT college and has never shied away from the challenges of educating the next generation, the nation's leaders and knowledge workers.
Read less