MBA Master of Business Administration*
Home ›
MBA ›
MBA Master of Business Administration*
Program Description
Course overview
Our Master of Business Administration course is designed to accelerate the progression of those who are either looking to start or already have, a career in the creative industries.
As a student at UCA's Business School for the Creative Industries, you will be exposed to how global corporations operate, examining and evaluating real-life case studies, as well as forming a strong foundation of theoretical knowledge. You will learn the key skills expected of those in senior positions in organisations and will be encouraged to explore entrepreneurship and develop your capacity as a future leader.
Every course within our Business School portfolio is taught with a global perspective, giving graduates the skill set required to pursue a creative business career anywhere in the world. Our teaching programmes are all project-based, combining knowledge from both business and the creative industries in order to produce well-rounded, highly employable graduates with a highly-regarded qualification.
The programme for our one-year Master of Business Administration degree has been developed to create positive and forward-thinking leaders for exciting and innovative creative industries.
Based at UCA Epsom, you will have the unique opportunity to collaborate and work alongside fellow creative business practitioners at the UCA Business School. The International MBA course is supported by seminars, tutorials, workshops and critiques, allowing you to develop a high level of competence in practical, visual, oral and written expression and giving you with the confidence to communicate your ideas effectively.
As autonomous learning is an integral part of the programme structure, you will be expected to identify, develop and manage your own international business project based on your chosen specialist area of the creative sector. Through a proactive relationship with your tutor, you will lead your project work and be supported by staff and engagement with professional industry links.
On successful completion of the course, you will be able to make high-level professional decisions, demonstrate senior management skills and expertise, and apply independent research and theory in order to advance creative strategic thinking and solve complex business problems.
*Course subject to validation and has previously been titled International MBA.
Course details
Term 1
International Corporate Financial Management
This unit is to help you develop a deep level understanding of the main financial objectives of the firm and the constrains from an organisation that might impact on that objective. You will also be able to analyse the modern principles of corporate finance and explore their validity. You will distinguish between the various sources of finance, examining their advantages and disadvantages and assess the capital structure of a firm.
Global Business Management
This unit examines the task of management in today's international and global business environment. It critically examines the key tasks of management and the theories that underpin them, considering the appropriateness of theory, models and concepts to different cultural environments and developing a contingent approach to them to enable you to choose the most appropriate management style for your future careers.
Entrepreneurship and Innovation
You will explore further the relationships between creativity, innovation and entrepreneurship. You will also have opportunities to develop an understanding of how opportunities are identified, and how they are made feasible by implementing a business plan to make it viable and realised in professional creative practice.
Term 2
Project Management
This unit provides you with a greater understanding of analytical skills for solving problems in project management, to learn mathematical models which aid in the decision making process and to develop critical thinking and knowledge in project management's theory and practices. This unit guides you through many of the fundamental project management tools and behavioural skills required in profit and non-profit organisations.
International Business Strategy
Throughout this unit, you will be expected to critically examine the strategic management process as it applies to internationally oriented organisations in order to remain and sustain competitiveness within the ever-changing and demanding international as well as industrial environments. You will gain a better appreciation of the key concepts, tools, and principles of strategy formulation and competitive analysis.
Term 3
Research Practice
The unit is designed to enable you to become confident using creative research techniques and methods. It will enable you to conduct and write up research at postgraduate level. It addresses the elements that make up formal research including the research proposal, a variety of research methodologies, action planning, carrying out the research itself and presenting your findings.
International Business Project
The International Business Project unit is the culmination of your studies and will form a framework for the central ideas and concepts developed throughout your MA. The outcome will demonstrate evidence of advanced conceptual, theoretical and technical capability over an extended period of self-directed study.
Fees and additional course costs
Tuition fees
The course fees per year for 2020 entry are:
UK and EU students full-time - £10,500
International students full-time - £17,500 (standard fee)
International students full-time - £16,800 (full early payment fee)
Additional course costs
In addition to the tuition fees please see the additional course costs for 2020 entry.
These fees are correct for the stated academic year only. Costs may increase each year during a student's period of continued registration on course in line with inflation (subject to any maximum regulated tuition fee limit). Any adjustment for continuing students will be at or below the RPI-X forecast rate.
Fee discounts and scholarships
To support all of our current students and our recent UK and EU alumni to progress to the next level of study, we have developed a new range of fee discounts across a range of courses.
Read more about fee discounts
Facilities
The MA courses at UCA Epsom share a base room with networked computer facilities and you also have access to our extensive range of campus facilities, including: print studios with extensive screen printing facilities, photography studios, 3D workshops, media store for borrowing film and photography equipment. There is also a modern library with a wealth of books, journals, special collections and online resources.
Business School
The first of its kind in the UK, our new Business School for the Creative Industries builds on our long tradition of collaborating with employers to cultivate leadership, entrepreneurial and problem-solving skills.
Entry requirements
UK entry requirements
An honours degree or equivalent qualification in the subject or a related discipline
and/or
Relevant work experience, demonstrating your ability to study at postgraduate level.
Consideration will also be given to applicants who can make a strong case for admission in relation to a particular project and can demonstrate their potential to satisfactorily complete the course.
International entry requirements
To view the equivalent entry requirements for your country please check our website.
Your portfolio
No formal portfolio is required for this course. We'll require you to attend an Applicant Day which will include an interview. This will also give you the opportunity to visit us, meet the course team and see the facilities. If you wish to bring work for discussion at your interview, you're welcome to do so.
Last updated Mar 2020
About the School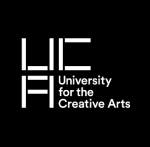 Oscar-winning filmmakers, world-renowned fashion designers, television presenters, celebrity jewellers and Turner Prize nominees are just some of the high-profile graduates from the University for the ... Read More
Oscar-winning filmmakers, world-renowned fashion designers, television presenters, celebrity jewellers and Turner Prize nominees are just some of the high-profile graduates from the University for the Creative Arts. As a specialist creative arts university, we have created a unique community for our students, where like-minded people can share in the creative process and inspire one another. Collaboration between courses is encouraged, with fine artists studying with budding filmmakers and fashion designers working alongside architects. In this way, our students benefit from exposure to a range of disciplines. Choosing to study with us will give you the freedom to discover your own personal style through a winning combination of industry-focused courses, state-of-the-art facilities, and inspirational expert staff.
Read less