MBA - Master in Business Administration
Home ›
MBA ›
MBA - Master in Business Administration
Read more about this program on the institution's website
Program Description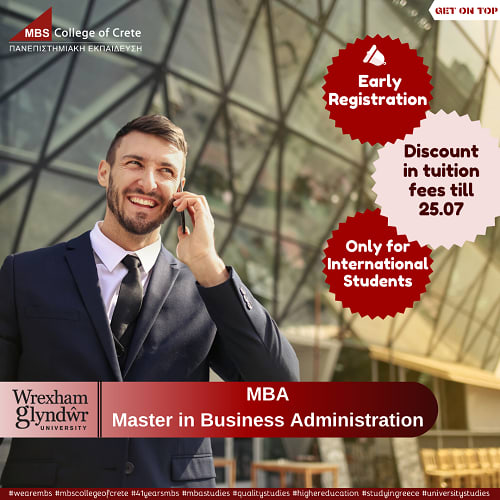 Awarding University: Wrexham Glyndwr University
Why choose this course?
Obtain a Degree approved by the Greek Ministry of Education and abroad.
Boost your CV, enhance your negotiation skills and be offered higher remuneration.
Enhance your effectiveness, flexibility, decision-making skills and leadership.
Become competent executives and professionals with well recognized abilities and skills in the ever competitive job market.
Exemption of certain modules in the process for the practicing license as regards the profession of Certified Public Accountancy (Statutory Auditing) by the Institute of Certified.
Public Accountants in Greece and ACTA – Association of Chartered Certified Accountants.
Key Course Features
It is one of the most popular Master's Degree globally, offering the necessary qualifications to graduates and professionals wishing to progress to top management positions.
A full-time program, delivered over a one-year period.
Flexible class schedule ideal for busy professionals. All lectures delivered at MBS College of Crete campus.
The degree is awarded directly by the partner University and it doesn't differ in any way from the degree awarded by the University in the UK.
What is distinctive about this program
When recruiting staff members in enterprises, MBA Degree holders are mainly required in the job market. No wonder why 8 out of 10 Greek professionals choose an MBA to develop skills and abilities and have better career prospects.
According to the Graduate Management Admission Council (GMAC) 86% of MBA holders of Class 2011, who took part in the survey, found a job directly upon graduation. In the same survey, the increase in MBS holders' salaries reaches 72% compared to a 50% increase for employees holding a different Master's degree.
The program promotes entrepreneurship and facilitates business activity development. Thus, MBA degree holders can set up their own businesses easily, since they can manage successfully every aspect of the business.
The MBA program strengthens the roles of leadership and management with international perspectives and focuses highly on entrepreneurship and employability.
geralt / Pixabay
Course Content
The program consists of seven modules and the Dissertation.
Students develop their knowledge on the different aspects of an enterprise such as implementing Strategies, Leadership, Marketing, Finance and Evaluating risk and decisions. At the same time, much emphasis is placed upon research methods and the preparation and drafting of the Dissertation, which concludes the program.
Moreover, Russian language learning (4 hours per week) is offered as a free optional module in order to enhance graduates' employability.
Ideal for:
Business executives of a middle and senior-level that wish to progress to higher positions.
Graduates that wish to acquire an extra competitive advantage in the market place.
Employees seeking career development.
Experienced or less experienced entrepreneurs with a vision to produce innovative products and services with added value.
Family members that intend to take over the family business.
Any graduates who wish to change career paths and pursue a career in entrepreneurship.
Course Modules
| | | |
| --- | --- | --- |
| Months 1-4 | Months 4-8 | Months 8-12 |
| Implementing Strategies | Contemporary Leadership Themes | Research Methods Dissertation |
| Integrated Communications | Creative Change and Innovation | - |
| Financial Insights and Business Intelligence | Evaluating Risk and Decisions or Emphasising the Environment | - |
| - | Research Methods Dissertation | - |
How to Apply
Entry Requirements:
2.2 and over degree score from British University or an equivalent score from Greek University or/and at least 2 years of senior-level working experience and English language IELTS 6.0 or equivalent.
Documents Required:
Completed Application Form
Certified copy of degree and transcript
Certified copy of English test or score of English test
A CV (for those with work experience)
One (1) photograph
ID copy (and Visa for those that need it)
Two (2) reference letters (one from employer or/and one from academic supervisor)
Last updated Jul 2020
About the School

The College of Crete MBS was founded in 1979, and throughout the intervening years has experienced change, improvement, and continual growth. 34 years later, we are proud of our collaborations with bo ... Read More
The College of Crete MBS was founded in 1979, and throughout the intervening years has experienced change, improvement, and continual growth. 34 years later, we are proud of our collaborations with both industry and other educational institutions, our diverse portfolio of undergraduate programmes, and of our continuous investment in developing up to date teaching and learning facilities.
Read less