MBA Global - Luxury Brand Management
Home ›
MBA ›
MBA Global - Luxury Brand Management
Program Description
A program which prepares students for management jobs through in-depth study of production, logistics, and control, with an emphasis on financial strategies and global management.
Comprehensive training in marketing and brand management, with a special emphasis on social media.
A special focus on retailing, merchandising and online selling.
This program prepares students with the skills needed for a successful luxury career.

This program recognized Level I by the State is registered at the Répertoire National des Certifications Professionnelles (RNCP).
This new program in Global Luxury Management has been developed to give a special strength to the 30th anniversary of the first Sup de Luxe program created in 1990.
It was obvious that after having been the pioneer in Luxury Management and Marketing Training, Sup de Luxe had the opportunity to create this new program, full time, in English.
Compared to other existing program's, this one has the ambition to be different:
It is not a "Marketing" program, but a "Global" Luxury program, training students in General Management and for all activities that are necessary to be successful in this field : Business Policy, Control, and Financial matters, but also Logistics and Supply Chain, to train candidates to become, in the medium and long run, general managers of Luxury subsidiaries in major strategic countries.
It puts emphasis on the Management of Creation and of the Creative team, as we believe this is a very important element for a brand to stand out and to provide interesting and outstanding products, objects or services.
It develops special skills in Social Media networks and Digital marketing.
It wants to stand out as the best available training in Luxury Retailing and Luxury merchandising.
Apart from this specific content, this new program in Global Luxury Management is strengthened by its presence as a Sup de Luxe venture, a school and an environment which can be defined by:
The largest MBA in Luxury graduate group, as it now has a body of approximately 1.700 alumni, most of them working for international luxury companies.
A special emphasis on a close and productive relationship with the luxury industry in general and the major firms of the sector.
With a class limited to a reasonably small number of students with international potential, this new program in Global Luxury Management expects to become a source of interesting profiles for the luxury companies : They should find graduates ready to start, for example, in selling, retailing or digital marketing jobs and develop a long term career in their firm. It also hopes to become a crossroad of international knowledge and interactions about the luxury world.
Program Content
All teaching methods, including pro-active and internet systems, will be used, but the majority of the courses will be based on the business case method.
An in-depth analysis of a real business situation (a team project presented to a luxury company) will conclude the program.
In-depth expertise in business management
Accounting control, reporting, and budgeting
Corporate financial management
Global international strategy
Global business policy
Luxury marketing management
Consumer analysis and consumer behavior; market research
Product policy and management
Brand management
International distribution systems
Communication and advertising
Social networks and digital marketing
Luxury retailing and merchandising
Basic retailing economics and management
Store location and concept development
Merchandising and visual merchandising
Management of creation
Art management and specificities
Design management and managing the creative team
Introduction to product design and communication design
Luxury talent management
Organizational development
Talent management
Executive careers in luxury
Manufacturing, supply chain, and procurement. Logistics
Worldwide procurement sources
Quality management
Logistics, supply chain, and planning processes
Luxury legal issues
Brand registration and intellectual property. Contract negotiation and follow up
Sectorial analysis
Perfumes and cosmetics
Jewelry and watches
Fashion management
Wine and spirits
Hospitality management
The challenges of the Chinese market
Opportunities in other energy markets
The place of other BRICS markets
Job Description
This program provides a global and comprehensive approach to the luxury sector.
Students will be prepared to become country managers or marketing development managers, as well as support managers, in key areas.
But they will learn to have the flexibility to start their career in sales, marketing, and merchandising jobs.
Their major fields of expertise will be:
Digital and one-to-one marketing
Retailing, Merchandising and Visual Merchandising
Sales activities, and, in particular, the development and management of international networks
Development and Applied Marketing
Supply Chain and Logistics
Procurement
Global Management
They will be prepared for jobs in the following sectors:
Fashion and accessories
Jewelry and Watches
Perfumes and Cosmetics
Wines and Spirits
Hotel and Hospitality Management
Tourism and upscale Travel
Other sectors, where the concept of 'Trading up' is a source of development and profitability
As they graduate from this program, they will be ready for a completely international career.
Application
The Sup de Luxe program in Global Luxury Brand Management is designed for:
Graduate students with a degree from a recognized University with good grades and performances (Bachelor, master or Engineering Programs),
At least 3 years meaningful business experience (with an exception for unusual profiles),
Young professionals who hope to accelerate their career path.
Candidates should fill out the application form and attach a photo and a CV.
One or two letters of recommendation may be attached to the application file.
Once the file is received and selected, a jury will carefully review it and interview selected candidates during a face to face meeting or via an electronic link.
Tuition for the full program is 28,000€ from September 2019 to December 2020.
Last updated Oct 2019
About the School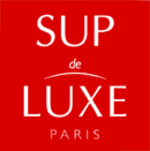 Founded by Cartier in 1990, The Institut Supérieur de Marketing du Luxe provides the only training in the world desired and supported by professionals from the sector.
Founded by Cartier in 1990, The Institut Supérieur de Marketing du Luxe provides the only training in the world desired and supported by professionals from the sector.
Read less