Program Description
MBA Executive

MBA Executive is a pioneering initiative with a superior mix successfully run by UMT, since its launch in 1992 for the first time in Pakistan. It is a relevant IT-intensive program for professionals seeking global careers and leadership opportunities. Unlike most other educational and training programs, it is flexible and does not require leave from the business.
Faced with a globally competitive business environment and supported by advanced information and communication technologies, business organizational structures are rapidly changing. Success in this new marketplace requires teams of executives working across functions and borders. Today, the business leaders experience challenges that are uniquely different from those of a generation ago.
The program develops a holistic vision for leadership as executives discuss in total perspective the real world issues and problems. The participants get a sophisticated awareness of the global, technological, and competitive forces that shape business and develop problem-solving analytical skills directly related to critical business issues. The program enables the participants to exercise good judgment, make sound decisions, and take appropriate responsibility.
A high level of administrative support and personal attention from program faculty and staff adds value to the overall learning methodology. The teaching method merges the business school with professional work experience that includes lectures, discussions, case analyses, student presentations, group projects, browsing and surfing the Internet, and guest speakers from the industry and government. The program equips the participants with strong interpersonal communication, teamwork, and leadership abilities and also provides a strategic understanding of the role of information and communication technologies in business.

Selection Process
In the selection process, we look for a super mix of academic credentials and personal qualities that indicate an individual's potential to benefit from and contribute to the educational experience at UMT. Instructional methods used in the program rely heavily on the utilization of the latest technology and a dynamic exchange of ideas among faculty and students. Careful consideration is given to the overall balance of each class. To ensure the depth and richness of group learning, we try to select a class composed of individuals who possess high ethical standards and academic competence, diverse work experience, and personal attributes; as well as a commitment to a managerial career.
Return on Investment
The return on your MBA investment is more than raises or promotions. It is also the knowledge and professional network that gives you and your company a competitive edge. UMT attracts smart, successful professionals who excel in a collaborative, team-based environment. These are people you will require on your team now and in the future. Our alumni tell us that former classmates remain close friends and colleagues for years to come.
Specializations
Marketing
Finance
Human Resource Management
General Management
Information Systems
Supply Chain Management
Entrance Requirements
HEC Recognized graduation in any discipline with minimum 45% marks in aggregate.
Two years of post-graduation work experience.
Admission Criteria
All applications are evaluated on the basis of merit as determined by the applicant's previous academic record, work experience and performance in the interview according to the following percentage weights:
O-Level/Matriculation marks 15%
A-Level/Intermediate marks 15%
Graduation marks 20%
Interview 30%
Work experience 20%
Additional five points are awarded to all master degree holders.
Last updated Dec 2017
About the School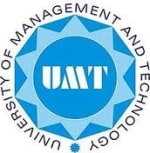 The University takes pride in its institutional climate and academic culture. It provides a friendly and highly supportive environment to its students. There are ample opportunities for positive inter ... Read More
The University takes pride in its institutional climate and academic culture. It provides a friendly and highly supportive environment to its students. There are ample opportunities for positive interaction between students and faculty. UMT encourages students to be receptive to new ideas, to ask objective questions and to pay attention to detail in order to infuse participants with an aptitude for life long learning. It values freedom of speech, permits dissent and welcomes diversity of views. It aims to produce well-rounded individuals who can make positive contributions to society on a personal and professional level.
Read less