Program Description
Description
The MBA Executive at Northampton Business School is carefully designed to offer in-depth knowledge of all critical business areas and functions. To succeed in business, you require more than just business skills. The Master of Business Administration Executive is a globally recognised postgraduate qualification for ambitious, motivated graduates.
This unique MBA Executive will suit those that are aspiring business professionals without previous business or management experience but have a clear interest in and passion for Business, Enterprise and Entrepreneurship.
Obtaining an MBA from the University of Northampton will support your career progression by developing your critical thinking and research skills which will enhance your business knowledge and understanding. The MBA will teach you the theory of effective management practice and equip you with essential skills, confidence and competence to assist you when you venture into your chosen industry. You will learn to think laterally, challenge convention and offer knowledge-based solutions to business issues. You will be able to think and operate differently to your colleagues which is essential in today's global business arena.
Course content
The programme has been designed to give you a thorough understanding of business and management processes. Your assignments will focus on real-life business and management situations and will develop your strategic thinking and entrepreneurial skills.
The MBA method of teaching is participative, enabling participants to consider issues in an organisation wide or total business context. Skills in analysing business and organisational problems are emphasised, as is the ability to recognise and exploit opportunities. The development of strategies and plans for business or departmental improvement is a major theme. As you would expect from a postgraduate degree, this programme is demanding in terms of entry, rigour and workload and will require commitment and dedication from participants.
Typical Modules:
The MBA Executive programme comprises eight specific modules of study (seven taught, and one independent research module) through which you will progress in order:
Critical Issues in Business: What are the critical themes and pervasive issues in business today?
Management and Organisational Behaviour: What are the organisational and management processes that I need to understand to be an effective leader?
Leadership in a Changing Context: What leadership skills are required in different business cultures and contexts?
Strategic Marketing: How can businesses gain a competitive advantage in a dynamic and complex marketplace?
Managing Operations and the Supply Chain: What are the critical factors in operations, supply chain and project management?
Competitive Strategy and Innovation: What do I need to know to be able to adaptably develop and interpret strategy?
Financial Decision Making: What strategic knowledge do I need of accounting, quantitative methods and management information?
Business Research Project: What new opportunities or strategic changes are possible in my business/organisation?
Entry requirements:
Applicants will normally be expected to hold a first or second class honours degree from a British university or equivalent and must always have a minimum of two years relevant management experience. The University of Northampton admission procedures enables the admission of students with prior credit or experiential learning. As this postgraduate qualification will attract professional practitioners and managers, students may be admitted on the basis of an assessment of meaningful and measurable prior learning or professional experience. Applicants whose native language is not English must provide evidence of their English language capability at a level approved by the university. The level required is IELTS 6.5 or its equivalent.
Last updated Dec 2017
About the School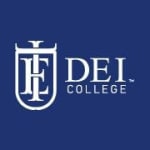 DEI College has been founded in 2009. However, it was operating as a liberal studies school from 1990 to 2009. It is also a part of a greater educational organization that was founded in 1967. Its gr ... Read More
DEI College has been founded in 2009. However, it was operating as a liberal studies school from 1990 to 2009. It is also a part of a greater educational organization that was founded in 1967. Its graduates are routinely employed by large Greek and International Companies.
Read less