Program Description
Overview
An MBA degree combined with industry experience carries considerable value and prestige with employers worldwide. The York St John MBA Degree is designed to allow graduates to further enhance their managerial knowledge and capabilities through applied learning using case studies, group work, and real businesses examples. Combining the management expertise of the York Business School and the strong reputation of BHMS in hospitality and business management, the MBA offers an opportunity to learn and develop students' management expertise in a truly global environment. Switzerland is world-famous for its high-quality service industries, hospitality and finance sectors, and innovations in a number of fields. Alongside the core MBA curriculum, students can choose a BHMS specialization through the study of an additional module and focus on their research project. Students, therefore, have the opportunity to follow a contemporary curriculum to gain focused insight and skills in key business practices in a specific field and explore a wide variety of multi-sector developments. Case studies, data handling, and projects ensure that the learning is applied and of real career value.
Aim of the Program
The program aims to:
Develop you as a potential manager and leader.
Help you develop a sound understanding of the skills necessary to undertake a role in any organization.
Reflect the aspirations in the development of responsible and ethical managers.
Support the development in the skills of leadership in order to operate effectively and competently in an international context.
The program comprises one intensive study block of 6 months full-time study, which is followed by an independent Research Investigation, allowing students to pursue an in-depth study of an area relevant to their future. The research can be completed alongside a paid internship period of 6 months in Switzerland or overseas for students wishing to gain further work experience before proceeding on their career track. Alternatively, students may return to a full-time position during this phase of the program. This program is suited to candidates who possess a bachelor's degree, have gained at least 2-3 years work experience and are looking to enter or gain promotion in a particular industry or sector. Candidates with extensive managerial experience, who do not possess a Bachelor degree, will be evaluated on an individual basis.
Paid Industry Training in Switzerland
Industry training is an integral part of the study philosophy at BHMS and provides an opportunity to gain paid work experience in a different cultural setting as part of career development. Depending on students' prior experience, language skills and professional goals, a variety of placements across the core functional areas of the hospitality industry may be undertaken during semester 2 of the program. This will provide students with invaluable service industry experience and transferable skills, vital to so many industry sectors. The industry training salary in Switzerland, negotiated between the employers' association and the Employee Union, is presently set at minimum CHF 2'212 per month gross. From this salary, students have to pay for room, board, and taxes. The average net income per month varies from CHF 1'20 to 1'400. A variety of placement opportunities also exist internationally, with contract periods and salaries subject to local/national work permit and other regulations. Students with significant prior work experience may opt to return to full-time employment while completing their final MBA Research Investigation module.
Entry Requirements
Bachelor Degree in any discipline
IELTS 6.0 level or equivalent
2-3 years work experience
Course Content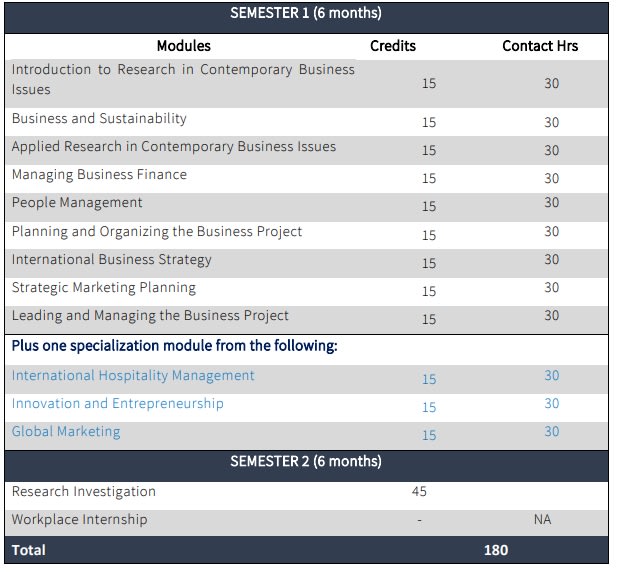 Students must pass the prescribed 180 academic credits for their York St John award, plus the additional 15 specialization credits for the BHMS MBA with specialization certificate. The specialization area chosen should also form the focus of the Research Investigation, allowing students to develop a comprehensive critical understanding of their chosen area. A selection of other courses may substitute or amend the above courses. Please ask for the detailed course program at the time of application. Credits in blue are BHMS credits only.
BHMS MBA Specializations
BHMS offers three different specializations alongside the general MBA program that follow a contemporary and progressive curriculum.
International Hospitality Management
The International Hospitality Management specialization provides a varied and stimulating programme of study that enables students to fully appreciate the diversity and complexity of global hospitality. It provides a structured examination of the international industry and the principal environments and host markets, in which business is developed and conducted. Moreover, it explores the characteristics of globalization and global hospitality, political, economic, socio-cultural, technological, ecological and regulatory environments in which global hospitality management takes place.
Innovation and Entrepreneurship
The Innovation and Entrepreneurship specialization is designed to gain insight into the essence of new business ideas and entrepreneurship to equip students with the special skill-set required when creating a new business venture. It focuses especially on the areas that support the entire startup process, such as the development of unique and new business ideas, models and processes, preparing and submitting a business plan, identifying the competitive advantage of the company, and the value creation process of innovation for the society.
Global Marketing
In the Global Marketing specialization, students examine the opportunities offered by digital tools and key social media platforms including Facebook, Twitter, LinkenIn to enhance marketing campaigns. Cultural and geographic variations in SoMe usage and conventions and the business implications are also explored and put into practice through the development of an international SoMe campaign.
Last updated Apr 2019
About the School

Welcome to BHMS, Business and Hotel Management school! BHMS is one of the world's leading hospitality schools, located in the heart of Lucerne, a vibrant and beautiful city in Switzerland.
Welcome to BHMS, Business and Hotel Management school! BHMS is one of the world's leading hospitality schools, located in the heart of Lucerne, a vibrant and beautiful city in Switzerland.
Read less