Program Description
The MBA program is a general program aimed at university graduates of various disciplines including of course those with degrees in Economics, Business, and related disciplines. The program aims to accommodate working professionals and the degree requirements may be completed in one or two years. Concentrations are available in Marketing, Management, Finance, Entrepreneurship and Digital Marketing.
MBA Degree Programs
Banking and Finance
Entrepreneurship
Management
Marketing in the Digital Era
Why choose the MBA ACT?
A challenging program of study that develops practical skills immediately applicable in a global market.
A flexible program that's tailored to your needs. Classes are held in the evenings to accommodate working professionals.
Courses taught by seasoned professionals with exceptional academic credentials and substantial managerial and executive leadership experience in organizations across the world and including Greece and Southeast Europe. They are in touch with current business issues and bring a wealth of practical business knowledge, and pragmatic thinking, to the classroom.
The only program in Northern Greece that's accredited by NEASC, the agency that accredits most prestigious universities such as Harvard, Yale, MIT, and Brown.
Professional Equivalency of MBA graduates: According to law 4093/2012 and subsequent regulations (FEK 229/19/11/12 and 3324/12/12/12), degrees awarded for post-graduate programs of studies by colleges that are accredited by international organizations (including NEASC, ACT's accreditation body), are eligible for recognition of professional equivalency to those degrees awarded by the Greek standard system of higher education. This is effective December 12, 2012.
World class facilities on a true college campus.
A program with a distinctly international flavor with students from Greece, the U.S., Bulgaria, FYROM, Serbia, Montenegro, Albania, Germany, and Austria among others.
A program that provides access to the network of over 10,000 Anatolia and acts alumni that lead the industry and government organizations across the world.
The only program backed by 127 years of experience in education and the name ANATOLIA.
Who should choose the MBA ACT?
Individuals who are now in management positions and wish to refine their skills and advance their careers. Managers at various levels, including senior executives, from small and large companies across industries including Manufacturing, Wholesale or Retail Trade, Transportation, Banking and Insurance, and others have successfully completed the MBA program at the ACT.
Individuals with a university degree in Business, Economics or a related discipline who wish to hone their knowledge and learn the practical skills necessary to distinguish themselves in business and stand out from the crowd in pursuing managerial and other leadership roles.
Individuals whose university education is in an area other than business, but who wish to work in business and pursue managerial or leadership roles.
Professionals, whether attorneys, architects, pharmacists, engineers, dentists, or English language teachers (as examples) who recognize that to succeed in their chosen professions they must possess strong, practical business and leadership skills.
Individuals who are associated with a family business, have started and manage or wish to launch their own business. The entrepreneurship concentration is tailored for you.
Individuals whose work demands an understanding of the broader Balkan market, including not only the fundamental business skills but also the particulars of doing business in the Balkans and effectively working with, managing in, and trading across countries of Southeast Europe.
Admission Requirements
To be considered for admission, candidates must:
Hold a Bachelor degree
Demonstrate competency in the English language.
Although the Graduate Management Admissions Test (GMAT) is recommended and strengthens the application, it is not required. Candidates must submit:
The Program's application form, either online or downloadable, including two recent photographs
Copies of the undergraduate and/or graduate degrees acquired
The official academic transcripts from each undergraduate and graduate school previously attended
Two letters of recommendation, academic or professional
Evidence of fluency in the English language. Candidates are required to either hold a minimum TOEFL score of 550 (paper-based), 213 (computer-based) or 80 (iBT), or a minimum IELTS score of 6.5 unless their Bachelor degree has been awarded from an English speaking academic institution or the candidate is a native English speaker. Any other English certificate will be evaluated by the admissions committee. Applicants may, in lieu of the previously- stated requirements, complete a satisfactory interview with the Director of the MBA program.
A current CV
A non-refundable application fee of 70.00 Euro.
Last updated Mar 2018
Keystone scholarship
Discover the options our scholarship can give you
About the School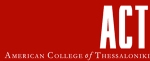 ACT (American College of Thessaloniki) is the tertiary division of Anatolia College, an institution with a long and prestigious history that dates back to 1886. ACT is accredited in the United States ... Read More
ACT (American College of Thessaloniki) is the tertiary division of Anatolia College, an institution with a long and prestigious history that dates back to 1886. ACT is accredited in the United States by NEASC (New England Association of Schools and Colleges) through its Commission on Institutions of Higher Education.
Read less