MBA (Master of Business Administration)
Home ›
MBA ›
MBA (Master of Business Administration)
Program Description
Overview
Program Duration: One academic year (on campus) + Final Management Project (can be completed remotely while working)
Entry Requirements: Bachelor-level undergraduate degree in any subject. Fluency in English. At least three years of full-time work experience
Full Program Fees: € 31,450 in Grenoble. See overseas campus pages for local fees.
Campus locations - Full-time MBA: Grenoble - Berlin
Campus locations - Part-time MBA: Tbilisi - Moscow
Language: English
Scholarships and Financial Aid available
Objectives
To provide a high-quality international management program.
To accompany the personal and professional development of program participants.
To create a group of dynamic learners with a diversity of professional experience and of cultural origins.
Why Choose the MBA Program?
Follow an intensive, stimulating academic curriculum.
Increase international exposure and network.
Strengthen both "hard" and "soft" management skills.
Tailor your education to your professional goals with a wide selection of elective courses.
Accelerate your career development with dedicated workshops.
Complete an extensive management project of a high professional standard.
Earn your degree from a triple-accredited institution.
In the Rankings
The Full-Time MBA is ranked among the top 100 Global MBA worldwide, 27th in Europe and 4th in France, according to the Financial Times 2016 Global MBA ranking.
The Economist/WhichMBA 2016. The Grenoble Full-time MBA ranked at 80 worldwide and at the 26th place in Europe.
The Part-Time MBA is ranked 67th/100 in the world by the Financial Times (October 2016).
Program
The first year of the Master is a full-time year in Grenoble or Berlin. The course modules are taught over one academic year from September to the end of June. The class sessions take place on a regular basis from Monday to Friday. Upon successful completion of these modules, participants will begin their Final Management Project. Students normally work part- or full-time during this phase and can be based anywhere in the world.
Please note that the program content below relates to Grenoble and Berlin September 2020 intake (full-time MBA), and Moscow and Tbilisi April 2020 intake (part-time MBA).
Program Content*
Year 1 - Campus Year
The program is a balanced and challenging one, equipping participants with numerical and analytical skills, communication and interpersonal skills, plus insights into current managerial issues in geopolitics, macroeconomics and governance. Through regular group work on cases and individual assignments on management dilemmas, students will develop their expertise in budgetary and financial management as well as in people management. Strategic analysis and negotiation skills are developed through face-to-face team negotiations to resolve authentic and complex cases.
*The content of the program may be adapted from year to year to take into account the needs of industry. Class attendance is compulsory.
Phase 1 - Core courses
Introduction Section
Teambuilding and Leadership events
Moodle e-learning platform
Library and Computing Services
Networking, Career and Alumni Associations
The International Environment
Global Business and Macroeconomics
Geopolitics
Accounting and Auditing
Managerial Accounting
International Financial Accounting
Auditing
International Management
Intercultural Management
International Negotiations
Sustainability and Management
Sustainability and CSR
Risk Management
Tools for Decision-Making
Managerial Economics
Quantitative Methods
Managing Organizations
International Human Resource Management
Organizations and Change Management
Leadership and Teambuilding
Technology Management
Innovation Management
Operations Management
International Business Law
International Marketing
Corporate Finance
Strategic Management
Digital Transformations
Integrative Case Study
The integrative case marks the conclusion of the taught part of the program, with a broad-based business case or cases over a 15-hour period. This is an opportunity for students to display what they have acquired during the taught part of the program by analyzing the case from different functional areas.
Phase 2 - Specializations**
From a menu of up to 8 alternative choices, students can personalize their MBA program for 20% of their total class sessions. The Full-Time and Part-Time students from the different MBA sites join together in international groups from Grenoble, Berlin, Moscow, and Tbilisi. The content is focused on professional management activity or management in a range of functional areas. For many participants, the specialization choice will also determine the focus of the Final Management Project: for example, choosing a Finance elective can lead directly to a project in the area of Finance.
Choice of one specialization (elective) composed of 3 intensive one-week sessions:
Management Consulting (Grenoble)
International Business Development (Grenoble)
Entrepreneurship (Grenoble)
Smart and Sustainable Business (Grenoble)
Finance & Digital Banking (Grenoble)
Digital Marketing (Paris)
Project Management (Berlin)
Luxury Brand Management (Paris)
**Specializations require a minimum number of participants.
Year 2 - Final Management Project
During the second year of the program students can be based anywhere in the world and must complete a Final Management Project of approximately 15,000 words in length, under the guidance of a tutor. The Project should be business oriented and coherent with the program objectives. Students are required to address a particular research question or choose a topic grounded in a professional activity or an entrepreneurial venture.
Foreign Languages
The program is taught in English but provides the possibility to learn a foreign language at the same time. No prior knowledge of French is required to attend the program. Learning a foreign language is a recommended program option for all students who are looking to work internationally. Non-French speakers have the option of studying French (beginner to advanced level), a recommended option for students looking to work in France following their studies. French speakers may choose from a number of other languages at beginner level.
Global Management Challenge
Students will participate in this team simulation – a high point of the program. Strongly motivated and culturally diverse teams compete for the best results for their company.
MBA Networking and Grenoble Discovery Week
GEM MBA students are invited to attend this week-long session in Grenoble, enabling students from campuses in Grenoble, Berlin, Moscow, and Tbilisi to come together to network and attend seminars and conferences on key management issues. The week includes company visits, networking events, and an alumni evening. Topics and events covered typically include Conflict Resolution, Interview Techniques, Radical Career Change, Salary Negotiations, and Effective Leaderships.
Study Trip in Berlin
The full-time program in Grenoble includes a week's Study Trip organized with our partners in Berlin, normally taking place in June towards the end of the program. There are corporate & academic speakers, company visits some cultural sight-seeing and a GEM post-graduate Alumni meet-up. Assignments for Strategy and HRM modules are related to some of the Study Trip content. Flights and hotel accommodation are included in the Grenoble program fees.
Study trip available for Grenoble students only.
Career Services and Skills Workshops
These specified workshops allow students to develop their professional skills with the help of GEM's Qualified career services department.
Recognition
The MBA program is accredited by AMBA (the Association of MBAs), AACSB (the Association to Advance Collegiate Schools of Business) and EQUIS (the European Quality improvement System).
Graduates from the MBA also receive a certificate conferring them the title of Manager International. This title is recognized by the recognized by the French State through France Compétences, an agency belonging to the French Ministry of Labor, at Level I (equivalent to a level 7 on the European Qualifications Framework) - the highest level for such certification.
It is a recognition that the graduate's core international management skills meet standards established by the Ministry of Labor for managers of international business. For students planning to work in France following their studies, this recognition presents a competitive advantage.
Testimonial
"Prior to the MBA, I worked in the Indian pharmaceutical industry, handling doctor and patient programs integral to the marketing function. Though this rich experience, I realized how difficult it is to get even the most basic primary healthcare and medication in developing nations at affordable rates. This revelation inspired me to enroll in the GGSB MBA.
In order to get the most out of an MBA, beyond the course content, the setting, experience and type of interactions are of utmost importance. This is why I chose France, which has been at the forefront of building policies and structures for global healthcare, education, and human rights.
My most important MBA program criterion was a well-balanced, comprehensive curriculum taught by international faculty and offered by an accredited school of management with a good overall ranking. The class profile was another important factor. Experienced, mature individuals from different backgrounds add value by creating real understanding of the cultural nuances that play an important role in global business today. GGSB scored in these all aspects.
After my MBA, I intend to work with pharmaceutical companies wanting to establish mutually beneficial relations with developing nations – especially in Africa – to build efficient systems that make quality, affordable healthcare accessible."
Last updated Oct 2019
About the School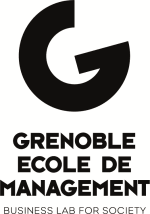 Grenoble Ecole de Management (GEM) has earned both national and international recognition. More than just a school, GEM represents an open-ended laboratory through which 8,000 students and 500 employe ... Read More
Grenoble Ecole de Management (GEM) has earned both national and international recognition. More than just a school, GEM represents an open-ended laboratory through which 8,000 students and 500 employees learn and work every day to solve complex problems and overcome major challenges for business and society.
Read less
Grenoble ,
Medellín ,
Grenoble ,
Tbilisi ,
Berlin ,
Moscow ,
Île-de-France ,
Singapore
+ 7 More
Less