International Organizations MBA (IO-MBA)
Home ›
MBA ›
International Organizations MBA (IO-MBA)
Program Description
Located in the heart of Geneva, in proximity to the United Nations and other prestigious international institutions, the IO-MBA offers a multidisciplinary curriculum taught by an international faculty from leading universities around the world and practitioners from IOs and NGOs. The program connects the organizations' context with contemporary management tools and techniques. We provide access to the United Nations and many other organizations in Geneva and expose students to the latest theoretical and applied knowledge combined with state-of-the-art teaching methodologies. Through a vibrant and active IO-MBA Alumni Association, students have access to our graduates of over 300 alumni working in diverse sectors in international development, including business, government, NGOs and social enterprise.
Objectives
Master advanced management skills and practices commonly used in intergovernmental, public and non-profit organizations
Analyze fundamental concepts of change management in complex organizational settings
Explore risk analysis and decision-making mechanisms specific to international institutions and cope with international challenges
Gain project management skills within the international development context and set up innovative solutions
Strengthen leadership and team management skills and learn to apply intercultural negotiation techniques
Develop a professional network to share knowledge and expertise all around the world
Audience
IO-MBA is designed for professionals who work for – or aspire to work for – IOs, NGOs, NPOs or Social Enterprise in managerial positions.
Our alumni network counts over 250 leaders in diverse sectors from all over the world.
Program
24 modules divided into 3 pillars:
The global context: The political, economic and legal environment within multilateral organizations, 9 modules including:

Leadership and Management in NPOs
Practice of International Relations
Cross-Sector Partnerships

Management tools in the international environment: To meet the management, communication and organizational challenges, 9 modules including:

Performance and Resource Management in NPOs
Communication, Fundraising, and Advocacy
Designing Development Projects

Professional development: Leadership skills, tools and know-how to succeed in a competitive international environment, 6 modules including:

Team-Leadership
Effective Communication
Managing across cultures
Master Thesis:
Full-time participants: based on a 3-month internship within an IO or an NGO
Part-time participants: within the current place of work
Partnership
Double degree programs with prestigious universities such as:
Georgetown University, Washington D.C.
MGIMO (Moscow Institute of International Relations)
Pittsburgh University
National University of Singapore
Yonsei University, South Korea
Various collaborations with international and non-governmental organizations
Accreditation
The IO-MBA is fully accredited by the Association of MBAs (AMBA)
Which skills are needed to manage tomorrow's challenges? Tina Ambos, IOMBA Academic Director (14 June 2018) from LLLunige on Vimeo.
Facts
Number of Nationalities Represented: 18
Female Participants: 28%
Average Age Range: 25-35
Average Work Experience: 3-7 years
Student profiles: from public & private firms or organizations
Admission criteria
Bachelor degree
Minimum of 3 years of relevant work experience
International exposure
GMAT or GRE – 500 points
Deadlines
The program starts in the first week of September each year. Completed applications will be considered in accordance with the following application and decision dates:
Round One
Round Two
Round Three
Application deadline
15 November
1 March
30 May
Admission decision by
15 December
15 March
Applicants acceptance by
15 January
15 April
22 June
Applications may be considered after the Round 3 deadline on a space available basis only.
How to apply
Candidates are requested to register and apply online through the IO-MBA application form. A completed application includes information concerning your educational and professional background and international experience. To complete and submit an online application, the following documents have to be uploaded:
Motivational cover letter *
Complete academic and professional resume (CV) *
Copy of university diploma & grade transcript *
Copy of passport or ID card *
Passport style photo in electronic format (.jpg) *
Official GMAT or GRE results **
Professional reference letter **
Academic reference letter (1) **
Copy of official TOEFL results (2) **
Copy of AVS Card or Swiss health insurance card (3) **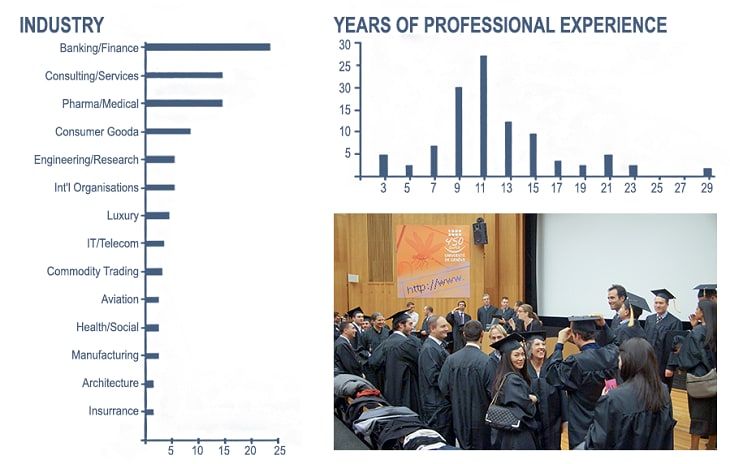 Educational & Living Expenses
A quality MBA education represents a significant investment of time, effort and money, both on the part of the school and that of the student. The University of Geneva assumes most of these costs, as reflected in our comparatively low tuition fees. Additional support may be provided in the form of scholarships.
To help you estimate the financial obligations required to attend the International Organizations MBA program, the following estimated budget is provided for the academic year indicated. The budget includes educational expenses for the whole program and an estimate of the living expenses per month. If you intend to stay in Geneva for your internship, then you should allow for additional expenses. Tuition and fees are subject to change each year.
| | |
| --- | --- |
| Educational Expenses | CHF |
| Tuition & Career Services | 37,000 |
| Enrolment Fee | 1,500 |
| Visa Services | 1,000 |
| Total Educational Expenses | 39,500 |
The enrolment fee is 1,500 CHF. As of day one of the programs, should a participant decide to withdraw, 50% of the entire tuition fees are due. Should a participant leave the program during the academic year, 100% of the tuition fees are still due. Should a participant not obtain his/her degree, tuition fees are not reimbursed.
| | |
| --- | --- |
| Living Expenses (estimate per month) | CHF |
| Rent/Housing (Student accommodation)* | 600 |
| Food | 400 |
| Health Insurance | 80 |
| Miscellaneous (Phone, laundry, insurance, entertainment) | 500 |
| Public Transportation in Geneva | 70 |
| Total Living Expenses (estimate) | 1,650 |
*Cost for a room in a student apartment depending on availability. There are also individual studios available for 850chf/month.
Additional information
Professors: from Unige + professionals/experts from various countries around the world; guest speakers
Networking activities
EMBA Networking activities: alumni events (selected topics); EMBA Prize Sponsors' events; HR / Firms events; End-of-Year Party, After-Class Drinks; Picnic; boat cruise; etc. ¦ EMBA LinkedIn Platform – only for EMBA students & alumni
Contact details:
Philippe de Castro, IO-MBA Program Manager | philippe.decastro@unige.ch
General inquiry: iomba@unige.ch
Last updated Nov 2018
About the School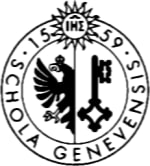 The Geneva School of Economics and Management (GSEM) was the result of the merger between the departments of Economics and Hautes Études Commerciales (HEC Genève) of the University of Geneva with a hi ... Read More
The Geneva School of Economics and Management (GSEM) was the result of the merger between the departments of Economics and Hautes Études Commerciales (HEC Genève) of the University of Geneva with a history spanning over more than 100 years. The merger of the two departments led to the strengthening of our study programs, executive education programs, and research activities in the fields of economics, management, finance, statistics and information systems.
Read less