Program Description
Global MBA
The University of The Thai Chamber of Commerce is unique through its link with the Thai Chamber of Commerce. This link ensures that the focus of the program is to offer managers knowledge that is not only up to date, but also relevant and useful for managers or business owners.
Established in 1989, the MBA in International Business (Global MBA) was the first program of its kind opened in Thailand to be conducted entirely in English. Quality is exceedingly important, and the program maintains small class sizes to allow for an interactive problem-based learning approach. Having both international students and instructor contribute to the diverse mix of nationalities and cultures represented in the classroom, leading to a truly international experience in learning. Additionally, an exchange program with various world-class universities allow for visiting professors to share their experiences, and also for students to study abroad if they wish.
Program Rationale
The world business environment is becoming increasingly competitive, to the point that even a local business is finding itself facing foreign competition. World events and technology have brought unforeseen challenges and speed of change unprecedented in history. Product life cycles are shorter and competition is no longer bound by national borders due partly to e-commerce, enhanced communications and modern distribution systems. Global managers must seek knowledge and learn how theories can be applied to help solve the unstructured problems faced each day
Program Objectives
The main objectives of the M.B.A Global Business are to provide professional training for business people to enable them to solve problems and make effective decisions across a broad range of business topics, such as issues related to management, marketing or finance. As such, it offers courses covering a wide range of topics, with the overall goal being to expand and enhance the abilities and tools available for effective problem solving and decision making in business. The program is to produce competent personnel of qualified competence in global business management to serve the growing needs of the business sector, besides providing MBA graduates with an ethical and moral conscience for enhanced social responsibility as well.
Last updated Dec 2017
About the School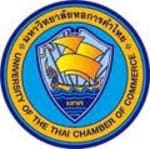 The University of the Thai Chamber of Commerce (UTCC) is the oldest private non-profit higher education institution offering degrees in Business Administration, Accounting, Economics, Humanities, Scie ... Read More
The University of the Thai Chamber of Commerce (UTCC) is the oldest private non-profit higher education institution offering degrees in Business Administration, Accounting, Economics, Humanities, Science, Communication Arts, Engineering, and Law. It is a place where academic theories and business experiences are integrated to produce graduates who can successfully meet today's business challenges. The University of the Thai Chamber of Commerce, originally known as the College of Commerce, is the private university that was founded by the Thai Chamber of Commerce in 1940 to provide education for business to Thai youth. After the outbreak of World War II in 1941, the institution was closed and it was reopened in 1963. The two-year curriculum was developed into a standard four-year program in 1964 and on June 17, 1970, the College of Commerce was officially accredited under the Private College Act. On October 24, 1984, this institution was accredited as a university and the name was changed to the University of the Thai Chamber of Commerce. International Programs represent the academic expansion of the University of the Thai Chamber of Commerce in keeping with global business trends. Vision and Mission In order to realize our vision of being one of the leading universities in education for business in Asia, UTCC missions put emphasis on producing graduates with academic and business abilities and ethics, having faculty members, staff and students with distinguished abilities in English, information technology and business, and being the reliable source of academic services in the area of business for the society. Status and Strength As of January 2007, UTCC has 19,472 undergraduate and 1,710 graduate students. The total number includes international students from different countries worldwide. Since its foundation, the University has maintained its close relationship and cooperation with the Thai Chamber of Commerce. Many of our part-time lecturers are successful and outstanding businessmen and executives with invaluable knowledge and experiences. In the highly competitive and rapidly changing environment, our curriculums are incessantly improved and developed; furthermore, new curriculums such as Logistics Management and Global MBA are offered to meet the demands of the new economy.
Read less