Program Description
Executive MBA
The Executive MBA (Master of Business Administration) at AVT is an enriching journey that allows you to hone your managerial skills while exploring the changing roles of leaders in today's dynamic business environment.
The MBA is an 18-month program in two parts:
Part 1 is the CBA which takes six months / 650 learning hours.
Part 2 is the MBA that takes additional 12 months / 1,300 learning hours and builds on the successful completion of the CBA program.
The first part of the Executive MBA includes an enjoyable, eye-opening study tour to Cambridge in Boston, Massachusetts, USA.
The Executive MBA class also travels to Shanghai for an immersion in the Chinese market.
The MBA at AVT:
An intensive, post-graduate executive degree.
A dynamic, exciting environment in which to learn – from the study tour to the USA and China, to online learning tools and libraries, to state-of-the-art classroom facilities.
Faculty from America's leading business schools, each recognized authorities in their fields.
Smaller class sizes to foster optimal learning.
Harvard Case Learning Method stimulating lectures to create optimal opportunities for learning.
Seasoned participants offer each other a valuable collective experience.
An International, Accredited MBA Program

AVT is one of the leading Scandinavian business schools for ambitious executives. With an international MBA accreditation by the Association of MBAs (AMBA), our institution joins an exclusive group of high-quality schools around the world.
Is the MBA Right for You?

The theme of the AVT Executive MBA is "Responsible Leadership in a Globalizing World", which is inspired by the Globally Responsible Leadership Initiative (GRLI). Beyond the traditional MBA topics, the curriculum explores the issues of corporate social responsibility, ethics, cross-cultural management, and sustainable business.

In the Live Case phase, you and your fellow participants will examine the various challenges facing a large Danish company. Grundfos, acting as "live case" throughout the MBA program, supported the class of 2009. The Class of 2010 worked with Carlsberg Group; the Class of 2011 worked with LEGO. The MBA Class of 2012 worked with Maersk Line.
Proven Business Models and Expert Insights

The Executive MBA program at AVT delves into the key aspects of the business – from strategy, leadership, and marketing to finance operations management, and human resources. It is a modern, practical program that offers proven business models and expert insights with which to address the real-life issues within your own company and organization.
Join Other Experienced Executives

As a participant in the AVT MBA program, you join a prestigious and global community of business leaders comprised of presidents and pioneers from a variety of industries.
Build Your Professional Network

The MBA helps you to broaden your professional network naturally, by forming relationships and connections with AVT faculty and your fellow learners.

Upon graduation, you become a member of the elite AVT Alumni Business Network, which further builds upon the alliances you established during your studies. Currently comprised of more than 800 members, our sizeable network is focused on business excellence and lifelong learning opportunities for its members.
Learning That Fits Your Busy Schedule

At AVT, we know there is more to life than studying. That's why the MBA program features flexible and convenient scheduling as well as online integration for many program components. Our program allows you to learn and grow—without making sacrifices in other areas of your life.
Take the Next Step

You can apply to the AVT MBA program at any time and get a response within only 10 business days. However, since the MBA is a highly sought-after program with limited space, early application is strongly encouraged.
Executive MBA Admissions

To be admitted to the MBA program at AVT, you must have completed the CBA successfully with a GPA of 3.0 or above – or a minimum of 3.4 if you do not have a first degree in good standing (e.g., bachelor's, master's, or HD diploma).

To ensure a class composition that maximizes the personal learning experience of the participants, the Admissions Committee emphasizes:


Successful completion of CBA with the required GPA.
Ambition and drive.
Minimum 5 years of Business and/or management experience.
Personal profile and leadership potential.
English language skills.
Last updated Sep 2020
About the School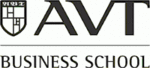 AVT Business School is a recognized and international accredited MBA business school for professionals who aspire to make a greater impact and achieve the next level of success.
AVT Business School is a recognized and international accredited MBA business school for professionals who aspire to make a greater impact and achieve the next level of success.
Read less