Global Executive MBA (EMBA)
Home ›
EMBA ›
Global Executive MBA (EMBA)
Program Description

Global Executive MBA
Program Start
Fall (beginning of October)
Entry Requirements
First degree in any discipline
At least 5 years postgraduate work experience
Very good English skills
HHL/EADA online Test (or GMAT/GRE)
Application Deadlines
August 31 - regular deadline
January 31 - early enrollment rate with 15% discount
May 31 – early enrollment rate with 10% discount
July 30 – for scholarship applications
Program Length
21 months
8 residential weeks within 3 calendar years
(40 days out of office)
Students
15-20 students per class, average age: 35
80% international students
International Perspective
2 or 3 residential weeks at renowned business schools in emerging markets (Brazil, China, India)
Over 300 partner universities
Ranking
Financial Times Executive MBA Ranking 2014:
No. 6 for career progress worldwide
Financial Times European Business Schools Ranking 2014:
Top 3 MBA in Germany
Founder's Association for German Science Start-up Radar 2013: Germany's best entrepreneurial university
Language of Instruction
100% English
Accreditation
AACSB, ACQUIN, AMBA

Program Structure
Program-accompanying executive coaching & innovative leadership training
The Global Executive MBA of EADA and HHL prepares you to work in a globalized and highly competitive business environment and will guide you to a level of knowledge which is indispensable to successfully continue your management development process.
You will gain management skills to accelerate your professional and personal development, which leads to a competitive advantage for both you and the company in which you work.
The program will be completely in English and will focus on the characteristics and similarities of business practices in Western European countries (especially Germany and Spain). In addition, participants will gain insight into the economy and culture of the Chinese, Brazilian and Indian markets at our Global Executive partner universities.
The new structure of the 21-month program is suited to the professional and personal needs of international executives. To obtain the "MBA" dual degree from HHL and EADA participants have to successfully pass all core modules, 2 out of 3 offered elective modules and the final Master Thesis.
Our Program - A high Return on Investment
EADA and HHL have developed their own practical, active and participatory approach with an emphasis on "learning by doing". The methodology reflects companies' demand for professionals with skills such as the capacity to reflect, the ability to act in the face of change, the versatility to work in multifunctional teams and the adaptability to face the challenges of a global environment. Our goal is to provide a high return on investment. We offer:
Dual MBA degree from two leading management institutions
Business education at the highest level with state-of-the-art knowledge and a very practical approach
Specialised courses designed to compare different countries around the globe with a special focus on BRIC countries (Brazil, China, India)
Intercultural and interpersonal training with diverse teams
Support of dedicated executive coaches and leadership training during the program
Contact with renowned business experts providing insight on best practices in companies around the world
Exchange of business experiences with peers and experts from diverse industries and countries
Core Modules
The Global Executive MBA Program combines state-of-the-art management knowledge and skills with an international orientation. EADA and HHL have their own practical, active and participatory approach with an emphasis on "learning by doing". The Core modules are taught at HHL (Germany) and Barcelona (Spain).
Fundamentals of Business and Economics
Marketing, Logistics, and Innovation
Leadership Skills
Accounting and Finance
Strategy
Elective Modules
The Global Executive MBA Program prepares you to work in a highly competitive, globalized business environment. Knowledge of different cultures and future market are essential. Therefore the curriculum includes 3 important emerging markets: Brazil, China, and India. Participants will select 2 of the 3 elective modules. It is also possible to attend all 3 modules.
Master Thesis
The thesis is an important part of the Global Executive MBA. The thesis is an opportunity for participants to apply the knowledge they have acquired in the MBA to solving real business issues.
There are two types of theses that participants may select:
Business Consulting Project
The business consulting project gives you the opportunity to research real organizational issues with an eye to forming concrete recommendations.
Entrepreneurial Project
The entrepreneurial project is aimed at participants who want to set up their own business. The project is a business plan of how to bring a new product to the market.
Executive Coaching and Leadership Training
In a highly competitive and volatile business environment, true leadership makes the difference between success and failure.
Therefore, we focus on leadership courses and you will be trained in key communication skills. During the complete program, we offer participants Executive Coaching sessions, generating new insights in relation to your goals. Read here some experiences about "Personal Coaching".
Moreover, our participants will use the unique NeuroTrainingLab at EADA, a technological and pedagogical innovation promoting social competency.
Schedule
The Program is run in 21 months with 8 residential weeks in 5 different locations. All core courses are taught at HHL and EADA while the elective modules take place at top-ranked business schools in Brazil, China, and India.
Class Profile
A truly diverse student body
What makes our program really unique is the network of participants in each class with very heterogeneous and very international backgrounds, at the same time sharing similar goals along the path to success. Your classmates have different backgrounds in terms of culture and education and bring extensive life and work experience into the classroom to make the program an international and multicultural meeting place.
Students in our current class are an outstanding, diverse and highly motivated group of students representing 11 different nationalities (Bulgaria, Brazil, Colombia, Czech Republic, Germany, Italy, Peru, Spain, South Africa, USA, Vietnam). The members of this diverse group have an average of 12 years of work experience in areas such as IT, medicine and finance. The average age of the participants is 37.
The members of this diverse group have an average of 10 years of work experience in areas such as E-Commerce, IT, Green Technology, Marketing, Pharmacy, Logistics, Tourism, Retailing, Consulting, Media, and Banking.
Class Statistics
Average age: 37
Age range: 31 - 52
Class size: 20
Percentage of woman: 20 %
Average work experience: 12 years
Percentage of international students: up to 80 %
Average number of countries represented: 11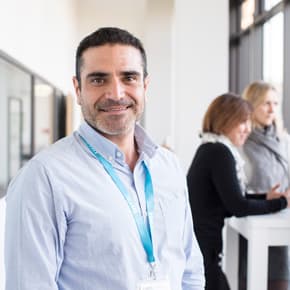 International
Outside the box – gain international experience
International competence is essential for a business leader. Global partnerships are therefore one of our key assets. Within the program, you will study in five different countries (Brazil, China, Germany, India, and Spain) at prestigious partner universities. You will gain extensive international experiences and learn from your fellow students as well as from the international faculty.
Our Global Executive Partners
EADA Business School – Barcelona, Spain
EADA is an international business school located in Barcelona. It offers programs for Masters, MBA and Executive Education. EADA's MBA program is ranked among the 100 best MBA programs in the world by The Economist and the Financial Times. In addition, EADA has consistently been ranked among the top four business schools in Spain. In the 2012 Financial Times, European Business School Ranking EADA reached the 27th place. The MBA program of EADA has been exceptionally high ranked for career progress (Financial Times ranking 7th worldwide) and 20th in value for money. EADA is accredited by the AMBA and EQUIS.
Business School São Paulo - Brazil
BSP was founded in 1996. In 2011, BSP was elected as one of the best Latin America schools according to America Economia. The school was also elected as the first business school in Brazil and third in Latin America, according to QS TOP MBA ranking in 2010.
Lingnan (University) College, Sun Yat-sen University – Guangzhou (Canton), China
Originated in 1888, Lingnan (University) College is a business school positioned as a leading business and economics education provider and research institute in Southern China. The Lingnan MBA and EMBA programs are accredited by AMBA and Lingnan (University) College are EQUIS accredited. The Forbes Magazine placed the college's MBA program third in the "Most Valuable Full-time MBA Programs in China" and in 2009, Lingnan MBA program ranked 4th as the most influential MBA in China.
Indian Institute of Management – Calcutta, India
The vision of the Indian Institute of Management (IIM) is to emerge as an international center of excellence in all facets of a management education rooted in Indian ethos and societal values. Over the past four decades, IIM Calcutta has become one of Asia's finest business schools. Today, it attracts the best talent in India – a melting pot of academia, industry, and research. The school is accredited by AACSB, AMBA, and EQUIS.
Our renowned Faculty
HHL's and EADA's faculty provide the perfect mix of practical and theoretical methodologies. Courses are taught by experienced and renowned lecturers with an outstanding track record of expertise in their subjects.
HHL Partner Universities
International competence is essential for a business leader. Global partnerships are therefore one of HHL's key assets. We serve our selective number of students with over 130 partner universities around the globe.
Careers
Focus on the student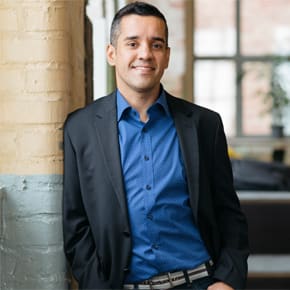 Besides the Executive Coaching, the Career Service of EADA and HHL provides a highly individual career service. You know what you want – a rewarding and challenging career with potential for promotion.
We know how to assist you to achieve this goal by bringing important business contacts and career advancement opportunities directly to you.
Individual Career Strategy
Individual Counseling Sessions
Career Potential Analysis
Career Plan Writing
Application Preparation
CV & cover letter writing
Interview preparation
Case study training
Job Search
HHL Online Recruiting Platform
Résumé Book
Access to HHL Network and Corporate Partners
Application
Join our next EMBA class!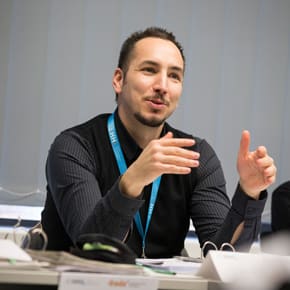 Admission to our Global Executive MBA program is highly competitive. We consciously select a diverse student body, one that reflects a variety of backgrounds, cultures, and nationalities, and covers a wide range of personal interests and professional ambitions.
Enrollment takes place once a year with studies beginning in early October. We operate a rolling admission process. The Admissions Committee evaluates and responds to an application within one month upon its receipt. The next round then involves an interview with one of the Program Directors.
Admission Criteria
A completed first degree in any discipline from a recognized university
Postgraduate work experience of at least 5 years. On average, students in our Global Executive MBA have 12 years of work experience.
Application Documents
Please provide the following application documents by uploading them onto our online application platform.
Applicants have to submit the following application documents:
Curriculum vitae
Letter of motivation
Final transcript and degree certificate
Proof of a minimum of 5 years relevant practical work experience
Proof of very good English skills
2 letters of recommendation
EADA/HHL online Admission Test (alternatively GMAT/GRE)
Company support letter
Copy of Passport
Passport photo
Application Deadlines
January 31: early enrollment rate with 15% discount
May 31: early enrollment rate with 10% discount
July 30: all applicants applying for a scholarship
August 31: all applicants applying for the Global Executive MBA program
Fees & Financing
A worthwhile investment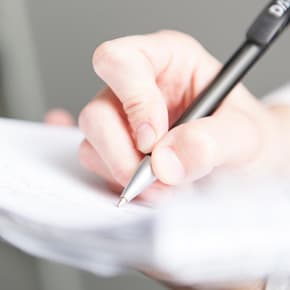 The current tuition fees for the complete Global Executive MBA are EUR 45,000 - including:
Academic materials (books, notes, folders and individual license for Harvard academic materials)
Transport to company visits in all core and elective modules
Welcome and closing dinners of all modules
Full board accommodation at EADA's Residential Training Center
Half board accommodation during the modular weeks at HHL (The Westin Leipzig Hotel)
Half board accommodation during the International Elective Modules (Brazil, China, India)
Candidates who apply for the program by January 31/May 31 will benefit from a fee reduction of 15%/10%. The Early Bird Discount is offered to those who uploaded all mandatory documents and submitted their application by these deadlines and have successfully passed the interview as well as the HHL Entry Test by end of February/June. In order to qualify for the Early Bird Discount, the payment of the Commitment fee must be received by end of March/July. We look forward to receiving your application documents. We are eager to provide you an excellent service and to support outstanding and highly motivated candidates. Join our next Global Executive MBA Class!
Payment Terms
After you have been admitted, we ask for a deposit of 10% (EUR 4,500) within 4 weeks in order to secure your place in the program. The remaining costs have to be paid in three installments.
Financing Options
Once you are admitted to HHL you can apply for a student loan and various education funds.
Information for taxpayers in Germany
The tuition fees for the Global Executive MBA Program as well as study-related costs (incl. travel and accommodation) are tax deductible as anticipated professional expenses. For detailed information please contact your legal tax advisor.
Alumni & Network
Join our global network
As a participant of the Global Executive MBA program, you will become a lifelong member of the alumni associations and will get access to a strong international business network based on the long tradition of the two co-operating business schools.
Our alumni are working around the globe, representing dozens of countries and a variety of high-value industries. We offer more than just a degree. Your personal experiences with classmates and professors will last a lifetime.
Last updated Sep 2020
About the School

Why HHL? Not only Germany's oldest business school HHL also continues to be one of the country's leading management institutions, offering international business education based on elite academic st ... Read More
Why HHL? Not only Germany's oldest business school HHL also continues to be one of the country's leading management institutions, offering international business education based on elite academic standards. Ranking/Accreditation
Read less