Program Description
Full-time MBA
We have completely redesigned the Leeds MBA to create a rigorous, challenging leadership development experience. Through supportive masterclasses, you build your skills and connect to practice immediately working on real business issues.

Our Full-time MBA is an accelerated 12-month programme. You spend less time away from work, and without the day-to-day work pressures, you can focus fully on your career by immersing yourself in your MBA experience. Your Personal and Professional Development is integrated into your MBA supported by our Careers Team, helping you use the year away from work to plan your next career move.
Benefits of the Leeds MBA
As well as our excellent academic reputation and facilities, students say they love the warm, personal welcome we provide. Join the Leeds MBA and you will benefit from:


A dedicated personal tutor to help support you through your MBA
A dedicated career mentor to guide you through your next career steps
Practice-based learning - with four live challenges
An international outlook and connections - helping you to become a global leader in cross-cultural seminars and our MBA international study tours
Plenty of opportunities to get to know your MBA colleagues through the many social activities.
Entry Requirements

You should have:


A good first degree or equivalent qualification
At least three years' post-graduate work experience in a supervisory, managerial or business capacity (our average is 6 years)
A pass in an approved test in English, if your first language is not English

We normally ask for a satisfactory Graduate Management Admissions Test (GMAT) This should be valid for the year of entry.

The Graduate Record Examinations (GRE) can be accepted if the GMAT is not available in your country of residence.
Accepted English language tests include:


Test of English as a Foreign Language (TOEFL)
Internet-based test with an overall score of at least 94, with at least 21 in listening, 23 in reading, 23 in speaking and 24 in writing.
International English Language Testing Service (IELTS)

This test is administered by the British Council, and you must achieve a score of 6 or more in each section, and an overall score of 6.5, with 7.0 preferred. You may not substitute a language course for the IELTS/TOEFL requirement.

Applicants without a first degree will be considered on the basis of their career to date, managerial or business experience, and potential for benefiting from the programme. You should be able to demonstrate evidence of career progression and achievement.

All applicants will be required to undertake an interview either by telephone or in person.
Last updated Mar 2018
About the School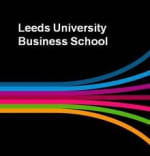 Combining an exceptional teaching pedigree with an innovative approach to course design, we deliver programmes that are both widely respected and relevant to the contemporary business environment. The ... Read More
Combining an exceptional teaching pedigree with an innovative approach to course design, we deliver programmes that are both widely respected and relevant to the contemporary business environment. The Leeds MBA has been completely redesigned for 2013 entry to ensure it is relevant to the global marketplace.Frequently ranked in the world's top 100 business schools Leeds University Business School is internationally renowned for the quality of its teaching, its research and its facilities.We believe that high-quality research and an excellent teaching staff are the foundations of a successful business school. We are ranked in the UK top ten for research according to the RAE (2008), and we have developed several research centres and groups that cut across traditional boundaries.Our research informs the content of all the courses that we deliver, ensuring our students at all levels are exposed to the latest ideas, concepts and theories.Our academics are highly qualified having acted as consultants and advisers to over 80 organisations throughout the UK and the world bringing practical experience to their teaching. OUR MISSION Our Mission is to make an exceptional impact on business and society globally through leadership in research and teaching.The two key elements crucial to achieving this mission are: Research: To produce and disseminate research of world-class quality, within the School and through international partnerships, which increases knowledge, skills, understanding and impact. Student Education: To enable individuals to develop their academic potential, their employability, their global and cultural insight and their ethical awareness to enhance their potential to benefit business and society. The Business School is committed to providing fair and equal access to a University education to all who have the academic potential to benefit from it. We strive to evolve an Admissions Policy which treats each applicant as an individual, taking account of prior achievements, circumstances and potential.
Read less