Program Description
Forge Your Future with a Tulane MBA
No matter your professional goals, Tulane's MBA program will prepare you for a lifetime of career advancement.
As an MBA student at Tulane, you'll develop both the skills and the confidence to become a leader in the ever-changing world of business. Our uniquely specialized curriculum is designed around experiential learning, giving you a one-of-a-kind opportunity to apply your knowledge in a real-world setting. As a result, you'll gain an edge in a highly competitive job market.
This two-year, four-semester program offers a wide range of electives that allow you to pursue one or more of our eight different concentrations and specializations.
Experience Freeman MBA Degree Learning
At the Freeman School, MBA students develop the financial and analytical skills essential for leaders in an increasingly interconnected world. Through our MBA curriculum, you'll acquire broad-based knowledge in all areas of business, focus on areas of interest through concentrations and specializations, and participate in experiential learning opportunities unique to Freeman.
Gain an edge in the job market with Burkenroad Reports, the Darwin FennerStudent-Managed Fund, and our Trading Center.
Leverage 24/7 access to our Financial Analysis Lab, equipped with 12 fully licensed Bloomberg terminals.
Shape business abroad with our Global Leadership module.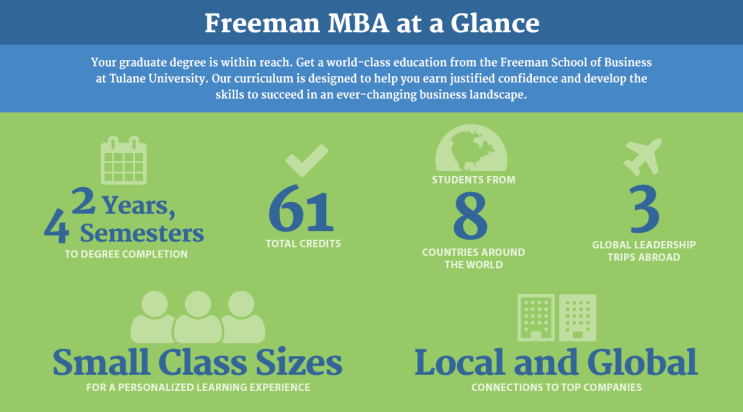 MBA Curriculum & Courses
The Tulane MBA degree is a two-year, four-semester program that includes:
24 credits of Knowledge Core - classes that teach business fundamentals including finance, management, operations, accounting, statistics, and marketing

7 credits of Global Leadership - a module that offers on-site international learning and hands-on business experience

30 credits of electives - courses that enable students to develop their specific career interests
Year One
First Semester (15 credit hours)
Accounting Measurement, Reporting, and Control

(3 credit hours)

Analysis for Financial Management

(3 credit hours)

Business Communications

(3 credit hours)

Strategic Management

(3 credit hours)

Business Statistics and Models

(3 credit hours)

Career Development

(0 credit hours)
Second Semester (17 credit hours)
Econ Environment of Business

(3 credit hours)

European Union - Global Leadership I (2 credit hours)

Operations and Supply Chain Management

(3 credit hours)

Marketing

(3 credit hours)

Electives (6 credit hours)
Summer
Year Two
Third Semester (14 credit hours)
Latin America - Global Leadership II (2 credit hours)

Electives (12 credit hours)
Fourth Semester (15 credit hours)
Asia - Global Leadership III(3 credit hours)

Electives (12 credit hours)
MBA Concentrations & Specializations
In addition to developing a common body of knowledge in practical business matters, all students of our Full-Time MBA and Fast-Track MBA have the option to choose an MBA concentration and/or MBA specialization in a variety of areas. While no concentration or specialization is required, students can use these options to create an MBA program that meets more specific academic and career goals. Each student may declare up to two concentrations and/or specializations while earning their MBA.
Analytics

Energy
Entrepreneurial Hospitality
Entrepreneurship
Finance
Real Estate
Strategic Management and Innovation
Career Outcomes
The Freeman School at Tulane is held in high regard by employers throughout the world. Many of our graduates go on to enjoy rewarding careers in finance, energy, or consulting. Some embrace exciting new opportunities in emerging industries. Others become trailblazing entrepreneurs.
Our Career Management Center will work with you from day one to chart your career path and develop a strategy to get there with unlimited one-on-one advising sessions, an interview coaching program and year-round workshops that nurture success. Our two-year program provides time for a summer internship, which can help you explore career opportunities or secure a full-time position following graduation.
These are just a few of the organizations that proudly employ graduates of the Freeman School:
CapitalOne

Caesars Entertainment

Dell

Ernst & Young

GE

IBM

JP Morgan Chase

Pepsi

PriceWaterhouseCoopers

Prudential

Shell
Explore Business Abroad With Our MBA Program
Through our one-of-a-kind Global Leadership Module, you'll gain a global perspective on business while earning a supporting concentration in international business. Freeman is the only business school in the nation that features program-based travel to Latin America, Europe, and Asia as part of its MBA curriculum.
Application Requirements
Our application process is designed to be completed entirely online. We will review applications for admission with unofficial transcripts and score reports. Official copies of transcripts and test scores are required at the time enrollment is confirmed.
Requirements
Online Application Form ($125 application fee)

Resume (uploaded online)

One Essay (uploaded online)

One Letter of Recommendation (submitted online)

Undergraduate Transcript/s from Accredited University (uploaded online)

GMAT Score Report or GRE Score Report (uploaded online)
In addition, international students are required to submit:
TOEFL/IELTS/PTE Score Report

Affidavit of Support and financial documentation certifying funds

A course by course transcript evaluation if educated outside of the United States
APPLY NOW!
Last updated Mar 2020
About the School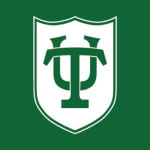 A. B. Freeman School of Business at Tulane University, originally the College of Commerce and Business Administration, was established in 1914 and is a founding member of the Association to Advance Co ... Read More
A. B. Freeman School of Business at Tulane University, originally the College of Commerce and Business Administration, was established in 1914 and is a founding member of the Association to Advance Collegiate Schools of Business (AACSB), the premier accrediting body for collegiate schools of business. Today, the Freeman School is a leading internationally recognized business school with nearly 3,000 students in programs spanning the globe.
Read less