Program Description
The AACSB-accredited Executive MBA program is designed for experienced professionals seeking a collaborative and interdisciplinary approach to mastering the art of leadership in the new economy.
Leadership Development
The Executive MBA program at UT's Sykes College of Business provides experienced business professionals a collaborative, interdisciplinary approach to building leadership skills for the new economy and preparing for future challenges. Over the course of their studies and program experiences, they develop a global perspective, strategic vision, and innovative thinking — important tools for making the right decisions and managing risk in a changing world.
EMBA students learn from faculty with high academic credentials, exceptional teaching skills, and strong professional backgrounds — many professors have executive experience or have had companies of their own. Students also learn from their classmates, who bring a broad scope of professional expertise and insight. As a result, classroom discussions are lively and rich with real-world business examples and implications. Small class sizes and a team approach help develop a sense of camaraderie as EMBA students form close-knit groups and important, lasting business connections. The curriculum encourages active learning through client projects, internships, and case studies. The program's international travel component helps students incorporate an invaluable global view into their studies.
UT's close proximity to downtown Tampa offers easy access and connections to a vibrant business community. Hundreds of companies recruit on campus each year, including T. Rowe Price, Citigroup, Syniverse Technologies, The Nielsen Company, and Coca-Cola Enterprises.
Internationally Recognized Program
The Sykes College of Business is accredited at the undergraduate and graduate levels by AACSB International (the Association to Advance Collegiate Schools of Business), an honor held by only six percent of business schools worldwide. It is rated a top-100 graduate business school in the U.S. by Bloomberg Businessweek, and since 2007 has been named among the 294 best business schools in the world by The Princeton Review.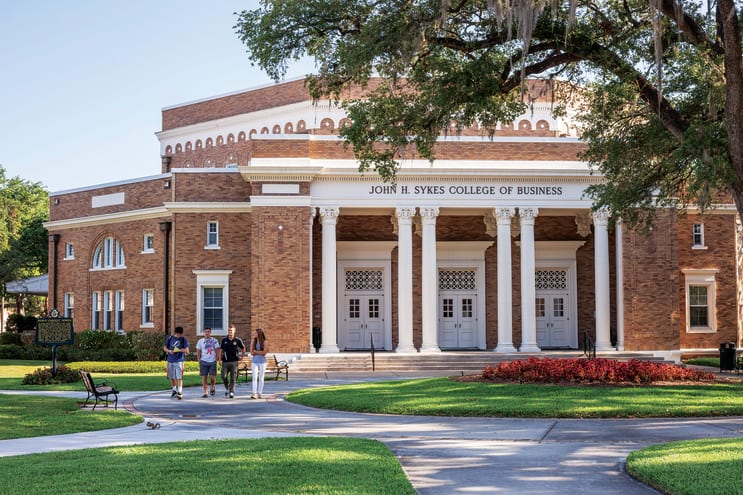 Innovation and Management
EMBA courses address sustainability, knowledge and innovation management, creative global problem-solving, decision analysis and other relevant areas. Faculty members keep students apprised of current trends and strategies, and introduce connections with the business community through guest lecturers who enrich learning.
Hands-on, Team Approach
Students progress through the curriculum in a team structure called a cohort, allowing them to cultivate valuable business relationships and personal connections. As executives with diverse backgrounds, team members share ideas with mutual benefits and develop professional opportunities.
Exceptional Value and Convenience
The Executive MBA program meets every other Saturday for two years. A strategically designed curriculum requires students to take two classes at a time, together with their cohort, and work through the program consecutively. Since EMBA students typically work full time, this schedule helps minimize disruption of career and family life. The program is competitively priced against other top Executive MBA programs nationwide.
Experiential Global Component
In the program's second year, a series of courses prepare students for an international travel experience, during which they explore the possibilities of operating businesses outside of the U.S. Their studies include a global assessment and strategic business analysis, culminating in a 10-day trip abroad that takes learning beyond the classroom. In recent years, EMBA students have traveled to China, Chile, Argentina, Switzerland, Germany, the Czech Republic, Ireland, and Peru.
Moving Ahead in Business
The Sykes College of Business values its close connections with the Tampa Bay business community, composed of many successful local, national and international companies. Relationships with business leaders help UT stay abreast of trends and build opportunities for students, including jobs, internships, research, and travel. More than 800 community leaders are involved with UT's various boards and advisory groups. In return, UT provides the business community with excellent programs, meaningful research and thoughtful, strategic analysis. Graduate business students benefit from regular access to a variety of networking opportunities and advanced learning programs.
Business Network Symposium
Held three times per year, the Business Network Symposium welcomes the Tampa Bay business community and UT students. Each program presents three local CEOs who share their business stories, accomplishments, lessons learned and future plans. Past speakers have included the CEOs of Tampa International Airport, Cigar City Brewery and Tampa General Hospital.
Fellows Forum
Drawing more than 1,000 attendees each year, the Fellows Forum features three distinguished CEOs or presidents of companies who speak about current issues and trends affecting business. The event is sponsored by the Board of Fellows, a group of business owners who support UT by providing scholarships to undergraduate and graduate students. The Fellows Forum attracts members of the business community, UT students and faculty, and serves as an annual fundraiser for scholarships. Past speakers have included the CEOs of HSN, AutoNation, Jabil, PNC Financial Services Group and Publix.
TECO Energy Center for Leadership
UT's TECO Energy Center for Leadership offers customized programs for high-potential leaders, conducts leadership seminars for area business executives and brings nationally recognized speakers to campus. It also engages in applied leadership research and coordinates grants and conference attendance. Learn more about UT's Centers and Institutes at www.ut.edu/centers.
Admission Requirements and Documents
To apply, please fill out either the paper or online application. Applications are not reviewed until the Office of Graduate and Continuing Studies receives all required materials. Students are notified of admission decision after materials have been received and evaluated.
Completed application.
Four-year degree from a regionally accredited institution.
Two professional reference forms (PDF) completed by individuals who attest to the applicant's professional background and academic potential. Professional letters of recommendation are accepted if preferred.
Professional résumé.
Personal statement: In approximately 500-1,000 words, describe your professional goals and how a graduate degree from The University of Tampa will help you accomplish those goals. In turn, you may also want to emphasize what you can contribute to the graduate program.
Graduate Management Admissions Test (GMAT) or Graduate Records Examination (GRE)**.
Seven years of work experience.
Interview.
Application fee of $40.
** The admission committee may waive the GMAT or GRE requirement based on the following:
A minimum GPA of 3.0 or better from an accredited four-year institution
Relevant coursework
Required work experience
A satisfactory entry interview
PLEASE NOTE: meeting the criteria listed above only qualifies a student to request a GMAT waiver. All GMAT waivers are reviewed on an individual basis and must be approved by a committee. Please contact your admissions counselor for more information.
Application deadlines
Applications are evaluated for fall, spring, and summer terms on a rolling basis. Qualified students are admitted until spaces are full for the relevant term. Due to the rolling basis, admission is competitive and student are encouraged to apply early as there are no application deadlines. Decisions are made within a few weeks from the time the student completes their application.
Last updated Oct 2019
About the School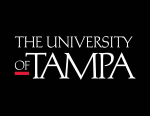 The University of Tampa's Sykes College of Business is a leading private institution focused on the development of tomorrow's global leaders. Our commitment to excellence is reflected in our AACSB acc ... Read More
The University of Tampa's Sykes College of Business is a leading private institution focused on the development of tomorrow's global leaders. Our commitment to excellence is reflected in our AACSB accreditation — a recognition that places us among the top 5 percent of graduate business schools worldwide.
Read less
Accreditations