Program Description
A Unique Learning Experience
Our Executive MBA provides executives with a first-class general management education without interrupting their careers. The program is designed to balance theory and practical application and combines classroom learning with interactive personal development. Our experienced faculty is keenly aware of the need for today's managers and business leaders to develop and implement effective operational solutions, while simultaneously ensuring the strategic renewal of their organizations. The program goes beyond the basics of business and prepares participants for senior management challenges and responsibilities.
Top Participant Profiles and Diversity
Our EMBA participants are hand-picked professionals from diverse industry backgrounds – including the public and private sectors – with an average of 7-10 years of working experience. Our EMBA is fully accredited by the Association of MBAs and the admission process is highly selective. Applicants undergo a rigorous pre-enrollment review process, including a formal interview with a member of our alumni program.
A Catalyst for Career Success
The program strives to develop successful and responsible leaders through a real-world learning experience. The professors use materials that come directly from business and help participants reflect upon learnings in the context of their organizations. Through the in-company EMBA project, participants develop a strong sense of collaboration with their fellow students. The EMBA experience represents an important catalyst for our participants to move up the ladder or to change career paths. It is challenging work – but it is also a once-in-a-lifetime learning experience.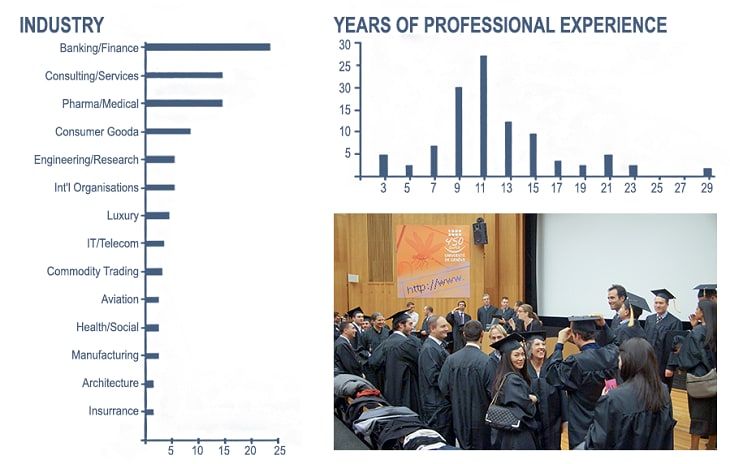 Executive MBA
Number of Nationalities Represented: 26
Female Participants: 30%
Average Age Range: 35-45
Average Work Experience: 8-12 years
Student profiles: from various private & public industries i.e., (finance, pharma, law, banking, luxury, social institutions, IT, Aviation, etc.)
Admission Criteria
University Degree, or equivalent (i.e. Bac+3, etc.)
Pertinent work experience - 3 years minimum in a managerial position – i.e., managing a project or a team, (training sessions are not counted as professional experience).
OBS.:
Because of its reputation for excellence, admission to the EMBA Program is highly selective.
Potentially qualified candidates will be contacted for an hour interview.
Great importance is attributed to the quality of the academic record, personal motivation, and relevance of professional experience.
Required skills
Strong command of both written and spoken English
Computer office tools (spreadsheet, word processor, presentation tools)
Basic Accounting understanding (balance sheets/income statement, P&N, EBITDA) or ability to assimilate numbers and concepts
Application deadline
Early Bird: Dec. 1 – Feb. 1 (reduction of CHF 500 on Enrollment/Matriculation fee upon acceptance)
Application deadline: May 1 (late applications may be admissible upon space availability*)
* subject to CHF 200.- late application fee
Selection process
The application process includes 4 steps which may take 3-5 weeks:
Validation of application & documents submitted online
Quality check of the application/dossier
If approved in Steps 1 & 2, one-hour interview with one of the EMBA alumni. It is normally conducted in person, but it may be done via Skype, if necessary
Review of validated applications and final decision by the Directing Committee
Notification is sent to candidates by email.
How to apply
The following documents must be downloaded during the application process: (we advise you to prepare the documents in pdf format -except for your photo- before you start the application process):
Cover Letter *
Letter of recommendation from your current employer *
Complete resume *
A copy of your University diploma(s) * / **
Copy of your University grade transcripts **
Work certificates or letters from past employers
A copy of your passport or ID card
A copy of your "AVS" card or Health Insurance card
A copy of your work permit, if applicable
A passport / portrait photo (jpg format) - picture criteria
Mandatory items marked with a * must be downloaded in order to validate the application.
Educational & Living Expenses
The overall cost of the MBA may vary depending on the specialization selected in the 2nd year.
Ex.: Total cost for an MBA in International Management or Entrepreneurial Leadership (traditional MBA curricula): CHF 34'500 *
The above fee includes enrollment & matriculation, mandatory course materials & exams, and participation to most activities organized within the EMBA Program - divided as follows:
| | |
| --- | --- |
| Enrollment / Matriculation - payable upon receipt of acceptance letter. This non-refundable fee guarantees your seat in the program | CHF 5,000 |
| 1st year - 12 core courses | CHF 14,750 |
| 2nd year - 12 courses in International Management (block format) or Entrepreneurial Leadership (bi-weekly format) / Or one of the selected Specializations | CHF 14,750 |
| Individual MBA modules (for non-MBA students)** | CHF 1,700 |
Additional Information
Professors: from Unige + professionals/experts from various countries around the world; guest speakers
Networking activities
EMBA Networking activities: alumni events (selected topics); EMBA Prize Sponsors' events; HR / Firms events; End-of-Year Party, After-Class Drinks; Picnic; boat cruise; etc. ¦ EMBA LinkedIn Platform – only for EMBA students & alumni
EMBA contact details:
Sun Zuchuat, EMBA Program Manager | sun.zuchuat-ji@unige.ch
General inquiry: emba@unige.ch
Last updated Nov 2018
About the School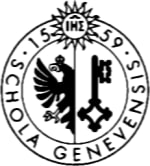 The Geneva School of Economics and Management (GSEM) was the result of the merger between the departments of Economics and Hautes Études Commerciales (HEC Genève) of the University of Geneva with a hi ... Read More
The Geneva School of Economics and Management (GSEM) was the result of the merger between the departments of Economics and Hautes Études Commerciales (HEC Genève) of the University of Geneva with a history spanning over more than 100 years. The merger of the two departments led to the strengthening of our study programs, executive education programs, and research activities in the fields of economics, management, finance, statistics and information systems.
Read less