Read more about this program on the school's website
Program Description
The Executive MBA is perfect for practitioners from a wide range of academic backgrounds who wish to enhance their skills profile. With its generalistic approach, a broad range of business administration theories as well as relevant economic and legal topics are covered. This applied study program in particular focuses on internationality, business ethics, and governance.
The Executive MBA is offered as full-time (1,5 years) and part-time (2 years) study program. Whilst the full-time version offers the students a highly concentrated study program based on the format of renowned Executive MBAs on the international market, the part-time version allows them to combine their studies with (full-time) employment.
Highlights of the Study Course
Best General Management Education for Senior Executives – Part-Time and in English – Focused Course Contents – Accredited Quality of the Study Program and the University
One-week study trip: Silicon Valley, Berlin/Hamburg, London, or Brussels. Improve your intercultural competencies!
Best Faculty and Experienced Lecturers: Our full-time professors are academics (minimum Ph.D.) and have professional experience of at least five years.
Unique Mentoring Program with many Networking Opportunities: The HSBA master's students benefit from a special mentoring program by the German Shipowners' Association (Verband Deutscher Reeder) and the network between HSBA and the Hamburg Chamber of Commerce.
Interesting Financing Options: VDI Scholarship, HSBA Scholarship, other Scholarships.
For further information please refer to the website of HSBA or our regular info events.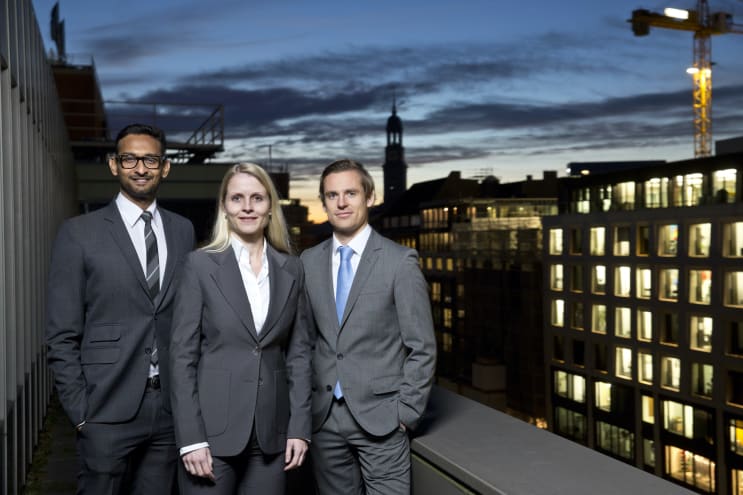 Funding Options
The aim of this part-time master's program is to combine a demanding course of study with a parallel professional career. If the applicant is already in employment, it may be possible, depending on the company, for the employer to cover most of the tuition fees. HSBA's JOB & MASTER program is a free placement service for applicants (still) looking for employment. If you are eligible to join the placement service, HSBA will assist you in finding a job that will not only help you to fund your studies but also to gain further work experience. Please inform us if you are interested in the JOB & MASTER program, so we can advise you accordingly.
HSBA alumni and employees of HSBA's partner companies, JOB & MASTER candidates as well as applicants that apply before 31 May automatically receive a 10% discount. In addition, HSBA offers multiple funding options of up to 100% to particular eligible applicants. Options include the "Deutschlandstipendium", financing with the support of Income Share Agreements (ISA) in cooperation with CHANCEN eG and other study course-specific scholarships. Please refer to the financing section at the bottom of the study course's website to receive further information on funding your studies.
Payment Options
You may pay your tuition fees on a monthly, quarterly, or yearly basis. However, for this part-time program, it is usually the case that the employer of the student pays at least part of the tuition fees. If you do not have a job yet, you may want to check whether you are eligible to join our JOB & MASTER placement program that will assist you in finding a job that helps you to fund your studies.
Admission Process
If you wish to apply for this program, you will have to send a written application via email to Masters.Admissions@hsba.de. After reviewing the documents, a 30-minute telephone interview takes place to discuss your motivation and all queries surrounding the course. The final step is the so-called Admission Day. It runs for one day and involves an in-depth assessment of your personal and academic suitability. You have the opportunity to get to know the professors, staff, and potential fellow students and gain an impression of the university campus. Admission Day takes place once a month in Hamburg and is held in English. You will be informed in writing of the vote by the admission commission. If there are still places available, a contractual offer is made. If there are no places left, you will be offered a place for the following year.
Required Application Documents
Your application should be put together in one PDF file and contain the following:
HSBA Application Form (download from hsba.de)
Motivation letter (why you are interested in the program; maximum one DIN A4 page)
CV
Letter(s) of recommendation (covering the academic and/or personal aptitude for the program, preferably written by a current or former employer or former academic teacher with an official letterhead)
Degree certificate
Transcript of records with an official grading scale and/or explanatory notes
English certificate (min. B2)
Employer's references (if applicable)
Last updated Jun 2020
About the School
HSBA is the Business School in Hamburg. It is our mission to support companies in qualifying their employees and recruiting promising talents who are willing to study our internationally-oriented dual ... Read More
HSBA is the Business School in Hamburg. It is our mission to support companies in qualifying their employees and recruiting promising talents who are willing to study our internationally-oriented dual Bachelor's and full-or part-time Master's degree programs. It is our aim to deliver excellent education programs to students of all career levels regardless of their financial background.
Read less