Read more about this program on the institution's website
Program Description
Bradford has been an established brand in Dubai since 1998; we were one of the first MBA programmes to establish a presence in the country. We are a Triple Crown Accredited School, part of an elite group of universities that has accreditations from AMBA, AACSB and EQUIS - this means your qualification will be recognised throughout the world. We have also accreditation from the KHDA (Knowledge and Human Development Authority) in Dubai.
The programme will provide you with the strategic, financial and people skills you'll need to progress and perform effectively at senior levels. The programme combines management theory with real business application. From day one you'll be able to apply new knowledge and skills to your workplace. You will develop a broad foundation of knowledge in core modules, and focus your studies around a particular sector or discipline in elective modules.
Our state-of-the-art facilities are located in Dubai Knowledge Park. The flexibility of our MBA gives you options to study in Bradford, Toulouse (one module) and online through Distance Learning. All modes use the same platform but deliver it in different ways to maximise the impact. This provides you with excellent and lasting networking opportunities both during and after your MBA.
Our Executive weekend teaching format provides you with a period of concentrated study that has minimal impact on your career. If you are unable to make a weekend you can study the module online, anywhere in the world. Our refreshed MBA has been designed with your future employability in mind and we continue to work with major employers on our MBA Advisory Board and International Advisory Board to ensure our syllabus deals with contemporary issues.
Professional accreditation
We are proud to be in an elite group of business schools to hold the triple accreditations of Equis, AMBA and AACSB, often referred to as the "Triple Crown".
Our School of Management MBA courses have been endorsed by the NHS Leadership Academy to deliver the NHS Master's in Business Administration (MBA) programme, as announced in a speech by the Secretary of State in 2016.

Rankings
The University of Bradford is ranked 301-400 in the world for Business and Economics in the 2019 Times Higher Education World University Rankings.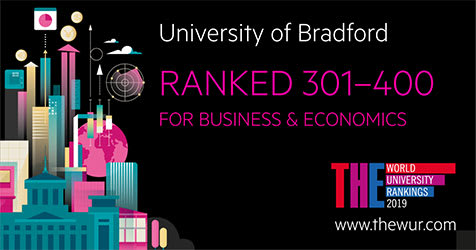 Entry requirements
If you'd like a quick view on your suitability and eligibility for The Bradford MBA before you complete a full application, simply send us your CV and we'll get back to you as soon as possible. Please email it to mba@bradford.ac.uk
All applications are considered on their individual merits and will be assessed using a collective approach, which takes into account professional status and work experience as well as academic achievement.
Work experience
Candidates must have at least three years' postgraduate work experience, which can be from any industry, including both private and public sectors, and charitable organisations.
Academic and professional achievements
You should have a good first degree awarded by a UK university or overseas equivalent, or a relevant professional qualification. If you do not have a first degree or professional qualifications you will need to demonstrate significant management or business leadership experience (normally eight years). We will also consider an academic recommendation based on the interview.
Numeracy and literacy competencies
We will require evidence of numeracy and literacy competencies, and you may be required to complete an authorised online aptitude test such as the Graduate Management Admissions Test (GMAT) or School equivalent: The Bradford Test.
English language requirements
If English is not your first language, we may need evidence of your proficiency in English through a recognised test (IELTS, TOEFL or PTE-A). You will be required to achieve a minimum score of:
IELTS: 6.5 overall, with no sub-test less than 5.5; or
Internet-based TOEFL: for EU, non-UK applicants: 94 overall, with minimum scores of Listening – 17, Reading – 18, Speaking 20, Writing – 17
For International, non-UK/EU, applicants (UKBA requirement): 94 overall, with minimum scores of Listening – 21, Reading – 22, Speaking – 23, Writing – 21; or
PTE-A (Pearson Test of English Academic): 60 overall, with no sub-test less than 51
If you do not meet the IELTS requirement, you can take a University of Bradford pre-sessional English course.
What you will study
The flexibility of our MBA gives you options to study in Dubai, Bradford, Toulouse (one module) and online through Distance Learning.
Please note that for 2020 entry, the module information is subject to change.
Modules
Core (20 credits)
Competitiveness through Technology and Innovation
Leadership for Transformational Change
Digital Marketing, Branding and Strategy
Accounting and Economics for Decision Making
Option (which can be studied in Dubai, Bradford, Toulouse or online)
Corporate Finance and Crowdfunding (Executive) (AFE7038-A) (available in Bradford and online)
Entrepreneurship & Creativity (Executive) (EAE7010-A) (available in Bradford, Dubai and online)
International Financial Management (Executive) (AFE7034-A) (available online)
Mergers and Acquisitions (AFE7010-A)
Financial Risk Management in European Banking (AFE7001-A) (available in Toulouse)
International Business in Emerging Economies (Distance Learning) (SIB7013-A) (available online)
International Business Strategy (Executive) (SIB7016-A) (available in Bradford, Dubai and online)
Management of Change (Executive) (HRM7021-A) (available in Bradford, Dubai and online)
Corporate Marketing (Exec) (MAR7003-A) (available in Bradford and online)
European Business Management (MSc) (SIB7007-A) (available in Bradford and online)
Global Supply Chain Management (OIM7007-A) (available in Bradford)
Management Consulting (OIM7012-A) (available in Bradford)
Digital Health and Informatics (LEM7030-B) (available online)
Materials, Resources, Energy and Competitiveness (OIM7019-A) (available online)
Business Models for a Circular Economy (Distance Learning) (OIM7020-A)
Diversity, Scale and Development (OIM7021-A)
Enterprise and Innovation (Distance Learning) (EAE7005-A) (available online)
Management Project Readiness Assurance Test (MAL7039-R)
MBA Management Project (MAL7037-E)
Learning and assessment
Teaching for the core is available as block teaching over Thursday, Friday and Saturday, 9:00 – 18:00. The teaching blocks are spaced at a minimum of five weeks apart, going up to nine weeks in some instances. This is to accommodate public holidays.
The majority of modules are available online. This means that if you are unable to make a weekend, you can study the module online instead, thus providing you with greater flexibility.
Assessment is mainly by a 4,000-word assignment for the core and a 2,000-word assignment for the electives. The Management Project is 15,000 words. Additionally, there are formative assignments and Multiple-Choice Questionnaires that help develop your confidence and familiarity with the subject matter, without contributing a mark towards your final mark
Fees, finance and scholarships
Tuition fee
Home/EU/International: £21,525
Financial support
You will be automatically assessed for a scholarship as part of the application process. To be considered for a scholarship please ensure your application is submitted by 31st August. Applications for the course will stay open after this date but will not be considered for a scholarship.
Travel bursaries
Travel bursaries are available for students to apply to study block electives at the Bradford campus. The bursary will be between £250-750 and will be paid to students upon proof of receipts covering the relevant travel and accommodation expenses incurred when attended the block module(s). Applications are assessed by the MBA Director of Studies and awarded on a case by case basis, application forms will be made available when students commence their studies.
Scholarships
Every year we award numerous non-repayable scholarships to UK, EU and international students on the basis of academic excellence, personal circumstances or economic hardship. For full details, visit our scholarships website.
Career support
An online career development programme is available to you which covers:
Understanding and identifying your skills
Leveraging your MBA
Selling yourself in a CV
How to use LinkedIn to get a job
How to get a job you love
Networking for career success
Presenting a professional image
Success at interviews
Additionally, if you are unavailable to come to the campus we conduct individualised online coaching sessions.
Career prospects
An MBA is an opportunity to either change career direction or consolidate experience then return and progress in a previous industry or job. The Financial Times Global MBA rankings show that, on average, 20% of alumni achieve board-level positions within three years of graduation.
On completion of the programme, participants go into a wide variety of functions and sectors, with IT/Telecoms, Finance & Banking and Industry being amongst the most popular.
Study abroad
Students can study block modules in Bradford or Toulouse.
Study support
All the material is available online. This includes a study book, lecture slides, audio and video.
In addition to face-to-face teaching, four online tutorials are available after the weekend module. These will normally be led by the lecturer who conducted the module.
Additionally, we have an Effective Learning Service that will assist you in areas such as critical thinking and referencing.
Research
The material is research-led with contemporary material for current managerial and business issues. The rationale for the redesigned MBA is that it maps on to the four research centres of the School of Management.
Last updated Mar 2020
About the School
At the University of Bradford, you'll benefit from - and be a part of – teaching and research that harnesses technology for the good of society. You'll learn from academic and industry experts who are ... Read More
At the University of Bradford, you'll benefit from - and be a part of – teaching and research that harnesses technology for the good of society. You'll learn from academic and industry experts who are shaping the future of their sectors in world-class facilities. We've invested millions of pounds in high-tech learning environments, such as our motion capture studio and new School of Management facilities. During your time with us, you can become the very best version of yourself. The University is a place where you can expand your mind and make lifelong friends; where you can grow, learn, experience. Where you can belong, and where we support you every step of the way.
Read less