Program Description
Is it time for you to change?
Modern life rarely gives us time to breathe, to step back and really consider what we want to achieve. Deciding to study for an MBA provides the time and space for change.
The HEC Lausanne Executive MBA helps mid-life professionals transform their career, seize new opportunities and reflect on their personality, performance and perspectives.
However, we do far more than boost your job prospects. Our 16-month programme helps individuals transform fundamentally. Participants are inspired to become agents of change in their companies, communities, industry… and sometimes, the world.
Accredited by EQUIS and AMBA, the programme has been consistently ranked among the best top 100 executive MBAs worldwide by The Financial Times. In addition to the high quality of teaching and the richness of the HEC Lausanne community, we are recognised for our pioneering approach to personal and professional development. We have designed our curriculum to add this powerful dimension to core business concept modules and hence accompany our participants in their transformation.
If you are looking for something different, maybe now is the time.
Our Difference
HEC Lausanne is one of the most respected institutions in the world. Our Executive MBA consistently ranks among the top programmes of its kind, globally.
Switzerland has a wide assortment of excellent MBA programmes that our participants could select, so why choose us?
Excellence in teaching
Our programme is based on high-quality teaching and materials, and an outstanding reputation, globally. We leverage the latest research and specific methodologies to deliver courses developed to match the needs and expectations of managers operating in demanding and dynamic environments and organisations.
Enriching network
The selection process is intensive, for a reason. By mixing with international mid-age participants from diverse backgrounds, you will quickly learn from your peers, their roles and the companies they work for. Learning, especially in the context of the Executive MBA, is a social process, and your classmates, as well as your professors, will contribute to your progress. The alumni network is a rich and vibrant community that lives on beyond graduation.
Personal & professional development
We believe that an MBA should bring you more than an executive qualification.
It should be a unique opportunity to take time from your business life to reframe your focus and review your aims. You are likely to finally pinpoint the real meaning and professional purpose you have been looking for. Executive coaches and specialists will accompany you throughout the programme to further your individual development, team effectiveness and skill enhancement.
Great fit for your lifestyle
We know that the executives who choose our programme have busy professional and family lives: our curriculum is structured to give you an optimum work-life balance and maximise effectiveness. This format allows you to continue working while attending classes every other week.
Complete our Executive MBA and you will be materially transformed, professionally, and personally. Our participants become energised with a fresh new vision of the possibilities open to them and equipped with the skills to fulfil their highest potential.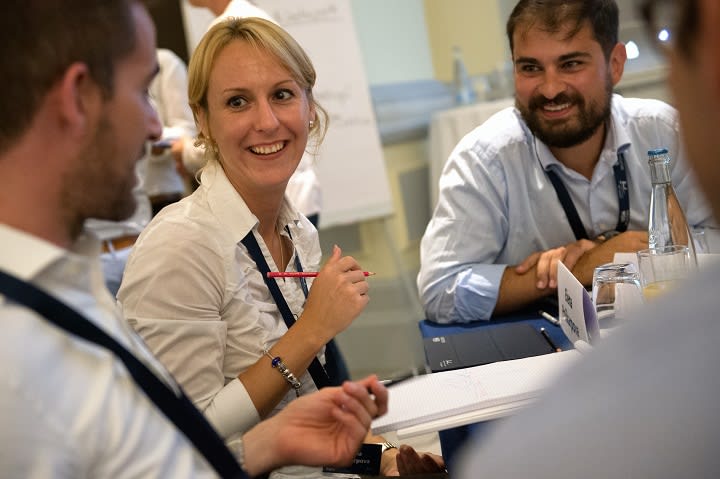 The Programme
The MBA programme at Hautes Etudes Commerciales (HEC) in Lausanne has been running for over 35 years, and the Executive MBA programme has run for over a decade. This internationally recognised Executive MBA offers professionals the chance to transform their career and ambitions, whilst specialising in Healthcare Management or Corporate Finance.
As a public institution, 90% of our teaching staff is tenured to the faculty, and are permanently dedicated to the MBA programme and to the University.
Our curriculum draws on the current research in the field, much of which is conducted by our Executive MBA Faculty. Participants select a special focus in Healthcare Management or Corporate Finance – two of Switzerland's most dynamic industries.
Being located in French-speaking Switzerland, home to the headquarters of many international corporations, the United Nations in Geneva, a strong finance industry, and a massive life science hub, means we attract a particularly rich and unique student mix of participants currently working in global corporations, and who, like you, are highly motivated to learn and bring their skills to the classroom.
Good to know:
At HEC, the core Executive MBA curriculum is complemented by specialist courses in two main areas. Choose between:
Executive MBA with a focus on Healthcare Management
Executive MBA with a focus on Management & Corporate Finance
Last updated Feb 2019
About the School
HEC Lausanne, also called the Faculty of Business and Economics of the University of Lausanne, is the affiliated business school of the University of Lausanne. For over 100 years HEC Lausanne has been ... Read More
HEC Lausanne, also called the Faculty of Business and Economics of the University of Lausanne, is the affiliated business school of the University of Lausanne. For over 100 years HEC Lausanne has been developing teaching and research in the field of business and economics. HEC Lausanne offers Bachelor, Master, and PhD degrees, as well as executive education, including a part-time Executive MBA, short, open courses, and tailor-made programs for organizations.
Read less