Program Description
The Executive MBA (EMBA) is designed exclusively for experienced professionals seeking an accelerated program while maintaining current positions of leadership. The EMBA program utilizes a cohort model that facilitates idea exchanges and promotes an extended professional network.
Utilizing a blended program delivery method, students are only required to attend two-weekend residencies per semester - the balance of the coursework is completed online. While attending residency in Virginia Beach, Virginia, students enjoy upscale accommodations at the Founders Inn & Spa. Lodging and meals are included with residency each semester.
Competitive admissions lead to a unique learning environment in which you study with a highly motivated and diverse student cohort representing a variety of fields and professions. The EMBA program restricts enrollment to no more than 20 students per year. Admission into the program will take place only once each year in May.
Other Program Features
Study with seasoned professionals
Minimum 10 years professional or executive-level work experience required
Meet industry and subject matter experts
Learn from faculty scholars and leading practitioners
Examine biblical principles with real-world application
Projects may be tailored to complement work initiatives
Emphasis on innovation and global relevance
Capstone course permits high degree of personalization
All-inclusive residency
Enrollment begins in the summer term with the May residency
Last updated Dec 2017
Keystone scholarship
Discover the options our scholarship can give you
About the School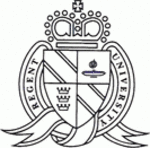 The School of Global Leadership & Entrepreneurship (GLE) provides a unique platform for preparing today's leaders -- emphasizing innovation, excellence and the impact of biblical principles in tod ... Read More
The School of Global Leadership & Entrepreneurship (GLE) provides a unique platform for preparing today's leaders -- emphasizing innovation, excellence and the impact of biblical principles in today's world. Taught by a distinguished faculty of scholars and expert practitioners, our graduate degree programs in business and leadership promote extensive learning of those theories and dynamics that drive effective business, management, and organizational leadership. One of eight schools within Regent University, graduates of the school work for many of the nation's Fortune 500 companies as well as nonprofits here and around the world. Our students are encouraged to participate in international conferences which provide presentation opportunities as well networking with leading experts. Mission & Values The mission of Regent University is to provide excellent graduate and undergraduate education from a global, biblical perspective in pivotal professions to equip Christian leaders to change the world and to be a leading center of Christian thought and action. The vision of Regent University, through our graduates and other scholarly activities, is to provide Christian leadership in transforming society by affirming and teaching principles of truth, justice, and love as described in the Holy Scriptures, embodied in the person of Jesus Christ and enabled through the power of the Holy Spirit. Soli Deo Gloria.
Read less