Executive MBA Business Administration
Home ›
EMBA ›
Executive MBA Business Administration
Read more about this program on the institution's website
Program Description

Read more about how RIT is tackling the coronavirus crisis here
Overview
The executive MBA is a challenging program designed to accelerate the careers of experienced, high-performing professionals with six or more years of business experience. It is ideal for creative, innovative individuals with established careers who are looking for proven and effective methods and strategies to propel them further up the career ladder or transition into a new field. Students master executive skills such as strategic and cross-functional thinking, utilizing data to drive decision making, client consulting, and leadership. They learn from knowledgeable and professional instructors and from the motivated and diverse peer group enrolled in the program. The curriculum encourages analytical thinking and problem solving and places a strong emphasis on collaboration and group interaction.
The executive MBA curriculum focuses on core business concepts, providing fundamental skills, knowledge, and perspectives in accounting, statistics, leadership, finance, negotiations, and economics. The program develops skills in cross-functional analysis with an emphasis on strategy, marketing, technology, and international business. Interdisciplinary examples, case analyses, and an applied orientation are key components of the program. Students attend classes for 15 months on alternate weekends (all day Friday and Saturday). In addition, all students attend a three-day orientation at the start of the program and a seven-to-10-day international study trip in their last semester. There is one online course each semester.
The program reinforces practical experience through domestic and international client consulting projects; personal coaching in career development planning, communications, and team building; a competitive business simulation model; and an international study trip.
Industries
Health Care
Commercial Banking and Credit
Non-Profit
Manufacturing
Curriculum
Executive MBA degree, typical course sequence
Residency
MGMT-806 Team Building and Ethic
Courses
ACCT-801 Accounting and Organizational Goals
ACCT-802 Managerial Accounting
DECS-810 Statistical Analysis for Managers
DECS-864 Systems Support for Operations
DECS-875 Business Simulation
ESCB-840 Microeconomics & Pricing
FINC-845 Valuation and Capital Budgeting
FINC-846 Financial Planning and Analysis
FINC-850 International Finance
INTB-820 International Business
INTB-825 International Study Seminar
MGMT-800 Leadership Development I
MGMT-801 Leadership Development II
MGMT-805 Current Topics Seminar
MGMT-810 Leadership
MGMT-818 Strategic Thinking I
MGMT-819 Strategic Thinking II
MGMT-860 Executive Leadership Series
MGMT-861 Managing Technology, Innovation, and Research
MGMT-889 Capstone Consulting Project I
MGMT-890 Capstone Consulting Project II
MKTG-851 Marketing Strategy
MKTG-865 Managing New Product Commercialization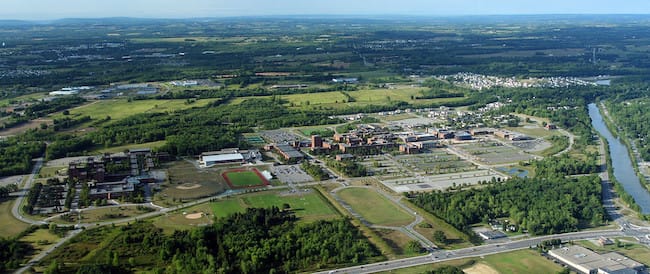 Admission Requirements
To be considered for admission to the executive MBA program, candidates must fulfill the following requirements:
Complete a graduate application.
Hold a baccalaureate degree (or equivalent) from an accredited university or college.
Submit official transcripts (in English) of all previously completed undergraduate and graduate course work.
Have a minimum of six years of professional work experience.
Participate in an interview with a representative of the executive MBA team.
Have a minimum cumulative GPA of 3.0 (or equivalent).
Submit a personal statement of educational objectives.
Submit a current resume or curriculum vitae.
Submit three letters of recommendation from a current employer.
International applicants whose native language is not English must submit scores from the TOEFL, IELTS, or PTE. A minimum TOEFL score of 92 (internet-based) is required. A minimum IELTS score of 7.0 is required. The English language test score requirement is waived for native speakers of English or for those submitting transcripts from degrees earned at American institutions.
Last updated May 2020
About the School
With more than 80 graduate programs in high-paying, in-demand fields and scholarships, assistantships and fellowships available, we invite you to take a closer look at RIT. Don't be fooled by the word ... Read More
With more than 80 graduate programs in high-paying, in-demand fields and scholarships, assistantships and fellowships available, we invite you to take a closer look at RIT. Don't be fooled by the word "technology" in our name. At RIT, you will discover a university of artists and designers on the one hand, and scientists, engineers, and business leaders on the other – a collision of the right brain and the left brain.
Read less